Do you sit at work and wonder what your pooch is up to? Wish you could have them snoozing under your feet? Thankfully, more and more offices are opening their doors to four legged friends! Here at Mad Paws, we have a patch of fake grass, shelves stacked with food and treats and toys strewn across the floor! We think that very office should have a pooch and we're arming you with the facts to help convince your boss.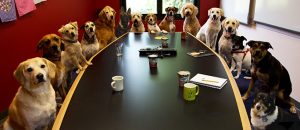 Stress Levels 
Studies into workplaces in a whole variety of industries have shown that stress levels of employees in offices that allow pets are significantly lower than those that do not. Even if an employee does not bring their own pet into the office, the presence of pets in the area still has a marked effect on stress levels.
​Good for Team Work 
Having dogs around has been linked to the release of the hormone Oxytocin, according to research. Oxytocin is also known as the "cuddle hormone" or "love hormone" and affects our overall health, sociability and trust. Oxytocin can promote better team dynamics and interactions which improves well-being and productivity. ​
Keep focused! 
When people leave their dogs at home, they often spend periods of the day worrying about what they're doing or feel that they need to run home at lunchtime to check their pupper is doing ok. Many people dash out of the door at 5pm to get home to their pooches who have been alone for hours. A dog friendly office allows people to focus on the task in front of them and give peace of mind that their four legged friend is happily snoozing or chasing a ball around the desks! 
A waggy welcome 
Having dogs in the office doesn't just create a great atmosphere for the staff, it also keeps visitors and clients happy too! Any meetings that start with a greeting from a pupper is bound to go well! Nobody can resist smiling when they meet a new dog!
If you needed any more evidence, click here to take a look at a day in the life of our Mad Paws resident pupper, Charli!
Before you go… meet the Mad Paws office pups below! 

​
Comments
comments