The way your dog is eyeing your freshly made beet salad, you might be thinking, "Can dogs eat beetroot?" Is it as healthy a root veggie for them as it is for us? And, will your pupper even like it if they try it?
We won't beet around the bush on this one, your dog can eat beetroot! This ruby red gem of a veggie has quite a few health benefits for your dog. But, as with any kind of human food, there's a right and a wrong way to share your salad plate with Fido. 
So, let's dig up more info on beetroots for dogs!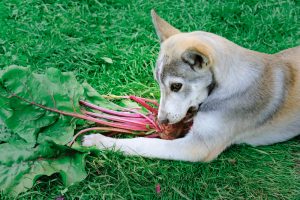 Can dogs eat beetroot? Yes, but in moderation
Like carrots and cucumbers, beets (both the root and the leaves) are non-toxic for dogs and can be fed as an occasional snack or addition to their regular diet. But, just like you might feel a little green after eating too many beets, your dog shouldn't go overboard with their new favourite snack. 
For one thing, any fibrous ingredient that you feed your dog has the potential to cause stomach upset. So, you'll want to keep your serving sizes small, no more than a few pieces of beet at a time. Larger pieces don't only pose a challenge for digestion, but they also a choking hazard. So, keep an eye on Fido when you're chopping up beets in the kitchen so that you don't have a counter-surfing problem on your hands. 
The other risk of overdoing it with beets is the high sugar content. Beetroot is a great way to add sweetness to juices, but your dog is already the sweetest pupper on the block. Any added sugars to their diet could lead to unhealthy weight gain.
Finally, beets contain a high concentration of oxalates, which may increase the risk of kidney stones in some dogs. Certain breeds, including Miniature Schnauzers, Yorkshire Terriers, and Lhasa Apsos, are more commonly diagnosed with these types of kidney stones than others.
These risks don't mean that you should never feed your dog beets, especially if they enjoy them. But, don't start buying large bundles of the veggie for Fido every time you're at the supermarket.
What are the health benefits of beetroot?
Beets are packed with a range of vitamins and minerals for your dog's benefit. Vitamins A and C, for example, are helpful for your dog's vision and immune system, while Vitamin B6 can help your dog maintain a healthy metabolism. The high magnesium levels in beetroot are great for your dog's athletic lifestyle, as it is essential for muscle function and growth.
Iron, of course, is the mineral that beetroot is most well-known for, and it can help with your dog's cardiovascular and respiratory health. While beets alone shouldn't be considered a treatment for an iron deficiency, it can be helpful to add a little extra iron to an otherwise healthy dog's diet!
How should you serve beetroot to your dog?
When it comes to serving up beetroot for your dog, there are a few do's and don'ts to be aware of:
Don't:

Serve your dog beetroot from a can. Canned beets are high in sodium and possibly other preservatives that can be damaging to your dog's health.
Do:

Thoroughly wash beetroots before you serve them to your pup
Do:

Consider a light boil before serving to soften up this tough veggie

. 
Dont:

Serve raw beetroot in large pieces. Instead, shred them or chop them up small for easier digestion
Do:

Make sure that your dog gets the right amount of exercise during the day. Even a nice walk with a friendly Dog Walker can do wonders for your dog's digestion, helping them break down fibrous foods like beetroot.
Don't:

Forget to keep the water bowl full! Like exercise, water is a crucial element in a healthy doggy digestive system! Fresh water is also a good way to lower the risk of kidney stones for beet-loving doggos.
If your dog doesn't like beetroot, don't fret. There are many other superfoods for dogs that provide similar nutrients. And, for the more anti-veg doggos out there, you don't have to force them to eat their greens at all. Just make sure that they're on a healthy diet for dogs, maybe one that hides the flavours of vegetables with the irresistible scent of fresh protein!
Now that we've answered the question, "Can dogs eat beetroot?" what does your dog think?
Have you tried giving your dog beetroot? Do they regularly get a few shavings at dinner time? Now that we know the answer to "Can dogs eat beetroot," we'd love to hear about what your pooch thinks of this nutritious root veggie!
Comments
comments