While you might dream of your doggo wowing friends and family with its piano rendition of Symphony No. 5, it may take quite a few years of training to get there. In the meantime, you can start with a few easy dog tricks before turning your pupper into a musical maestro. 
These dog tricks may not be as extraordinary as a piano recital, but they're certainly impressive in their own right – and a heck of a lot easier to teach.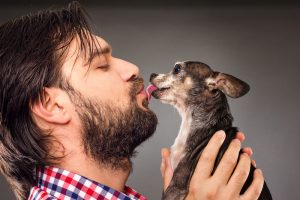 What are some easy dog tricks I can teach my furry friend?
Kiss
This one may or may not appeal depending on how you feel about your canine slobbering on your face. (There's absolutely no judgement here if you secretly love it.)
A kiss from your dog might just seem like a cute PDA. However, there are actually a couple of benefits to letting them lick your face. First, it helps build the bond between the two of you, and second, it establishes you as their master. Interestingly, in the wild, dogs lick the leader of the pack to show respect. 
Teaching your dog to kiss your cheek is really, really easy. Smear a tiny bit of peanut butter on the side of your face, and your dog should lean in for a lick. Repeat a few more times before replacing the peanut butter with the word 'kiss'. Eventually, 'kiss' should be enough of a cue when you want your dog to plant a big smooch.
Sit
Ah, the classic dog trick. Sitting boasts numerous benefits: it's a way for your doggo to learn patience when they want something; it can help calm them down when they're riled up; it ensures they're chill when meeting new people; and it can even keep them out of trouble or dangerous situations, such as crossing the road or jumping up to kitchen benches.
Wondering how to teach a dog to sit? Using a technique called 'luring', sitting is a pretty simple dog trick. Grab your dog's favourite treat and put it right in front of their nose. Then, gradually lift the treat above and behind their head. As their nose follows the treat, they're likely to sit down. Once their bum's on the ground, you can reward them with the treat. 
Repeat a few more times, both with and without the treat, and eventually with the word 'sit'. Your pupper will be a sitting pro in no time!
Shake
What better way to greet guests than by having your dog shake their hands? If you want to develop your pupper's good manners, shaking hands is one of the easiest dog tricks you can teach them. And, most dogs find it pretty fun.
To get your dog to shake hands, start by asking them to sit. Then, place a treat inside your closed fist and steadily move it down towards your dog's paw. At first, your dog might just sniff your fist. After some time, though, they'll likely use their paw to try and find out what's inside. When they raise their paw, you can open your hand to reward them with the treat.
As your dog improves its handshaking, raise your hand higher and higher off the ground, and slowly incorporate the word 'shake'. Before long, you might even be able to turn that handshake into a high five.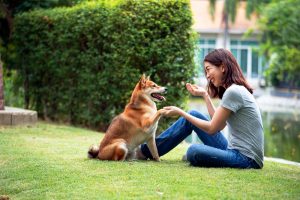 Down
In a similar vein to sitting, 'down' is one of the most valuable tricks you can teach your dog. It offers many of the same advantages as 'sit', but has an additional benefit: 'down' is super comfortable for your canine, meaning they can stay in position for extended periods. This is especially useful if you're spending longer than a few minutes somewhere, such as when you're visiting a friend.
Lying down is basically an easy extension of sitting. When your doggo is in a sitting position, take another treat. Hold the treat in front of their nose and move your hand towards the floor. Once your dog is reclining, reward them with the treat – and maybe a good belly rub. After a bit of practice, you can incorporate the cue 'lie down' into your training routine.
Roll over
Is your pupper a lying down expert? If so, they're ready to graduate to rolling over!
While it may seem like one of the trickier tricks on this list, rolling over is actually quite straightforward – it just takes a bit of patience and a lot of repetition. From a practical perspective, the benefits of teaching your dog to roll over lie more in the process. Training is a great way for you to bond with your dog, and it keeps them stimulated.
Ready to teach your dog how to roll over? First, get them in a lying down position. Place a treat in your hand before moving your hand behind your dog's neck. Your doggo should try and reach their head back towards the treat. As they do, keep moving the treat to encourage your dog to roll over. If they're successful, hand them the treat before repeating a few more times, eventually with the cue 'roll over'.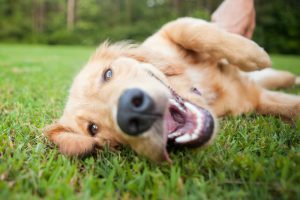 Tips for teaching your dog new tricks
Whether you're teaching your dog an easy trick like 'kiss' or going for something more advanced, we have a few tips to keep in mind. These will ensure training is a fun and triumphant experience for everyone involved.
Find the right incentive to teach easy dog tricks
We all know dogs are highly food motivated (to put it lightly). Treats are a great incentive when training your dog, but so are pats, belly rubs, and delicious and healthy dog meals. When your dog is able to do a trick on command, you could reward them with their dinner. Or, you could start training them to sit before receiving their meal.
If you are using food to incentivise your doggo, just make sure to watch quantities. Each treat or meal should count toward their daily food intake, so give your pupper a little less food at mealtimes to make up for the increase.
Be patient and go slow
When it comes to dog training, lots and lots and lots of practice makes perfect. While your pupper may not nail the trick on the first or even seventeenth go, they'll likely get it over time. 
Be patient with them and try to avoid getting frustrated. Positive reinforcement is generally more effective for dog training than negative punishment, and a lot less stressful for your four-legged friend. If you find you're getting annoyed with your dog, take a break and revisit the trick another time.
Going slow also applies to using verbal cues. You want your dog to first master the behaviour by luring them with an incentive, such as a treat. Once they've done this, you can start using verbal cues alongside the incentive. They'll soon learn to associate these verbal cues with the behaviour.
Get the gang involved in teaching your pupper easy dog tricks
Dog training doesn't have to be a one-person job. Getting your family members or a trusted Pet Sitter involved can be really beneficial if you want your doggo to understand verbal cues from other people. Plus, dogs love regular stimulation. If someone else is happy to continue the training fun, why not take them up on it? Alternatively, if you're pressed for time, a Dog Trainer can take some of the practice off your hands. With a bit of professional guidance, your dog'll have these easy dog tricks down in no time!
Comments
comments