Every big doggo is a top dog in our book. But, if you've been wanting to learn more about the kinds of big dog breeds that exist, you're in the right place! We'll introduce the tall dogs, the fluffballs, the super speedy dogs, and the ones most likely to win over your local Dog Sitter (hint: it's all of them!).
Let's talk big dogs!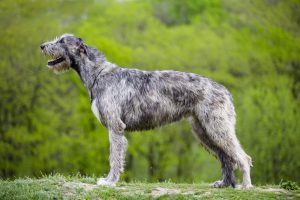 #1: Great Dane
When you first hear the phrase "big dog breeds," we can bet that the Great Dane is the first one to pop into your head! In terms of size, Great Danes are one of the tallest doggos out there, standing at an astounding 80cm from the top of their shoulder to the ground. And, they can range between 50 and 80 kg on average.
While Great Danes are the quintessential big dog, they seem to be under a different impression about their own size. These dogs are known to be total lap dogs, without a clear concept of personal space.  
And while we may be tempted to equate height with athleticism, the Great Dane is here to prove us wrong. While these dogs can certainly keep up with your outdoor activities, they don't live for sport. Instead, they're much more interested in long walks and curling up on the couch.
Because Great Danes grow so amazingly quickly, they need a balanced high-protein diet from the time they're gangly pups. This will allow them to develop normally into the gentle giants they're meant to be!
#2: Irish Wolfhound
If you were to ask the Irish Wolfhound, they might tell you that they've been robbed of the title of tallest dog of the big dog breeds! That's because these wire-haired giants can stand at a whopping 90cm at the shoulder. That's about 10cm taller than the average Great Dane!
What's more, Irish Wolfhound Owners sometimes point out that their special pup is often mistaken for a Great Dane. The nerve! 
As it turns out, the similarities in the size of these two breeds is a question of lineage. Great Danes may have been developed with the help of Irish Wolfhounds. And when Irish Wolfhounds were in dire straits at the the end of the 19th century, Great Danes were used to bolster the breed. 
But hey, even though the breeds are practically cousins, we still think that the Irish Wolfhound deserves some credit! They may not be the most well-known of the big dog breeds, but they certainly wouldn't mind the recognition of one of the top big dog breeds!
#3: Old English Sheepdog
Is this a big dog, or is it a small dog hiding in a layer of poofy fur? Fluff or not, the Old English Sheepdog really is big. These dogs can grow up to 60cm tall at the shoulder and weigh between 30 and 45kg.
While they may not be the biggest dogs on the list of big dog breeds, the OES has a big, bold personality. Taking pictures of them sitting still can be a challenge, because they're always on the hunt for fun and games. But we can forgive them for leaving our camera roll full of big fluffy blurs, because we know these dogs are even better in person.
Because Old English Sheepdogs are always on the move, and not always with the most grace, it's a good idea to make sure they've got the best pet insurance.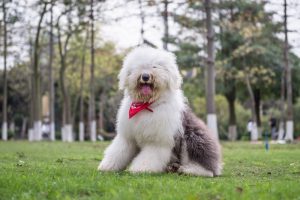 #4: Tibetan Mastiff
This big hunk of a dog was bred to be stoic and intimidating with the silhouette of a lion. Placed on the perimeter of sacred temples, it was probably hard to tell the difference between the real dogs and decorative statues! That is, until the Tibetan Mastiff let out their resounding bark.
Tibetan Mastiffs are huge, weighing in at up to 73kg. They tend to be around 60 to 75cm tall, and that luxurious mane makes them look even bigger and more regal. Add that to their distinguished presence, and this dog is larger than life!
#5: Newfoundland
Unlike the Tibetan Mastiff, the Newfoundland was never bred to be a true watchdog. And, given their weight, you might be surprised to learn that they were actually once waterfaring doggos on fishing boats! Even with that incredible fluff, Newfies are buoyant and strong in the water. And, they're happy to jump in after a fallen crewmate—imagine Chewbaca as a lifeguard. 
At 80kg and a height of up to 75cm at the shoulder, the Newfoundland has absolutely earned a spot in the list of big dog breeds. And we can't think of anyone we'd rather snuggle up to after a long day on a fishing boat.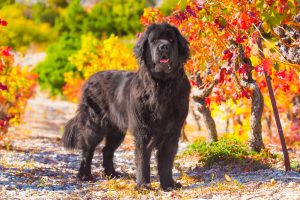 #6: Akita
While certainly a big doggo, the Akita is perhaps the most graceful dog on our list. These poofy pups seem to walk everywhere on their tip-toes, and they're fast and nimble enough to outrun most dogs at the dog park.
Akitas stand at around 60 to 70cm and can weigh up to 50kg. Given their size and strong-willed temperament, extensive training and exercise are recommended for this big pupper. If you're struggling to keep up with your Akita's high exercise needs, a Dog Walker is a great option. After all, big dog breeds can be difficult to tire out, and the Akita is a perfect example.
#7: Saint Bernard
When famous artist Sir Edwin Landseer painted the masterpiece Alpine Mastiffs Reanimating a Distressed Traveler, he depicted the Saint Bernard in all their glory. Landseer's Saint Bernards were huge, muscular, jowly and bearing the gift of a barrel of brandy around their neck. It's exactly what we think of when we think of the Saint Bernard.
While the brandy barrel was the result of artistic license, Landseer's dogs were pretty true to form. Saint Bernards really are big, hefty, muscular dogs with a thick coat to withstand the coldest Alpine winter. These dogs weigh in at an amazing 80kg (and sometimes more!) and can stand at around 65 to 90cm tall.
Which of these big dog breeds is your favourite?
All of the dogs on our list of top big dog breeds have one thing in common: they're HUGE. But, the wonderful thing about this group is that they all have their own unique personality and style. Some will require extra space on the couch, some are more energetic than others, and all are sure to turn heads when you or your regular Dog Walker take them down the street!
Did your big doggo make the list of top big dog breeds? Let us know!
Comments
comments