Let's face it….Cats can be extremely fussy! Some don't like it when they're being patted or if you're near their territory,  let alone brushing their teeth! Cleaning cats' teeth can definitely be a challenge so to make sure your kitty's teeth are healthy, we've summed up the easiest ways to give them a brush without causing too much grief!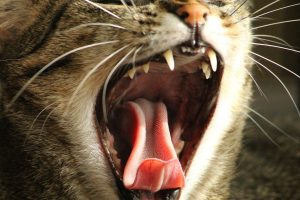 Here are some products to get you started:
Cat toothbrush (or a baby's toothbrush with soft bristles)

Cat toothpaste (Yes, it exists and no, you cannot use human toothpaste)

Teeth cleansing liquid

Teeth cleansing gel

Catnip chew toys and Greenies oral snacks (optional)

Our own Mad Paws crazy cat lady, Suzy,  has kindly told us her method of brushing her cat's teeth. You will need your cat to be calm, patient and steady while brushing their teeth. Reading their body language can give you a hint as to how they're feeling. If you can have another person to help, it would make your life a lot easier!
Suzy's Steps:
Apply cat toothpaste on cat toothbrush
"Remember, you can't use human minty fresh toothpaste as some of the chemicals can be extremely harmful to felines!" explains Suzy 

Make sure your cat is in a comfortable and steady position
"Picking the right moment is really important – you have to get your cat in the right mood or else tooth brushing can turn into a disaster! They need to be calm and comfortable before you start, or you don't stand a chance!" 

Gradually part the lips and gently brush the teeth –


"Depending on your cat's reaction, judge whether to continue brushing, or take a break for a few seconds, before continuing. As long as the toothpaste is making contact with the teeth, that's the important thing!" says Suzy
If your kitty is particularly averse to tooth brushing, try one of these alternatives:
Put small drops of teeth cleansing liquid into your cat's water bowl 
If your kitty absolutely won't let you near their teeth, adding a few drops of teeth cleansing liquid to their water will help
Feed 3-4 "Greenies" –
These snacks are shaped purposely to remove plaque and can be effective at keeping teeth healthy if they are used before tooth decay sets in! 

Leave some catnip chew toys around the house
Add more catnip, if necessary! The chewing motion will help to break down plaque and keep those teeth clean and healthy! 
Try these steps for your feline friend and let us know how it went! Also, if you have any other recommendations, please let us know!
Comments
comments