Do you think it's time your pooch started earning his keep? Take a look at these top jobs for dogs to find out what he could do! 
Police Dogs 
Training time: 1 – 4 months
Typical length of service: 7-8 years
Common breeds: German Shepherds, Springer Spaniels & Labradors
Perhaps one of the most visible working job, dogs working with the K9 department must have highly trained noses. Common tasks include sniffing for drugs, weapons or suspects but dogs can also be used as a confrontational deterrent – one low growl from a German Shepherd can be enough to make a suspect think twice about causing trouble! Police dogs work with one handler all the time and often go home at night to live with the officer and their family.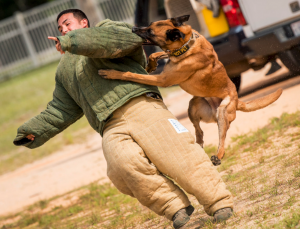 Service Dogs 
Training time: 6 months (usually after 12 months on a puppy programme) 
Typical length of service: 8-9 years
Common breeds: Labradors, Golden Retrievers & German Shepherds
When we think of service dogs, we usually think of guide dogs for the blind, which was an initiative introduced after World War I.  Service dogs can help out people with a whole range of disabilities – Hearing Dogs can alert deaf handlers to alarms or hazards in their environment and Medical Alert Dogs can give their owners a warning and time to get to a safe space before a seizure or attack starts by sensing tiny changes in their handler's hormonal balance. Service Dogs live with their handlers and are trained to understand that 'harness on' means it's time to work and 'harness off' means it's playtime! 

Search and Rescue Dogs 
Training time: Up to 3 years 
Typical length of service: 5 – 7 years
Common breeds: Border Collie, German Shepherd, Bloodhound & Labrador  
Search and Rescue Dogs are highly trained to use airborne scent to search for humans. Some Search and Rescue Dogs use the scent of the missing person, taken from clothing or belongings, to track them down in a large area or even through a busy city centre. After disasters such as earthquakes or explosions, Search and Rescue Dogs can be used to locate human life – or cadavers – and indicate to rescuers where they should be focussing the search. 

Herding/Mustering Dogs 
Training time: 1 – 2 years (when trained from puppyhood)
Typical length of service: 6 years 
Common breeds: Kelpie, Border Collie, Australian Cattle Dog & Huntaway
"In the mustering world, there's a belief that a dog doesn't reach its potential until it is 2 years old" says Travis Saxby, an experienced farmer "when training starts from a few weeks old, it takes until around 2 years old before a dog has truly mastered herding!" 

Therapy Dogs

Training time: 1 – 4 months 
Typical length of service: Infinite
Common breeds: Any dog with the right temperament!
If you see a pooch wandering the halls of a hospital or hospice, it's likely to be a Therapy Dog. It has been scientifically proven that Therapy Dogs improve patients well being in 5 areas: physical, social, cognitive, emotional and environmental.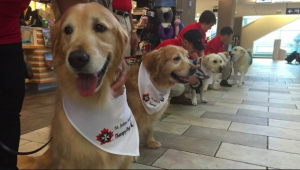 Comments
comments