As popular as cod liver oil for dogs has become in the last few years, many Dog Owners have questions. What are the benefits of this fatty acid supplement? Are there risks? How can Pet Owners go about finding the right dosage?
In this codfish Q&A, we'll cover everything you've been wondering about cod liver oil for dogs.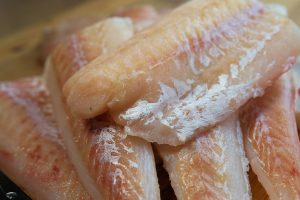 First of all, what is cod liver oil for dogs?
Cod liver oil, as you can probably guess, is an oil extracted from the liver of the codfish, most commonly the Atlantic or Pacific Cod although more varieties are popping up. 
What's special about cod liver oil is that it contains a high level of two different types of Omega-3 fatty acids: EPA and DHA. These types of Omega-3s are unique to oily fishes such as cod, salmon, tuna, and anchovies
There are some plant-based Omega-3 sources, such as flaxseed and certain leafy greens, but they contain a different kind of fatty acid called ALA. 
Cod liver oil also contains a significant amount of Vitamins A and D.  
Why is everyone talking about cod liver oil for dogs?
The scientific community has been pretty clear about the health benefits of Omega-3 fatty acids for humans. After all, we need fats to be able to function normally, and natural fats like Omega-3s are far superior to the kinds of fats found in fried foods and sugary treats. 
But does that mean that cod fish oil is the right choice for dogs, as well? According to the latest research, yes! Here are a few ways that cod liver oil can be helpful to dogs:
Improves heart health and lowers blood pressure.

Cod liver oil has been

recommended for dogs experiencing heart arrhythmias or heart disease

. It may also help lower blood pressure thanks to its anti-plaque qualities in blood vessels. 

Improves skin and coat health

. Fatty acids like cod liver oil are well-known for giving your pup a healthy, beautiful coat. Cod liver oil for dogs may be particularly helpful for pups who suffer from skin allergies or dry skin.

Aids in lowering inflammation

. There are many reasons for inflammation in dogs, including genetic factors, stress, food allergies, age, and more. The anti-inflammatory qualities in cod liver oil are helpful in lowering inflammation, making the supplement particularly soothing for dogs with arthritis or joint pain.

Maintains cognitive function and decreases cognitive decline

. Just like us, our dog's brains need fat for proper neuron firing. Every time your dog's neurons send messages, it's thanks to the DHA providing an ideal environment for neurotransmission. This is especially crucial when dogs enter into the senior years, when they lose some of their brain plasticity.
And it's not just the EPA and DHA in cod liver oil that offers health benefits. The Vitamin D in the oil can promote healthy bone growth by helping your dog's body absorb calcium. What's more, the Vitamin A in cod liver oil is essential for your dog's vision; immune system; skin and coat health; and muscle function.
Is cod liver oil different from fish oil?
Cod liver oil and fish oil are similar, but they tend to come from different sources. And they can have slightly different dietary advantages.
For one thing, cod liver oil tends to be higher in Vitamins A and D than fish oil. Typically, fish oil is extracted from the entire fish, while cod liver oil comes from the vitamin-rich liver of the codfish.

Are there any risks?
Whenever you introduce a new ingredient in your dog's diet, it's important to consider all of the potential risks. While most experts consider cod liver oil to be safe, there are a few things to keep in mind:
The source.

Unfortunately, in many parts of the world, supplement quality isn't well regulated. As such, it's crucial to find cod liver oil that comes from a reliable, safe source.  
The dosage.

There have been a few

documented cases

of dogs becoming gravely ill after being fed cod liver oil intended for human consumption. The issue for these dogs was dosage, as the human cod liver oil supplements are often more potent than those designed for dogs.  
Vitamin overdose.

Sometimes, well-meaning Pet Owners will mix and match dietary supplements to give their pup more vitamins and minerals. However, it is possible to go overboard. Since cod liver oil for dogs contains high levels of Vitamin A and D, it's important to limit other ingredients that may offer these vitamins.
Your dog's unique dietary needs.

Some puppers just won't take well to the addition of cod liver oil in their diets. It's possible for dogs to experience stomach upset after eating cod liver oil, especially if they have a sensitive digestive system or a specific digestive issue.
What's the best way to introduce it to our puppers?
Many Dog Owners feel intimidated by the idea of introducing cod liver oil to their dog's diet. 
For one thing, there's the issue of finding the right dosage. Cod liver oil for dogs typically comes with specific instructions so that you can calculate how much your dog should take per day, but we get it. You would never want to be the reason why your dog received the wrong amount of vitamins. If you're struggling with this step, you might consider getting the opinion of your vet. They'll be able to recommend the right dosage for your dog.
There's also the challenge of administering cod liver oil for dogs. We all know how inconvenient it can be to remember to give your dog a pill every day, let alone convince them to take it. 
The easiest solution is to add the cod liver oil to your dog's meals. That way, they can chow down on the supplement without a fuss. Moreover, you won't need to remember to give them a pill every day. This is also a great solution for pups who may feel some stomach upset from taking a pill on an empty stomach.
Ready to try cod liver oil for dogs?
With the right dosage and consistency, cod liver oil can be a great addition to a complete and balanced dog diet. Some effects of this dietary fatty acid will be obvious, like a shiny, luxurious coat or relief from arthritis pain. Other benefits, such as bone strength and improved vision, may not be visible. However, they'll give your pupper a better quality of life.
Always make sure that you take special care in giving your dog the right amount of vitamins from the right sources, and your pup can reap the health benefits of cod liver oil for dogs!
Comments
comments