Dog vomiting is an incredibly common search item online. Some Dog Owners turn to the internet because their loveable doggo keeps vomiting on their fresh sheets. Others can't help but to fall into one of those scary rabbit holes about all of the worst case scenarios associated with dog vomiting. For whatever reason you find yourself looking up the reasons for dog vomiting, let's pause for a moment.
The reality is: there are many, many possible causes for dog vomiting. Some of them are related to serious health concerns—that's true. Other reasons for dog vomiting are as harmless as over-excitement at meal times or mild food allergies.
To put a stop to your endless online search for answers, you could simply ask your vet. In the meantime, we've put together a helpful guide so that you can play dog vomiting detective. With these questions, you should get a better understanding of why your pooch might be vomiting.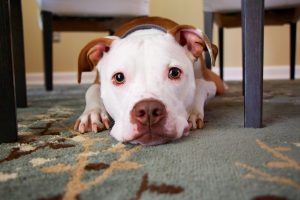 Have you tried taking a closer look at the vomit contents?
We know, this is a pretty gross thing to ask you to do. But, if you can take a closer look at what your pup has left on your carpet, it might hold some helpful clues.
If, for instance, your dog's vomit is tube shaped and mostly undigested, it's a good sign that your dog isn't technically vomiting at all. Instead, they might be regurgitating their food as a result of eating too quickly or exercising too soon after a meal.
You might also find signs of a more concerning nature, such as blood or bits of foreign material. Vomit that doesn't contain food matter could indicate a non-diet related issue or be the result of your dog being unable to vomit because of bloat.
Clearly, even when you take a closer look at the contents, you still might not get a clear idea of why your dog is vomiting. But, it will be helpful for you to take note of what you see as helpful data for your vet. 
Are items going missing around your house? 
What a coincidence. You're dealing with your dog vomiting on the very same day that you noticed your favourite pair of socks have gone missing, or your dog's new toy has suddenly disappeared.
Unfortunately, it could be a sign that your dog has swallowed your missing items and is now dealing with the aftermath. In some cases, veterinary care will be necessary if your dog has swallowed something dangerous. Other times, your dog might be able to cough up or pass whatever non edible item they've eaten. Take a look at our article What Happens if My Dog Swallows a Foreign Object? for more information.
Is your dog vomiting after meals?
There are a few reasons why your dog might be vomiting after their mealtimes. The first we mentioned already: your pup simply got too excited about their delicious dog dinner so they ate too quickly.
But there are a couple of other possibilities we should cover. And unfortunately, they're not as innocuous.
One reason for post-meal dog vomiting could be food poisoning or food allergies. Although dog digestive systems are a lot stronger than humans, our pups can still suffer from eating spoiled food. In many cases, they'll be able to pass the offending ingredients on their own, but if they don't feel better within a day or the dog vomiting is severe, veterinary care should be the next step.
If, on the other hand, your dog is a repeat offender when it comes to ruining your rugs, it could be that an ingredient in their diet is causing regular discomfort. Some of the most common dog food allergies that vets come across include beef, wheat, dairy, corn, soy, and eggs. For these doggos, alternatives such as kangaroo meat might make mealtime more enjoyable for you and your pup.
Finally, there's bloat. You'll be able to spot this serious medical condition if your dog attempts to vomit after a meal but is unable to. Bloat is also characterised by a hard, distended belly, distress, and pain. If you see these symptoms, it's important to get your dog to a vet right away, as this condition can be life-threatening.  
Does your dog tend to vomit at home or when you're out exploring?
This is a helpful bit of information because two common reasons for your dog vomiting could be heatstroke or motion sickness. And chances are, they're not going to suffer from either of these things in your non-moving, temperature-controlled home.
For both heatstroke and car sickness, the symptoms are similar: panting, drooling, and fatigue. Car sickness is typically most common with puppies under a year old, but dogs of all ages can suffer from heatstroke.
Has your dog recently switched foods?
Dogs are notoriously sensitive to dietary changes. During the transition period, dogs may vomit as their stomach adjusts to the new food.
That said, sometimes moving your dog to a healthier diet is worth the period of stomach upset. In the long run, fresh, healthy ingredients are going to be much easier for your pup to digest than dry kibble. And, they'll get more protein and nutrients out of every meal.
The doggie diet pros here at Mad Paws Dinner Bowl would be happy to help your pup make the switch to a raw food diet. And, we'll give you some tips on how to make the transition process as smooth as possible.
Is your dog a bit stressed out?
Just like you might be feeling a bit woozy before a big work presentation, your dog can also experience a physical reaction to stress. Stress-induced dog vomiting often goes hand-in-hand with behavioural changes, which can look different in all dogs. Some will become more affectionate and pushy for your attention. Others will withdraw.
Some common reasons for stress could be a recent move, a loss (or addition) of a family member, a change in schedule, or any other environmental changes.
The best way to deal with stress-induced dog vomiting will be to address the triggers and provide a predictable, safe atmosphere for your dog—even if you're feeling frustrated about having to get the carpets cleaned, again. 
Is your dog vomiting after eating plants?
There are a couple of different reasons why your dog might eat grass. Some of those reasons are harmless: dogs will eat grass to fill up on fibre or because they're bored or curious.
But, if your doggo is eating grass or other fibrous plants and then vomiting afterwards, it's likely that they were feeling unwell before they started grazing. If this is the case, and you notice your dog vomiting frequently after loading up on grass or plants, there's probably an underlying stomach issue that will need to be identified by your vet.
It's also important to remember that not all plants are dog-friendly. In fact, if your pup has a habit of chewing on plants, make sure that you keep them away from the common toxic plants for dogs to avoid creating another serious problem.
Still stumped about your dog vomiting? Get your pup to a professional
Even if you found a probable cause for your dog vomiting in this article, it's still a good idea to run your theories by your vet. They'll be able to do the necessary tests to ensure that your dog vomiting isn't the sign of something more serious.
While you're waiting for the final answer on why your dog is vomiting, make sure to provide them with plenty of water and a few soothing chin scratches to let them know you love them. Dog vomiting can be a challenge for Dog Owners, but with proper care you can help them get back to their healthy selves!
Comments
comments