As a Dog Owner, you probably know already that your dog reacts to your different facial expressions. Give them a stern look, and they know they've done something wrong. Offer them a friendly smile, and they'll respond with an excited tail wag. 
But just how capable are our canines at reading our facial expressions? Are they able to read only their beloved humans' facial expressions or also those of their local Pet Sitters, too? Judging by your raised eyebrows and puffed out lower lip at the end of this article, your dog will guess that the answers are surprising!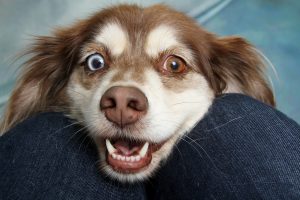 Do our dogs understand facial expressions?
As Dog Owners, we are the source of all things good—and sometimes bad, like reprimands or trips to the vet—in our dog's life. For that reason, they have a vested interest in learning as much about us as they can.  
One way that we know they learn about us is by looking at our faces. In our past article, Can Dogs Understand Humans?, we revealed that our dogs have learned to look to our eyes, specifically, to gage our emotions and intentions. In fact, they're the only species of animal, besides primates, who have evolved to do that. 
And with 10,000 years of practice, they're pretty great at it! Dogs are about as capable at reading our facial expressions and other social skills as a human child of 1 to 2 years old. They have learned to watch subtle changes in our facial expressions that could reveal whether we're angry, calm, or happy.
Of course, dogs, like most animals, are able to do this better with members of their own kind, but they are unique in being able to read human facial expressions. The only other animals that come close might be our cats, although we're still waiting for more research on the feline front.
Do dogs only understand their Owners' facial expressions? Or other people, too?
To be sure, your dog spends the most time reading your facial expressions. So, they're inevitably going to understand your subtle cues better than a complete stranger.
But when your pup's Dog Walker comes over, they will absolutely be able to read the facial expressions of these new people. In fact, in the studies of dog facial recognition, the pupper participants were only exposed to pictures of people they didn't know. Even with these complete strangers, they were still able to accurately identify the emotional response of the person in the picture.
Besides this, how do our dogs understand us?
Amazingly, 90% of human communication is through body language. So, it's really not such a disadvantage that your dog can't understand everything you say verbally. Even without understanding facial expressions, they would be able to rely on our body language, tone of voice, and even scent indicators to know how we're feeling. 
You might have seen this at play when two Dog Owners approach each other without knowing whether their dogs will play or fight. One Dog Owner may be a bit nervous, tightening their grip on the leash and tensing up in anticipation. Their dog, sensing the change, will interpret the situation as dangerous, and ready themselves for a fight. It's a self-fulfilling prophecy that shows that our dogs are always reading our cues.
Similarly, a dog's sense of smell is a huge way for dogs to understand us. In our recent article, Why Does My Dog Sniff Everything?, we found out that a dog's sense of smell is strong enough to know how we're feeling and the state of our health. So, if they smell something a bit off, they may also look to our facial expressions to gather more information.
Finally, dogs have an incredible knack of picking up on patterns. If you've been working from home, your pup may have learned when your lunch break is, and thus, when their midday walk will be. So, around that time, you might notice them watching your face for signs of a change in focus or a relaxing of the muscles around the eyes that mean, "it's time for a break!"
As you go throughout your day, you might start picking out the moments when it seems like your dog is reading your mind. Did you change your posture? Breathe a sigh of relief? Think about preparing your dog's dinner? You'll realise that, even without meaning to, you communicate with your pupper constantly!
How can I know if my dog is reading my facial expressions?
It's one thing to talk about dogs in studies, but how well does your unique doggo read facial expressions? You can test out their skills at home!
To set up your DIY experiment, all you have to do is sit your dog down in an area that is quiet and free of distractions. Facing them, you're going to go through a series of facial expressions, and take note of their responses. A few you might try could be:
A big smile. This should prompt your dog to wag their tail, relax the muscles around their ears and maybe open their own mouths in a doggie grin.

An angry grimace. When you look upset, your pup is likely to avoid eye contact, lower their ears, and maybe even try backing away. 

A funny face. If you try out a facial expression that your pup has never seen, you will likely get a quizzical response! Your pup may tilt their head, make eye contact, and try to figure out what you're feeling.
When the experiment is over, you can reward your pup with a loving look and maybe even a treat!  
You can use this knowledge to deepen your bond with your pupper!
Once you're aware of your doggo's amazing ability to read facial expressions, you might be interested in putting their skills to good use. By bringing more awareness to your own body language, you can communicate better and more efficiently. And that's a huge benefit when it comes to training!
Here are a few ways that you can use facial expressions to communicate with your pup:
During your training sessions, keep your face neutral until your dog has completed the task correctly. Overly negative facial expressions will make your pup nervous during the training session. Instead of showing disapproval, simply stay neutral.

When your doggo does something correctly, give them an enthusiastic smile. They love to see you happy, and will work hard to do it again. 

When your pup is having a "bad dog" moment, such as stealing food from the table or chewing on your shoes, give them a hard stare, with a frown.

When you're about to meet a new dog, keep your face relaxed and positive. This will set the tone for your dog to keep things friendly.
Dogs are amazing facial expression readers, and the more that you're able to control your body language, the better they'll get at reading you.
Try honing your facial expressions, and let us know how your doggo reacts!
Comments
comments