The term "dog whisperer" is thrown around a lot these days, but this Super Sitter fits the bill. A local of Little Mountain, QLD, Tara's devotion to dogs earned her our February Pet Sitter of the Month title.  Learn Tara's secrets to Pet Sitting success below!

Why do you love being a Mad Paws Pet Sitter? 
All of the wonderful dogs I get to meet, of course! Living by myself, I love the company, it keeps me active, and it's great to have a happy face and wagging tail greeting me when I get home from work. It's a great feeling to give clients some peace of mind while they're away from their furbaby.
I've also met some lovely Owners and feel privileged to have their trust and friendship.
What's your favourite thing to do with your furry clients?

 
It depends on the dog and what they like to do. Taking them for a run and swim at dog beach is always a favourite, especially in summer.  Dog park adventures, fetch in the backyard, exploring the neighbourhood, and slower strolls and sniffing time for the golden oldies are all fun. In our downtime, nothing beats cuddles on the couch.
What was the first pet you ever owned? Do you have your own pets now?

 
A huge, mixed breed toffee coloured dog, named, surprisingly, Toffee Nose. I believe I was about four when we got him and I think it's safe to say my brother and I named him. No pets since my beloved Shepherd cross passed away a few years ago. I'm enjoying temporarily adopting all of my fluffy guests.
Do you have any particularly memorable furry guests?
They're all memorable in their own way. They have quite distinct personalities and likes and dislikes. Some are quite cheeky, some behave perfectly, some are a bit naughty, and some definitely keep me on my toes!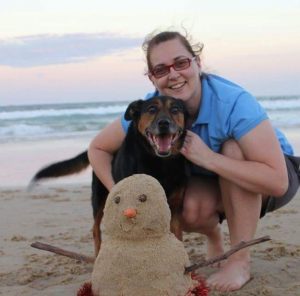 If your furry guests could talk, what one question would you ask them at a Meet & Greet? 
I would ask what I could do to make them comfortable and feel like they're at home.
What's your one top tip for new Pet Sitters?
Clients are trusting you with their furbaby, so care for their pet the same way you would expect your pet to be treated. Keep the client updated with photos and little stories. They love to see what their pet/s have been doing and it's important that they see them happy and comfortable.
Would your furry friend benefit from some time with Dog Whisperer? Book them a stay with Tara!
Comments
comments