Retired veterinary nurse Sharon, from Shailer Park QLD, is a big hit with both owners and sitters! With her family grown up, Sharon has plenty of time to dedicate to her furry and feathered clients and she always makes sure they go home smelling good! Find out more about what makes Sharon so special. 
Why do you love being a Mad Paws sitter? 
I love being a Mad Paws sitter because I know from my own experience, how important it is to an owner to have full and complete peace-of-mind that their pet(s) are in capable and loving care. I have owned many pets in the past and they were more to me than four-legged companions, to me they were family. If the family and I was going to be away, I needed to know that they would be safe and happy.My family is all grown up now and I am on my own, so I am grateful to have the privilege of providing that service to others. Being a full-time professional pet sitter is personally extremely rewarding.

What's your favourite thing to do with your furry clients?
When in my care, I enjoy teaching them little tricks so that when they go home they take a little bit of their experience with me, home with them.

What was the first pet you ever owned? 
The first pet I ever owned was a female tabby cat who was being given away at the front of a local grocery store. 
Do you have your own pets now? 
I currently don't own any pets other than a couple goldfish. I have lots of dogs come stay with me and I get great joy from all their different personalities and their companionship. Not having pets of my own does make it a lot easier when I wish to go away on holidays!
 

If your furry guests could talk, what one question would you ask them at a meet and greet? 
I suppose, if my furry guests could talk, the question I would ask them at a meet and greet is " What can I do for you to make your stay here with me really enjoyable?"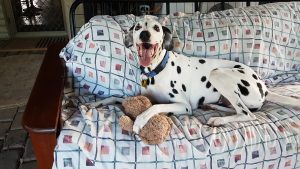 If you could pet sit any animal, what would it be?
My favourite animal to pet sit is the humble dog. My favourite breeds are Golden Retrievers, Labradors, Pugs and Huskies.
 

What's your one top tip for new pet sitters? 
One tip for new pet sitters would be always make sure you give all your canine guests a nice bath before the owner picks them up.  
To book in with Sharon, take a look at her profile here! 
Comments
comments