Here's how to start using your Fetch Walker App
Download Fetch Walker App 

Log in with your Mad Paws account details 

View a list of clients assigned to you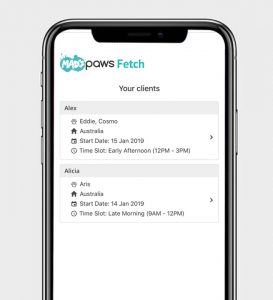 4. Click on any of the clients to view more details about them, OR to initiate a walk 
     5.Once you've clicked on a client and are ready to start a walk, click Confirm Dog to Walk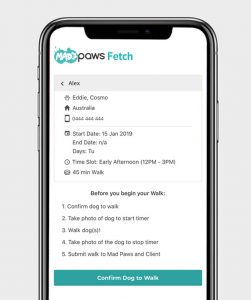 6. The first time you do this, we will request access to your camera! This is because, to start and end the walk, you will need to take a photo of the dog. 
7. When you are ready to start your walk, click Take Photo and Start Walk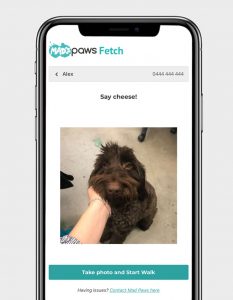 8. This photo will be sent to the Pet Owner when you finish your walk 
9. You will not have the option to retake the photo – so tell the doggies to smile! 
10. When you take the photo, we will record the time at which the walk started 
11. This will later be sent to the Pet Owner along with the photo
12. Don't be alarmed by seeing your camera is open – you don't need to take another photo until the walk has ended 
13. When you have finished your walk, click Take Photo and End Walk
14. We will record the time you ended the walk 
15. Summary screen – here you will see the time you started and ended the walk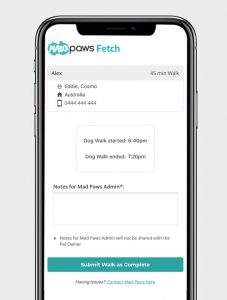 16. If you have any notes for Mad Paws admin about the walk, or if the Owner asked you for any special requests such as a longer walk, this is where you can tell us!
17. Submit walk as complete
That's it, you're all set to use the Fetch Walker App on your next walk!
You're now ready to start submitting all your walks and get paid for them through the Fetch Walker App – You won't need to submit timesheets anymore!

If you have any issues or have questions please contact our support team via:
email – fetch@madpaws.com.au 
or SMS: +61419787649
Comments
comments