The Night King made short work of the supposedly impenetrable wall with the help of his new Ice Dragon and is marching swiftly south. With Season 8 scheduled to start around 2019, the people on Westeros have 2 years to enjoy themselves before all hell breaks loose. Whilst they're away, someone needs to keep an eye on the animals of Westeros so if you think you could help out, take a look at the animals in need below. 
Dragons
Dragons take a lot of care. Valyrian or Targaryen sitters are preferred for their natural ability to bond with the winged beasts but if you bear a resemblance to John Snow, you may get away with it. The environment is a tall order as they must have enough space to spread their wings, soar and dive. Whatever you do, don't try to keep them down in your family catacombs; dragons do not appreciate being tied down. A dragon with a full stomach is an obedient dragon so whoever cares for them will need to be happy to provide plenty of meat to keep them happy – they're not fussy, lamb, goat or fish will be fine. But don't worry about cooking it – dragons prefer their meat personally flame grilled to perfection. 

Dire Wolves
With only two known Dire Wolves living south of the wall (or what's left of it…) you'll be lucky to be chosen as a sitter for these majestic creatures. Ghost and Nymeria are independent but are happiest in human company. Taller sitters may feel more comfortable as the adolescent Dire Wolf's shoulder is already higher an average human's waist, let alone a fully grown Wolf.  Family dogs to the bitter end, these Dire Wolves are fiercely loyal and will be the first to jump to your defence, should you need them to. An incredibly intelligent and intuitive animal, the Dire Wolf needs plenty of stimulation and will be most at home exploring the bush and hunting for prey.  Just keep them away from deers – an antler stuck in the throat has been known to be enough to kill off one of these gargantuan wolf.

Snow Bears 
If you live beyond the wall and have some time on your hands, you could earn some extra Silver Stags by providing a temporary home for a Snow Bear. We have some live and some 'wight' Snow Bears on our database and are keen to find anyone willing to care for either. We're sure they must have a cute-and-fluffy side to them but as a full disclosure, we've never seen one do anything but fight. Many a good man has been lost to Snow Bears. All Snow Bear sitters would be equipped with a Dragonglass Dagger to ensure their own personal safety in case of emergency.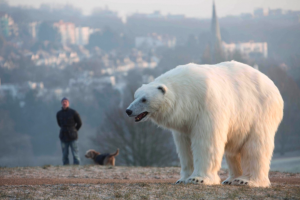 Not only do the animals need taking care of, there are swords, boats, thrones and battle maps to store until Season 8 begins. If you think you have space to help store some belongings, head to Spacer to rent out your garage, parking space or spare room for storage. 
Comments
comments