Pet first aid kits can be extremely handy in many situations! Just as they are for humans, first aid kits can provide immediate care when an injury or illness is time critical.
The suggested contents below are an extensive list of contents for a pet first aid kit that caters to most scenarios. To help, we've put together a guide for both an at-home kit and an on-the-go kit for when you're travelling.
Building the right kit for your pet is important – prioritising what you'll need (or not need) is up to you, so you're not carrying around anything unnecessary.
What to include in a pet first aid kit
To help you determine what suits your needs and services, keep reading to see examples of how to use each item. Knowing your pet's overall health status, and the common risks of the areas you're in, will help you determine what you need. 
The on-the-go pet first aid kit: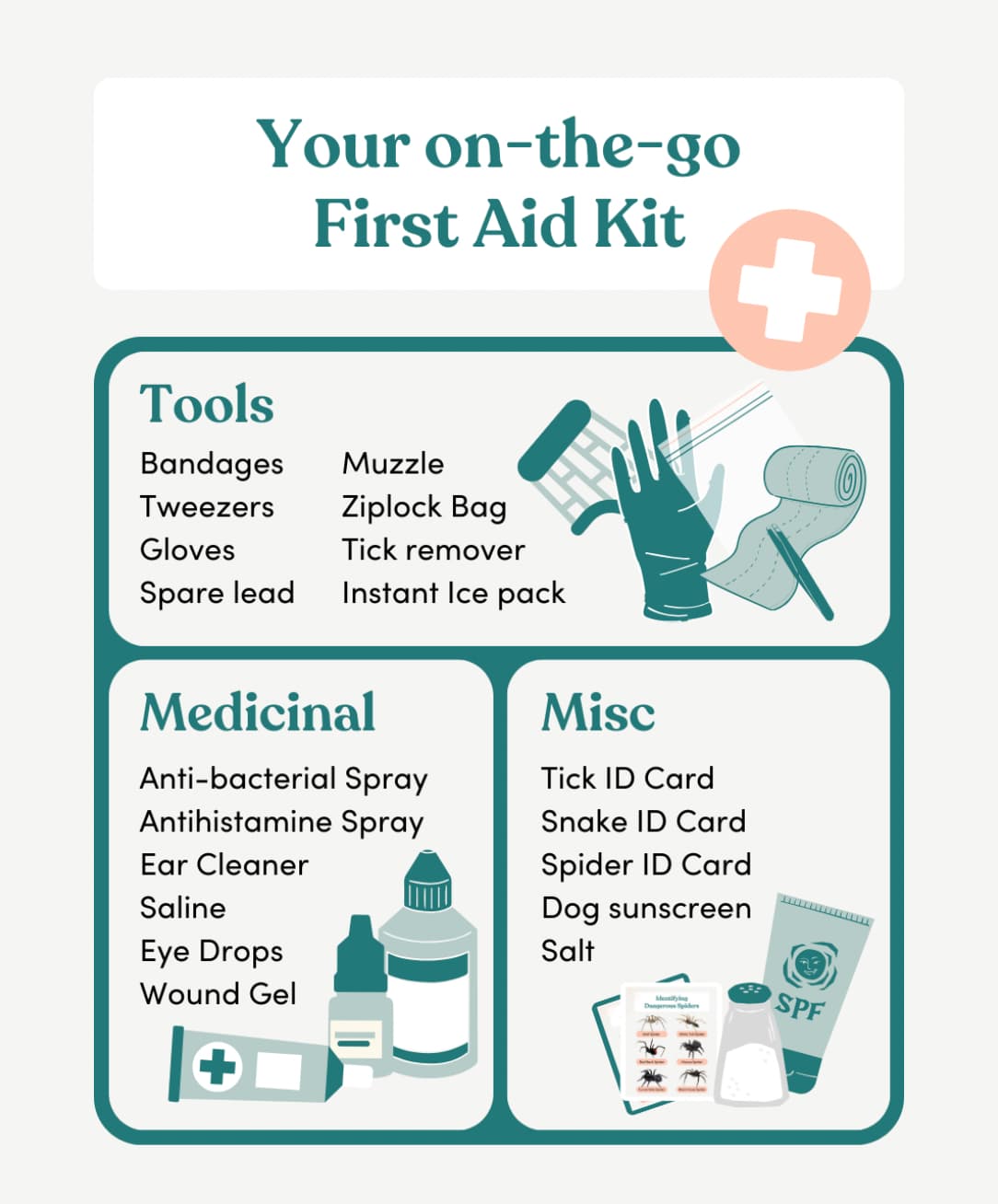 Secure wound dressings 
Compression bandaging 
Control bleeding
Vet Wrap: a self-adhesive bandage with no sticky residue, ideal for pets to allow secure bandaging without shaving fur. 
Secure wound dressings 
Compression bandaging 
Tick Remover: a tool to help remove ticks safely and whole. This ensures the head is removed, reducing further damage and infection risk. Removing the tick whole allows you to identify the type of tick and respond accordingly. 
Anti-bacterial (spray, ointment etc.): 
Prevent infection to cuts, wounds and other injuries 
Protect open skin until you can provide a proper clean 
Tweezers: 
Remove thorns, splinters etc 
In case the lead breaks / is chewed through 
To secure an off-lead dog 
Use as a pulley system to manage a dog displaying aggression 
Muzzle: In case an injured pet displays aggressive behaviour, it can keep you and the pet safe. 
Gloves: Allows you to treat and or clean open wounds without increasing the risk of infection. 
Saline: Small vials of saline make it easy to clean things with minimal effort. 
Flush/clean a cut, wound or spot 
Flush out eyes 
Lubricate the eye 
Remove dust, insects, dirt etc from the eye more easily 
Wound Gel: different to regular anti-bacterial, it can act as a liquid bandage barrier. Applying wound gel not only prevents infection but also protects the open wound from anything else entering such as bacteria, dirt etc. It's especially useful for wriggly pets or hard-to-bandage areas. 
Instant Ice Pack: This can be a lifesaver when a pet is overheating, gliding the ice pack under the belly and underarms and cooling their organs can make all the difference. 
Anti-histamine Spray: This can be useful to stop scratching or biting at allergy-related inflammation until further treatment can be provided. 
Salt Sachet: Instant leech removal, whilst not toxic leeches can create open wounds and infections. It's best to let them naturally fall off but if you need to remove them quickly, pouring salt on them will do the trick. 
Pet-safe Sunscreen: Pets get sunburnt too, especially pale pets with white/pink noses. Applying SPF is important to prevent skin cancer. 
Collection Bag: In the case you find a tick, insect or other foreign body on the pet you need/want to investigate further it's good to have a clean secure place to put it. 
Tick Identification Card: It's best to know ASAP which type of tick you find on a pet to know how urgent medical treatment is and what symptoms to expect. 
Snake/Spider Identification Card: It's best to know ASAP which type of spider or snake you find on a pet to know how urgent medical treatment is and what symptoms to expect.
Top tip: We recommend taking a screenshot of the below ID cards and keeping these on your phone, or printing them out and having them in your pet first aid kit. You can also download them here.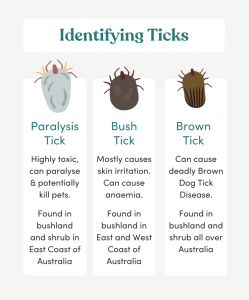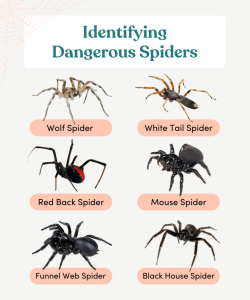 The in-the-home pet first aid kit:
In addition to the on-the-go list above, the below items may also come in handy when you need to treat your pet:
Pro-kolin: a generic pro-biotic for cats & dogs that can be useful for upset stomachs due to food changes, stress etc. 
Ear Cleaner: can be useful if dogs are swimming or playing in the yard and their ears need a re-fresh. Super useful if you're caring for dogs prone to ear infections as a preventative measure. 
Tick Collar: a preventative measure if you're in a tick-prone area or don't know if the pets have had prevention. 
Oatmeal Shampoo & Conditioner: a great tool to soothe skin caused by anything. Stress, allergy, food, or other related skin irritations can be soothed by an oatmeal bath for most pets. 
Pee Pads: to help with toilet training, to provide sterile areas, to protect carpet or furniture. 
Styptic Powder / Gel: designed to clot nail bleeding if a pet breaks a nail or you clip it too far this will stop the bleeding. 
Nail Clippers: in case a pet breaks a nail and you need to clean it up or in the rare case a pet needs their nails clipped. 
Eye Ointment: can help settle conjunctivitis or slow the spread it it. Also useful for other eye irritations such as allergies, scratching etc. 
UTI relief: pet UTIs are hard to diagnose without a vet but if they're an ongoing problem for any of the pets in your care having relief on hand is great to curb symptoms.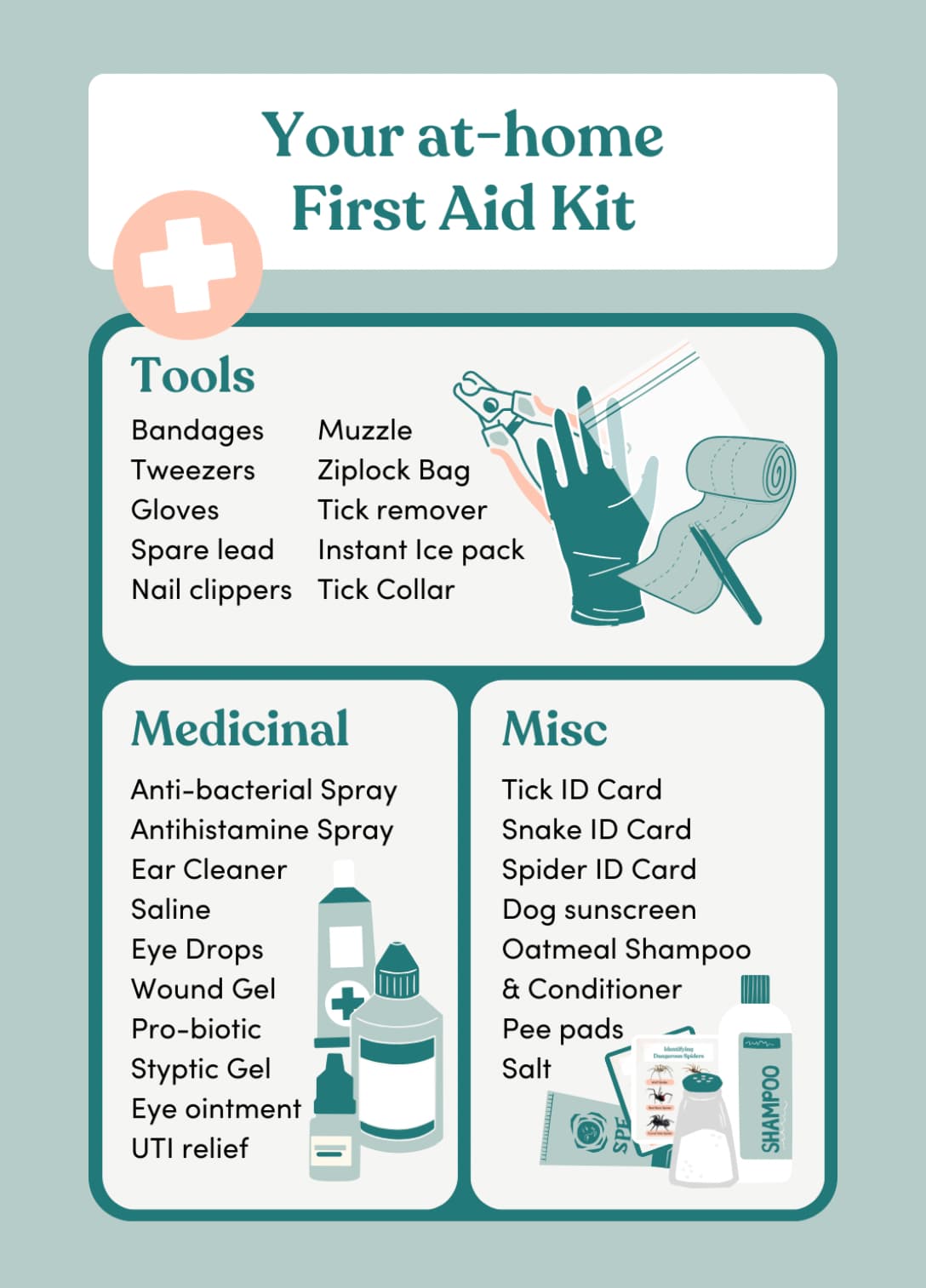 Why do I need a pet first aid kit?
You're may not always be in a position to take a pet to the vet immediately. You could be on a bush walk 2 hours away from a vet and the dog has a paralysis tick… or the dog could break their nail playing in the yard and some styptic power and antibacterial could save a $100+ vet visit.
There's no doubt you care about your pet/s, but often proactive care can be an afterthought. Turn what would be, "I wish I had this", or "I wish I had done that" into "Thank goodness I was prepared."
Providing immediate care at the time of the injury can save a lot of extra trouble. Treating a cut immediately will reduce the risk of later infection significantly, in theory, it could stop an infection altogether – meaning no vet visit or antibiotics.
It's important to note, however, that having a pet first aid kit shouldn't replace going to the vet. And you should never provide medical assistance that you're uncomfortable doing or that should only be done by a trained professional. 
Comments
comments