How to get your dog to like cats may seem like a trick question. Surely, your dog is either a cat-lover or the natural born enemy of all felines, right? And if your pup is in the second category, getting them to behave around cats or even enjoy their company may seem like a tall order.
The good news is, though, it can be done! It will take a lot of patience and planning, but your dog can learn to get along with cats, and maybe even start to like them!
In this article, we're going to focus on how to get your dog to like cats, but your pooch is only one part of this furry equation. Make sure to brush up on our article, How Do I Introduce My Cat to a Second Pet? for tips on making the process stress-free on both sides.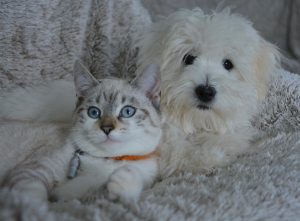 Before we begin on how to get your dog to like cats, a crash course in Positive Reinforcement Training
Many of the steps that we're going to share in this article revolve around Positive Reinforcement Training. This is a training method that rewards your pupper's good behaviour with treats, special toys, and verbal encouragement. 
Positive reinforcement is generally a great training method. But there are a couple of reasons why it's particularly helpful when learning how to get your dog to like cats.
One, it gives your dog incentives that are more appealing than the cat itself. Two, positive reinforcement training can help you de-escalate a situation that is getting overly excited. Calm redirection, a common tool in positive reinforcement training, can be useful, but harsh punishment may ramp up your dog's aggression.
Get the full picture of this training method by reading our article, Positive Reinforcement Dog Training: Why it Works. Once you've got a good handle on this training method, you can start the steps on how to get your dog to like cats!
Steps for how to get your dog to like cats
There are four main steps that you can follow for the best chance at changing your pup's mind about cats. Remember that there's no set time limit for any one of these steps. You'll simply have to stick with a particular step until you're very confident that your dog is ready for the next one.
#1: Obedience Training
A strong training foundation is by far the best way that you can prepare your pup for a feline-filled future. In particular, obedience training will help your dog work on impulse control. This crucial skill will override your pup's natural prey drive so that you can start working on the dog-cat relationship. 
Some of the basics you'll want your dog to first master include sit, down, stay, leave it, and come. Even though your dog will be on a leash during their first few interactions, these commands will allow you to better manage their excitement around the cat.
#2: Socialisation
Like obedience training, socialisation doesn't have to take place around a cat, at least not at first. A properly socialised dog is one who is calm in a variety of settings. Without proper socialisation, you risk your doggo getting overstimulated at the sight of anything out of the ordinary, be it a houseguest, the neighbour's dog, or their future feline flatmate. So, as soon as you can and as often as you can, work on socialising your dog.
#3: Desensitisation
At this point, your dog has mastered their basic training and learned how to be polite and calm around dogs, people, and other everyday distractions. Now, they're ready for some desensitisation, which will prepare them for some feline face-to-face time.
To start, you might expose your pup to objects that smell like cats. If you have a friend who is a Cat Owner, for instance, ask them to lend you an article of clothing with the cat's scent or a couple of their cat's toys. You can also play sounds of cats for your dog. When you do, ensure you provide your pup with treats and positive verbal praise to help them associate the cat items with rewards.
You might also try bringing your dog to your Cat Owner friend's home with the cat in another room. Spend plenty of time allowing your dog to sniff around calmly. If your dog can relax enough to lie down, you're on the right track! 
Another great training moment could be during your dog's daily walks. If there is a house in your neighbourhood where your dog always stops to bark at the cat sunbathing in the window, take the opportunity for some desensitisation training. Once your dog starts barking, have them sit. As soon as they stop barking, give them a treat. If they're able to sit and stay calm, continue to give them positive praise and treats. This will allow them to associate seeing the cat with rewards, but only if they're calm. 
#4: Controlled Introductions
Up to this point, you've been laying the groundwork for your dog to safely meet a cat face-to-face. They're finally ready to meet a real cat!
During your first introductions, you'll want your dog to be on-leash the entire time. It may also be appropriate for the animals to be on opposite sides of a screen door or toddler gate. That way, they can see each other without the fear of confrontation.
These first interactions will be all about getting to know each other. Pup and kitty may stay far away from each other, but they'll be smelling and reading each other's body language expertly. If the cat decides they want to explore further, they should be given the opportunity to approach. That said, it's important never to force them.
Throughout this meeting, you can rely on your positive reinforcement training to keep Fido under control. Another brilliant option is to schedule these meetings during meal times. If your pupper is focused on a bowl of fresh dog food, the cat will be able to relax around their future friend.
On the other hand, if your dog is getting too excited, remove them from the room and try again when they're calm.
As dog and cat become more familiar with each other, you'll still want to monitor them at all times. Do not remove your dog's leash unless you are 100% sure that they feel nothing but love for their new feline friend.
How to get your dog to like cats when they come from a hunting breed
It is possible to convince a dog with a hunting background that cats are friends. But it is more challenging.
The socialisation step, in particular, will need extra attention. Puppies with a high prey drive should learn as early as possible to see cats as part of the pack.
Hunting breeds also tend to be highly energetic, which can make them excitable around small animals like cats. With regular exercise, they can burn off some of that energy for more relaxed interactions with cats. If you need help burning through their energy, you can ask their Pet Day Care Sitter to exercise them more during the day.
How long does it take for dog and cat friendships to form?
There are many factors that will determine how long it will take for a dog to warm up to cats. Breed, previous experiences, and socialisation will all affect how willing they are to see cats as friends.
But, don't give up! If you stay calm and consistent, your pupper will come around. And once you've learned how to get your dog to like cats, you might start filling your home with furbabies!
Comments
comments