For some of us, our cats are the centre of our lives. For others, it's our children. What happens for those of us who have both? If you're lucky, your furbaby and your real baby will live in harmony. However, for many parent Cat Owners, the relationship between cat and child can require a bit of finesse. 
It's a good thing, then, that "finesse" and "feline" share so many letters. Whether you're raising infants, toddlers, or school-going children, your kids and kitty can learn to love each other!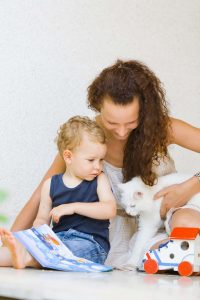 Infants and cats: taking baby steps
Have you recently welcomed a baby into your life? If so, congratulations! Now, are you worrying your cat may see the newest member of your family as a tiny foe? Take a deep breath of relief, new parent: your kitty will likely give your baby a wide berth (pun intended).  For now, your pint-sized Cat Lover Junior will be emitting smells and noises that will keep your cat at bay. 
Having said that, there are two dangers you face when bringing a baby home to a cat. The first is that your favourite feline may feel uneasy about the sudden shift in your focus. The second is more crucial: if your kitty does find themselves alone with your baby, the result could be fatal. 
To address both issues, you'll need to set boundaries for your cat, while slowly introducing them to your little one. Begin by ensuring your feline can never access your baby's living space without you. While your kitty might avoid them, all it takes is one leap into the cot for mayhem to ensue. 
Next, make supervised time during which your cat and infant can be in each other's presence – for example, feeding time. This way, your kitty can approach your baby under supervision, while your child can also become familiar with your cat. If your feline begins to show any signs of distress, separate the two and attempt it again on another day.
However, if their hair is flat and tail and spine are relaxed, let them come a bit closer. By taking a whiff of your Mini-Me in your presence, they'll come to associate them with you. Your offspring, for their part, will learn to feel comfortable around cats from an early age. 
Toddlers and cats: don't try running before you can walk
Is your child young enough to not grasp boundaries, but old enough to walk on their own two feet? If so, welcome to the Danger Zone. When your toddler first sees your cat, they won't see a lithe predator that demands respect. They'll see a fluffy curiosity that needs to be patted. 
Meanwhile, your cat may see your toddler as a loud, cat-sized cyclone that poses a threat to their personal space. In short, all of the ingredients are present for a really bad day. 
However, don't despair: your cat and toddler can learn to get along. In fact, the two can form a friendship that will last a lifetime. The key is to teach your toddler to respect your kitty's limits. If your child moves slowly; speaks quietly; gives your cat space when they're sleeping and eating; and learns never to chase them, your cat will come to view them as a friend. 
We know this can be a tall order for a toddler, but acting out each action can convey a lot. For example, when nearing your kitty with your kid, enact a person sneaking silently on tiptoes. Similarly, move in slow motion when you're near your feline so your child gets the idea. 
Is your toddler old enough to understand what you're saying? If so, explain to them that the best way to befriend a cat is to pretend to be a cat. You can say something like: 
"If you move slowly and quietly, our cat will think you're a cat, and they'll want to be your friend. If you're too loud or if you chase them, they'll think you're a dog and run away". At Mad Paws HQ, we've used this tactics on our young relatives, and it works every time! 
Once they've grasped your kitty's boundaries, you can teach your toddler how to pat your cat. The topic requires a thesis in itself, but the basics are: 
stroke behind the ears
tickle under the chin
play it safe and avoid the belly
when patting the back, always stroke from head to the base of the tail (not in reverse)
NEVER pull the tail
A child and cats: letting the friendship grow
It almost goes without saying, but a child in primary school will accept the above concepts faster than a toddler. With this in mind, you can next upgrade the child-cat friendship by entrusting your youngling with pet-related chores. Teaching them to feed your feline before school, change their litter, and brush their coat are great places to start. Not only will this teach your child to respect your cat – it will also encourage your kitty to value your child. 
Would you like an expert to act as the middle-person between your kid and your kitty? Book a Mad Paws Cat Sitter today! 
Comments
comments