In this Vet Guest Spot, Pawssum Vet to Home Services' Dr Shing Lee looks at the risks of grain-free diets. If you live in one of Australia's capital cities, contact Pawssum for a checkup! You can also follow their updates on Instagram and Facebook.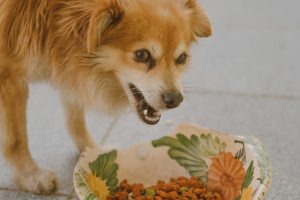 Grain-free, Paleo, natural… these are the trending words in our quest for improved health. Slowly but surely, these same trends have also made an appearance in our pet's food and diet. However, what does this mean for our beloved dogs? Are grain-free options necessarily better for your pooch?
Grain-free diets: what people think, and what the research says
An opinion survey showed that 46% of Pet Owners think that low or no-grain diets are healthier for their dogs. However, a disparity exists between how Pet Owners and vets perceive this issue. In fact, 63% of veterinary professionals disagree that low or no-grain dog diets are the healthier option.
These concerns extend beyond a simple case of "eh, grain-free diets aren't great". In July 2018, the US Food and Drug Association (FDA) sent out an alert to veterinarians and Pet Owners. 
The alert featured an alarming reveal: dogs with heart disease, namely dilated cardiomyopathy (DCM), whose breed are not typically prone to this disease have one thing in common – they've eaten a grain-free diet. 
DCM: what is it, and why should you worry?
With DCM, the dog's heart muscle weakens and the chambers of the heart start to enlarge. This, in turn, affects the heart's ability to contract and pump effectively. When this happens, congestive heart failure results and fluid starts to pool in the dog's lungs and abdomen. Outwardly, the dog starts to slow down and lose exercise tolerance. Fluid in the lungs then causes coughing and can interfere with oxygen uptake. The result for affected dogs is an increased breathing rate and, in some cases, difficulty breathing. Some dogs even start to develop fainting spells due to lack of oxygen to the brain.
When your dog's food is grain-free, in place of ingredients like wheat, corn, rice, the following have been used:
legumes/ pulses (ie chick peas, lentils, beans, peas)
root vegetables (ie white potato, sweet potato, and tapioca) and their related protein
starch and fibre derivatives
Experts noted that the dogs with DCM had consumed diets that listed these alternative ingredients early in the ingredient list. In other words, these were the main ingredients. The same dogs were also consistently fed these foods over a period of months to years. Some of the dogs with DCM also featured low levels of taurine (a type of amino acid) in their blood. 
So what's the exact relationship between grain-free diets and DCM in dogs?
At this stage, investigations into diet-associated DCM are ongoing. It still isn't clear what is at play and what the direct causative factor(s) are. As a Pet Owner, be aware that marketing is a powerful tool. Instead of always providing correct information, it is often used in the pet food industry to push and differentiate products. Veterinary Nutritionist Dr Lisa Freeman has warned that some pet foods on the market have leveraged on nutritional fads but may not have been similarly supported by nutritional science. Contrary to advertising, there is no research to demonstrate that grain-free diets offer any health benefits over diets containing grains. 
What can you do to protect your pet?
If you are a Pet Owner, here are some things recommended by the veterinary cardiologist and nutrition group at UC Davis:
Evaluate the diet that you are feeding your pet. If the diet is grain-free, or contains exotic protein sources, you may want to consider a diet change. To start, talk to your veterinarian about this and discuss what diet may be best for your dog. Take into account your dog's stage of growth, requirements, and other underlying medical conditions. It also pays to consider other factors, like the effect on your dog's gut health.
If you are concerned about your dog based on what they're eating, watch closely for signs of heart disease as listed above. Your vet may also recognise early heart disease by detecting a heart murmur or abnormal heart rhythms. If your vet is concerned, you can pursue additional testing. These include x-rays, blood tests, or heart ultrasound (echocardiogram).
If your dog is diagnosed with DCM, particularly if eating a diet that meets the criteria listed above, you will need to assess your dog's taurine levels and change their diet according to your vet's recommendations. They may also prescribe medication to help your dog cope with DCM. It can take multiple months to see improvement in many cases of diet-related DCM. Regular re-visits with your veterinarian or veterinary cardiologist will be needed to ensure your dog has the best chance of recovery.

Comments
comments