In this post, Dr Tina Huynh from Pawssum Vet to Home Services details five tips that will improve your pet's gut health. If you live in an Australian capital city, check out Pawssum for all of your pet's needs. For more vet insights, follow Pawssum on Facebook and Instagram!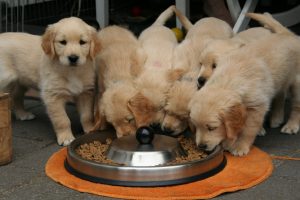 Food, nutrients, and microflora. A few words that might come to mind with the "gut" or "digestive system." However, the gastrointestinal system is so much more, with recent studies linked to general health and immunity. Let's explore a few key ways to improve your furry friends' gut health.
#1 Complete and well balanced diet
Our furbabies have a similar digestive system to ours, but not quite the same. In a nutshell, theirs is a smaller digestive tract and food transit is quicker. Even between dogs and cats it is different ,and individual gut microbiomes will vary.
To begin, choose a well formulated and quality diet. Labels and AAFCO criteria are a good guide. It's a bonus if the diet is reviewed by a veterinary nutritionist to ensure appropriate levels of vitamins and minerals as well! Imbalances can result in health concerns like bladder stone formation, rickettsia and cardiomyopathies.
Just as no diet suits everyone, the same applies to our little companions. Frequent gastric signs like vomiting, diarrhoea, temporary inappetance, or constipation may suggest food intolerances and other gastrointestinal disorders.
#2 Pro- and Prebiotics
Gut diversity is a common term to refer to the gut microbiome made up of trillions of bacteria – the good, the bad, and the opportunistic. Localised immunity and nutrient uptake benefit from this diversity if the predominant population are made up of "good bacteria." Building blocks to strengthen these beneficiary bacteria are prebiotics naturally found in the diet or as a daily supplement.
What if "good bacteria" are not in the majority, especially after a bout of gastrointestinal illness and/or a long course of systemic antibiotics? Our furbabies may benefit from probiotic treatments and attempt to reestablish the majority status of the "good bacteria".
#3 Parasitic control
It goes without saying that regular anti-parasitics are important to ensure nourishment is for our furbabies and not the uninvited guests! Nasty roundworms and hookworms can cause damage as they rasp away at the intestinal wall. Protozoa like coccidia can strip away intestinal lining and reduce the gut's ability to absorb nutrients. So we should also look to our environment and address any areas of concern!
#4 Hydration
Providing clean drinking water is a rule of thumb to keep our pets well hydrated. How much they need to drink will depend on their diet, size, weather, and activities. Dehydration has harmful effects on gut mobility and nutrient absorption, which results in constipation and an impaired metabolism. Chronic or severe dehydration will have a serious, sometimes life-threatening, impact on the body and different organ systems.
#5 Exercise and reduced anxiety
Gut mobility is also influenced by exercise as it promotes circulation. In other words, give them a bit of play time, walking, or even swimming! I'm sure our pets will appreciate any of these activities (or if they don't, encourage them to)! Bonding time is just as important as good nutrition in a holistic approach to health. It reduces anxiety and, in turn, stress components and inflammation.
We are learning more in keeping our pets healthier for longer each year with advances made in research and veterinary medicine. Some principles remain the same. Ensure protection by immunising your furbabies against infectious diseases like (feline) parvovirus and coronavirus, which can wreak havoc on the gastrointestinal system.
If you're in doubt, speak to your vet more about your pets' gut health and general wellness.

Comments
comments