In her university, she's a student. In her role as a Pet Sitter, she's a master. Based in Brighton, VIC, Alex earned the mantle of 'November Pet Sitter of the Month' through hugs, pets, and tears. In this post, Alex Vlant gives us a glimpse of the Pet Sitting scene from her vantage point. Or should we say…Vlantage point?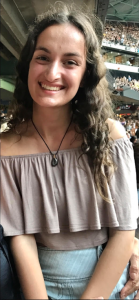 Why do you love being a Mad Paws Pet Sitter?
I love the flexibility, security, and accessibility of being a Mad Paws Sitter. As a student studying full-time, I really enjoy the convenience of being able to look after pets in my local area. Working as a Dog Walker and Pet Sitter through Mad Paws has given me the reassurance that if I ever had any uncertainties with a potential client, there is had a team that will ensure my wellbeing – as well of the wellbeing of these potential clients. 
What's your favourite thing to do with your furry clients?
When Pet Sitting, I love to play in the backyard with any pups I'm looking after. Not only does this build trust between us – it's also a whole lot of fun!
When I go dog walking I like to explore the back and side streets of neighbourhoods I'm in. I find it fun to explore and the dogs have an absolute hoot sniffing around and exploring these new areas with me. 
What was the first pet you ever owned? Do you own pets now? 
My first pet was a super grumpy cat called Molly! She hated everybody (as cats do!) but I always had a soft spot for her. I currently have two rescued cats Dotti and Tabby who I adore!
Do you have any particularly memorable furry guests?
I've looked after Kuchi (a darling old cat) quite a few times now. My favourite thing about her is that every time you enter through the front door she meows so loudly I'm surprised the walls don't shake. It's hilarious and I love looking after her. 

What's your one top tip for new Pet Sitters?
In the Meet & Greet, ask the Owners what behaviour or activities make their pet nervous or anxious. Owners can sometimes leave these out because they're so used to their pets' behaviour they don't realise it's anything out of the ordinary unless you bring up the idea. 
Do you have a bird, pig, chook, or active dog that needs a carer whilst you're on holiday? Take a look at Alex's profile!
Comments
comments