Living on a beautiful 11 acre Narangba, QLD natural bush property means Janet has lots of space for her four legged guests to enjoy! She specialises in caring for small and medium sized dogs and has years of experience caring for dogs, having been a breeder and exhibitor in the past. The pets who stay at Janet's home receive an incredible standard of care and their owners are given invaluable peace of mind whilst they're away. Read on to find out more about Janet and her life as a sitter! 
1. What made you become a Mad Paws sitter?
I had to go away for a long weekend and leave my own pet in a boarding facility.  The experience and environment were not what I expected and I spent most of the weekend worrying.  I decided that there would be other pet owners out there that would appreciate a service that truly aimed to reflect the pets usual home experience and offer some real peace of mind while they were away.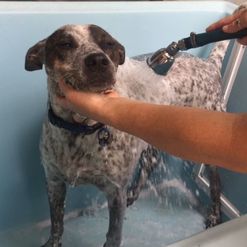 2. What is your favourite thing about being a Mad Paws sitter?
I just really love being around dogs, watching them, spending time with them – whether it be romping about or just lazing together.  I love observing them interact with each other and get glimpses into their little world and personalities.  I get a lot of satisfaction out of knowing other owners can feel confident about leaving their treasured companion with my family and that we can reduce the stress and anxiety their pet might feel elsewhere
3. How does Mad Paws fit into your life?
I am so fortunate that I have my own business that is fully staffed, so I have a lot of flexibility and can work from home when I want to, which is when I do my Mad Paws sitting!  I'd love to develop my hosting into a full time job!
4. Why do you think owners should use Mad Paws? 
I work in the childcare field so I completely understand the level of trust involved in leaving someone you love in another person's care.  My setting seems to attract owners who connect their pet with being a member of the family.  I believe a commercial kennel just can't compare with a safe home environment, no matter how well staffed or aesthetic… it still isn't a home and can't replicate those sounds and movements and smells that a pet would feel safe and familiar with.
5. What would be your top tip for a new Mad Paws sitter? 
The better set up your environment is, the easier it is to run smoothly.  We fenced in a special yard off one side of our house so that I could offer indoor/outdoor access and feel comfortable that pets are safely contained.  Customer relations and communication are really critical, and presenting a professional service helps develop that peace of mind feeling for the owner.  We also have a particular routine for our own pets to enable a smooth transition for our guest.​
6. How do you keep owners coming back time and time again? 
Keeping them informed during their pets stay, offering those little extras like a deluxe menu, courtesy taxi and grooming sessions.  We live on acreage with goats, chickens and sheep… we basically offer more of a farm stay for pets than a boarding service.  Hopefully sharing my true joy at being around dogs helps too
7. Can you sum up your Mad Paws experience in a few words?
It's bittersweet because while I love having guests, I am always so incredibly conscious of taking responsibility for a much loved pet.  I don't seem to want to stop though!
8. Do you have any particularly memorable house guests? 
Each pet is memorable for different reasons.  Some are so cruisy, they just slot right in and march about like they own the place… others take much more support and reassurance until you start seeing their true personality emerge, and that is really satisfying.  I can't forget Tilly if only because she came to us all the way from Darwin… but my most memorable would be Huey and Morris.  They stayed with us for over three months – so I'm not likely to forget them any time soon!
Comments
comments