Having felt unfulfilled working in an office environment, Anne from Coburg, VIC took the plunge, set up a Mad Paws profile and began a career in pet sitting. It's safe to say she's never looked back and with more than 50 five star reviews under her belt, it's clear that she is a natural! We caught up with Anne to find out a little more about what it means to be a Mad Paws pet sitter.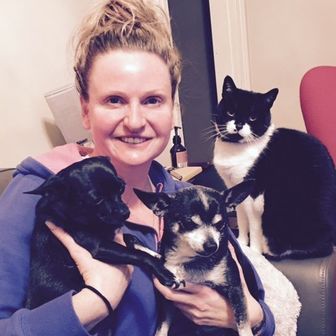 What made you become a Mad Paws sitter?
I have always had a love of animals. Before finding Mad Paws, I had worked in office environments and felt like that wasn't where my heart was.  I found myself at a point in my life where I needed to think about what I would really like to do.  I sat down and had a good hard think about what I really loved and realised that taking care of animals was where my passion was.  Initially, I felt a little bit overwhelmed as I thought about getting a website up and running and getting myself known as a pet sitter, when I came across the Mad Paws website on social media. It really made life so much easier and I started getting bookings very quickly. I was so excited to start meeting new people and best of all…I was able to give lots of pats and cuddles to all the beautiful animals that I have met.
What is your favourite thing about being a Mad Paws sitter?
I have been very lucky to meet some wonderful people.  Some of them, I could easily say they would be friends but the best part is looking after their furry children. I love giving them lots of pats, cuddles, love and attention. They all have such different personalities which makes it so much fun!.
What's a typical day for you as a Mad Paws sitter?
I don't think there is a typical day as a Mad Paws sitter.  That's what I love about it.  The only thing that is typical is it involves lots of photos, pats, cuddles and attention.
---
Why do you think owners should use Mad Paws? 
Mad Paws offers a way for your precious ones to be taken care by people who love animals.  There are a number of different options available too which I think is a great way to ensure that your fur children feel comfortable while you are away enjoying your holiday.
How do you keep owners coming back time and time again? 
I guess it's because owners can see that I genuinely love looking after their animals. The owners know that I will absolutely spoil their furry friends when they come to visit or I visit them.   I do my best to get to know each one individually and cater to their needs as best I can. I treat them like they are my own and I also like to make sure that I keep in touch with the owners as much as possible. Sending regular updates is important so that they know that their babies are safe, relaxed, happy and well taken care of.
Can you sum up your Mad Paws experience in a few words

I've had a wonderful experience so far.  I met some amazing people and their pets and I look forward to meeting many more. : )
Comments
comments