If you speak to Demi in Balgowlah, NSW for more than a couple of minutes, you'll very quickly realise that she is pet obsessed. She openly admits that she can't walk past a dog on the street without stopping for a pat and chat. With clients leaving reviews such as "If i could give 10 stars out of 5, Demi would be getting them", we had to find out more about this trainee vet nurse and top Sitter! 
Why do you love being a Mad Paws sitter? 
Because it provides me with an opportunity to do what I absolutely  love, spending time with furry company! I've always adored animals – I often prefer their company to humans! – so any opportunities to spend time with them I grab with both hands. I'm currently studying to be a vet nurse so my world really does revolve around animals.
What's your favourite thing to do with your furry clients? 
I love taking them to the dog beach and watching them run wild and play in the sand. It's a great way for them to make doggy friends and keep cool in the summer. 

What was the first pet you ever owned?
A rabbit named fluffy, very original! 
If your furry guests could talk, what one question would you ask them at a meet and greet? 
What makes you happiest in life? 
Do you have your own pets? 
I do, I have a gorgeous 5 year old English Staffie called Alfie. He lives with my parents in Tasmania and I miss him terribly so Mad Paws is the perfect way to give me my doggy fix in between visits!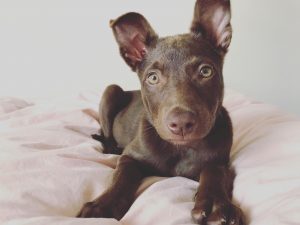 What's your top tip for new pet sitters?
Send owners lots of photos! It puts their mind at ease and they love seeing what their pets are up to! I'm constantly snapping pictures of my clients and owners really do appreciate the updates. It doesn't take much of your time to send photos over but it could make all the difference when owners are deciding whether to book with you again or try someone new.

If you'd like to learn more about Demi and book in with her, take a look at her profile! 
Comments
comments