She's a mother to humans and a stepmother to pets. This local of Glen Waverley, VIC has turned Pet Sitting into a family affair. As the bearer of our "September Pet Sitter of the Month" mantle, Imeia has shared her Pet Sitting philosophies with us below!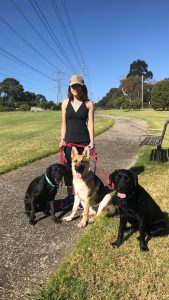 Why do you love being a Mad Paws Pet Sitter?
Being a home-stay mum gives me the chance to do what I love to do, which is being around pets. Mad Paws simply offers a great platform by connecting Pet Sitters and Pet Owners. It also allows me to connect with other Pet Sitters to share our involvement. It is an absolutely rewarding experience, and I greatly appreciate being a Mad Paws Pet Sitter.
Do you have any particularly memorable stories from your time as a Pet Sitter?
There are so many stories to share. The most significant one came from one of our regular pets: Asha the border collie. She is a super smart girl. She knows our routine so well that every time I arrive home from picking up my sons from school, she is always eagerly waiting with the tennis ball throw stick at the door. She knows my boys will play with her once they are home.
I guess once you are a Pet Sitter, you are never alone anymore. You have little/big troops following you around everywhere you go, watching you every single movement.
It's fun day everyday there's never a dull moment!
What's your one top tip for new Pet Sitters?
I have huge amount of passion for pets, which is why I always treat them as if they were my own. I ensure the pets would enjoy a warm and social experience from the moment they arrive at my place during the first meet and greet. I keep the Pet Owners up to date by sending them emails, text messages, photos, and videos. It demonstrates how well looked after, comfortable, feeling at home of the pets are.
Are you looking for a Sitter who will care for your furbaby as if they were their own? Take a look at Imeia's profile!
Comments
comments