As with any human food, the question, "Should my dog eat broccoli?" is a legitimate one. After all, that crunchy green vegetable may be wonderful for human health, but our dogs don't have the same digestive system we do. So, how can we be sure that this powerful green is good for them?
The good news is, your dog can eat broccoli! And, there are even reasons why you might want to incorporate broccoli into your dog's regular diet.
In this article, we'll answer the question, "should my dog eat broccoli?" and provide some tips to prepare this hearty green veggie for your pup.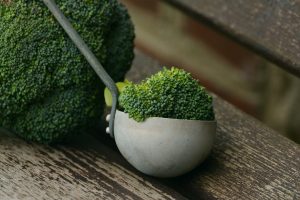 Why should my dog eat broccoli?
Although we like to think of our dogs as direct descendants of meat-eating wolves, the truth is even more fascinating. Historical evidence shows that when humans domesticated doggos, we effectively made them more omnivorous than their mostly carnivorous ancestors. Over thousands of years, they evolved to devour our food scraps, like cuddly garbage disposals. And today, our dogs are able to eat a lot more greens than we might expect.
Broccoli is a great example! This cruciferous vegetable can be digested by our dogs relatively easily, and it's packed with a range of healthy vitamins and minerals. Vitamin A, for instance, can promote a healthy coat, as well as muscle and nerve function. Vitamins C and K are both beneficial to your dog's immune system and healing capabilities. 
And, the more you look into this tree-like veggie, you'll see even more beneficial elements, like calcium, iron, zinc and potassium. Minerals like these are essential for your dog to be able to grow, exercise, rebuild muscle, and ward off infections.  
Is there such a thing as too much broccoli?
Before you switch your dog to an all-broccoli diet, remember that doggy health all about moderation. Too much broccoli, or too much too soon, can cause some stomach upset.
In particular, the fiber in broccoli can be wonderful for digestion. But, too much fiber, especially for dogs unused to eating fibrous foods, can cause gas and bloating.
Another drawback of too much broccoli is the result of a chemical compound called isothiocyanate. This hard-to-pronounce molecule group is responsible for stomach upset in dogs, and too much of it can pose some health risks. 
So how much is too much? The general recommendation is to keep the broccoli intake under 10% of your dog's total diet. For those of us who don't think in percentages, that would equate roughly to a small handful of broccoli florets—or between ¼ cup to ½ cup—per day for a medium-sized dog.
Should my dog eat broccoli raw or cooked?
In terms of safety, your dog can eat both raw and cooked broccoli. But, there are some considerations that can help you decide how to prep your pup's veggies.
On the one hand, cooked broccoli may be easier for your dog to digest. Because, although our doggos are better adapted to eating greens than their wolf ancestors, they still don't tend to chew their food like true herbivores. Instead, they gobble their food down mostly whole and leave it up to their digestive systems to do the rest. Cooking, then, can make it easier for our dogs to digest fibrous materials like broccoli.
On the other hand, cooking can strip veggies of some of the healthy qualities. Heat can degrade certain types of vitamins, particularly Vitamin C. Dog Owners also need to be careful about their cooking methods, since dogs shouldn't eat anything that's been cooked in oil or with seasonings.
Another way to answer the question, "Should my dog eat broccoli raw or cooked?" has to do with personal preference. Some puppers will love to chomp on a fresh broccoli floret. Others will turn up their snout unless it's been steamed. And regardless of how you serve it, it's important to make sure that the broccoli has been properly cleaned. 
Should it feature as a treat or as part of their meal?
Now that you know the benefits of broccoli, are you going to serve it up on a platter? Or should you toss your pup a broccoli bite when they've been extra adorable?
The most important consideration, again, is moderation. If your family members get into a habit of giving Fido a bit of broccoli as a treat throughout the day, it can be difficult to keep track how much they eat. Not only does this put them at risk for eating too much isothiocyanate, but it can also lead your pup to overeating in general.
So, if you're going to give your dog broccoli, get ready to do some meal planning. Portion out how much broccoli your pup can have and adjust their meal to account for the treats. Then, keep the daily portion of broccoli in a separate container. When the container is empty, no more broccoli treats for the day
The same reasoning can be applied to adding broccoli to your dog's meals, which can be a good way to get dogs to eat this green veggie when they otherwise wouldn't be interested. But instead of simply adding broccoli to the food in their bowl, you'll want to adjust their meal to account for the added broccoli.
Now, we get it. This may seem like more trouble than it's worth. Which is why many Dog Owners rely on the pros to do the calculations for them. Personalised raw dog meals pack the right amount of dog-friendly veggies into your dog's food bowl based on their unique dietary needs. It's a great way to get your dog to eat broccoli and not have to worry about percentages or picky-eaters. Even the most broccoli-suspicious dogs will lick the bowl clean.
Will you be feeding your dog broccoli?
Clearly, there are some benefits that come with this little tree-like veggie, including vitamins, minerals and a good amount of fibre. And, it's a versatile food! You can feed it raw, cooked, as a special treat or as part of your dog's meal.
As long as you're able to keep your pup's broccoli cravings under control, the answer to "should my dog eat broccoli?" is yes!
Comments
comments