Canine bloat is a serious medical condition that every Dog Owner hopes to avoid. As such, early detection and quick action are key to saving your dog's life. 
Consider this article a crash course in canine bloat. We'll talk about some of the common causes, red flag warnings, and plans of action to keep your pup safe. And although we hope that you'll never need this information, knowing how to identify canine bloat could save your pooch's life.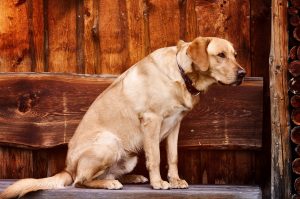 What is canine bloat?
Canine bloat, also called gastric dilation-volvulus or GDV, is a condition in which the stomach fills with so much gas that it causes the entire organ to twist. This in turn disrupts other organs in the abdomen like the spleen and pancreas. 
The real danger, here, is that when these organs are moved around and contorted, blood cannot flow smoothly through your dog's veins. Heart failure and other complications are highly possible as a result of these blood vessels being cut off. 
What is the remedy for canine bloat?
The one and only treatment option for canine bloat is emergency vet care. 
When caught early enough, ideally no longer than two hours after onset, a vet will perform surgery to relieve the gas pressure and coax the stomach back into a normal position. If the dog is brought in early enough that the stomach has not twisted, a vet may instead be able to release the stomach gases without surgery. 
But even with early detection and care, this is a brutal medical condition. The dogs that do make it can suffer from tissue damage in the affected organs. And, they'll need to be under constant supervision following surgery, as heart failure and shock can appear even after a successful operation.
What are the signs of canine bloat?
As you can see, time is essential when it comes to canine bloat treatment. So being able to identify the signs and act quickly is a huge advantage. Here are some of the common red flags of canine bloat:
Hard, distended belly

Signs of distress, such as pacing, whining, and panting

Vomiting or attempts to vomit without success

Excessive drooling or foaming at the mouth

Obvious pain, especially if you touch their abdomen
In general, the signs of bloat will develop after a meal, but regardless of when they appear, you should immediately seek medical attention for your dog.
Are some dogs at higher risk of bloat?
While no dog can be ruled out of developing canine bloat completely, there are some dogs at higher risk. And there are a few factors that can raise the threat level:
Breed/Size

. Large dogs with barrel chests, whether they're purebred or mixed, can suffer from canine bloat. Some breeds that are particularly prone include

Great Danes

,

Labradors

,

Boxers

, and

Saint Bernards

. 
Eating habits.

If you have a dog who tends to zoom through their meal at light speed, it could put them at higher risk for bloat.
Portion sizes.

Dogs who eat large meals once or twice per day seem to suffer from bloat more frequently than dogs who eat smaller meals more frequently.

This may be the result of overeating, which can trigger a build-up of gasses in the stomach.
Stress or a nervous disposition.

It's not entirely clear why this can increase the risk of bloat in dogs. But, it appears that dogs with a fearful disposition, or who have recently gone through a stressful change, may be more prone to canine bloat. 
Age.

Older dogs, especially over the age of 7, may be more likely to develop bloat.
Underweight.

As it turns out, a healthy layer of muscle and fat can help the stomach and other organs to be held in place. In underweight dogs, it may be more likely that the stomach is able to expand and twist in the abdomen.
Dietary factors, but these are pretty unclear.

The world of dog nutrition is advancing all the time. But still, the digestive system of each dog is unique, and it can be difficult to make sweeping statements about which diets increase the risk for bloat. For example, some

experts warn against dry kibble that has a large amount of oil or fat

. Others suggest that diets that are not varied can increase the risk for bloat. The truth is, we may have to wait until the science can nail down which diet is most appropriate for dogs at high risk for bloat.
Can you prevent canine bloat?
Yes and no. Sadly, some dogs are going to develop bloat no matter how many precautions you take. That said, it's still a good idea to follow the vet recommendations to lower the risk for bloat in dogs:
Serve smaller meals throughout the day

. This is a great way to lower the risk of bloat, because it can prevent

overeating

. That said, it may not be feasible for every family to provide smaller-portioned meals in the middle of the day. In that case, you might invest in a timed food release bowl or leave your pup in the care of a friendly Pet Sitter.
Feed your dog a balanced, highly nutritious diet.

Not only will a healthy diet help your dog to maintain a proper weight, but it can also provide your dog with foods that are more easily digestible. Mad Paws Dinner Bowl meals are a great option, as they are packed with a variety of fresh, nutritious ingredients that are easy to digest. 
Do not feed your dog from a raised bowl.

Contrary to popular belief, raised dog bowls do not lower the risk of canine bloat. In fact, some experts warn that they may actually lead to bloat. So, keep those water and food bowls on the floor!
Monitor your dog after meals.

Because symptoms can develop so quickly, ideally, you should supervise your dog in the few hours after they've eaten. Again, this is not feasible for many families, but there are a few solutions. One, you might invest in a video camera that can let you check in with your pup while you're away. Or, better yet, leave your high-risk doggo in the care of a Pet Sitter who will be able to rush your dog to the vet in case they develop bloat.
Do not exercise after meals.

A leisurely stroll after a meal is fine, but no rigorous games of fetch or tug-of-war, at least until that meal is fully digested.
Make sure your dog always has access to water.

Water is a key element in doggie digestion, so make sure they're well-hydrated!
Now that you know more about canine bloat, you're in a good position to take care of your dog!
As we mentioned, canine bloat may not be completely avoidable. And while there are some habits that can lower the risk, scientists are still trying to determine exactly how to prevent it. 
Even so, now that you've learned more about it, you're in a better position to keep your dog safe from canine bloat.
Comments
comments