In our Dog Breed Corner this month is the Boxer! Check out the Boxer's origins, personality, trainability, grooming needs and more! Should your Boxer need a heavyweight champion carer (get it?), simply take a look at our Pet Sitters near you.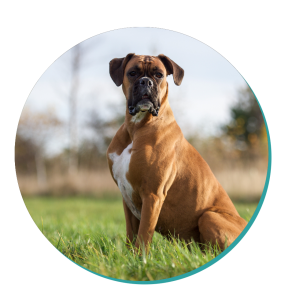 Quick Facts ✔ 
Height –  53 – 63cm 
Weight – 25 – 32kg
Lifespan – 10 – 14 years 
Country of origin – Germany
Breed type – Working Dog
Best breed for: 
Families with children 
Busy households
Active Owners
Boxer Breed History
♜
The Boxer's interesting facial structure and graceful stature might make you wonder where this breed came from. The short wrinkly nose makes you think of an English Bulldog while the athletic body brings to mind more agile larger breeds like Greyhounds or Dobermann Pinschers.
The truth is, the Boxer as we know it today is a mix of many different breeds, which have been crossbred since the 16th century. Some of the Boxer's relatives include Bulldogs, Mastiffs, and a now extinct breed called the German Bullenbeisser.
Because of this family background, we know that, sadly, Boxers were bred specifically for bull baiting. In fact, the name German Bullenbeisser means "bull biter," and Boxers were often grouped with these dogs during the heyday of this inhumane sport.
As soon as bull baiting was outlawed throughout much of Europe, most breeds of Bulldogs fell in popularity. But not the Boxer. Many people saw this breed's potential for livestock herding, car pulling, hunting and guarding. Unfortunately, there were also plenty of people who wanted to push the breed into dog fighting.
It's possible that this last tidbit tells us more about why this dog is called the Boxer instead of a variation of the Bulldog. The term "Boxer" may refer to the dog's past fighting days but it could also be because of their goofy tendency to jump up and play on their hind legs. Spend some time with a Boxer or keep your eye on one at the dog park and we can bet that you'll see them pop up on two legs at some point.
For a time, Boxers were also used as military and police dogs. Interestingly, when Boxers were being tested out for these important service jobs, they fell out of favour because at the time, they could mostly be found with white coats. That didn't give them quite the same stealthy camouflage as some other police dogs.
Today, you're much more likely to see a Boxer as a beloved companion animal than as a working dog.
Boxer Personality Traits
★
As loyal as Boxers are to their Owners, we think Boxer Owners may have them beat! Ask any Boxer Owner, and you're likely to get the same response: they would never own another breed. Why? Because these dogs have amazing personalities.
If you're looking for a goofy, smart, playful, intelligent doggo, a Boxer won't let you down. They're full of fun energy. They're patient with children. And they'll keep a smile on your face with their unique Boxer antics.
That description may surprise you, given the Boxer's violent past, but it's absolutely true. As is the case with many, many dog breeds with bad reputations, the Boxer can only be described as a good doggo, interested in making their Owners happy, playing with their favourite toys, and having a nice cuddle at the end of the day.
If anything, the traits that have persisted in the Boxer breed are the positive ones. These dogs are intelligent and watchful. They pay attention to their beloved Owners and they want to make sure that everyone in the home is safe and sound.
Behaviour issues with Boxers may manifest as dog-to-dog aggression, but it's much more common to see behaviour problems resulting in insufficient training, exercise or attention. Boxers are high-energy, highly social animals, which can translate to destruction and anxiety without proper care. In fact, a quick video search of "Boxer dog destroys the house" will give you a good of what we're talking about here.
While a Boxer is not likely to be aggressive towards humans, it's important to train them on proper manners early. With so much energy and agility, Boxers have a tendency to be fast and in-your-face. Maybe it doesn't bother you to have your Boxer run circles and jump into your arms at home and with other dogs, but imagine how intimidating a Boxer can be to a stranger.
With proper training and regular exercise, you Boxer will calm down and learn how to channel their affection in better ways. In fact, these doggos are often called "shadow dogs" for their tendency to quietly follow you from room to room, there for your absentminded pats on the head. As a Boxer Owner, you'll also grow accustomed to your dog constantly place their head on your arm or your knee whenever the chance presents itself. If you caught our recent article, Why Does My Dog Rest Their Head On Me?, you'll know that this is a true sign of love.
And we can't forget about the Boxer kisses! Try as you might to keep your distance, your Boxer will swoop in as soon as you let your guard down for a big slobbery dog kiss on the face. It's not their fault. They just want to show you they love you.
Trainability & Training Tips

 
★
As with any intelligent breed, your Boxer can be an easy dog to train. Because they love being around humans and are eager to please, getting your Boxer's attention and guiding them through a training session should be pretty easy.
That said, this is also a high energy breed. If your Boxer has pent up energy going into a training session, you're going to have a much harder time getting them to focus on the work at hand. The easy fix is to exercise them before training. Not so much that they're completely tired, but just enough so that everything around them doesn't distract them.
Positive reinforcement training is a great method for Boxers. Because of their playful manner, they'll respond much better to reward based training and fun training sessions than punishment and yelling. We say this because Boxers may have a tough appearance, but they're big softies at heart. It's best to train them with a firm but friendly attitude.
If possible, start training at a very early age. Boxers like to jump up, play, and get into some serious mischief, so you'll want to get them into a training routine as early as possible.
One thing to keep in mind is that Boxers will naturally be hyper and puppy-like for the first two years. During this time, training and exercise can be great ways to maintain their energy levels and reduce the likelihood of them destroying the home.
Exercise Needs & Living Conditions

 

⌂
If there's one thing we've tried to make obvious by now, it's that Boxers are full of energy! Many Boxer Owners will tell you that their doggo needs upwards of 2 hours of exercise per day. Even that is sometimes not enough to calm a young, rambunctious Boxer.
Boxers love to play with other dogs, play fetch, run alongside their beloved Owners, go for walkies with their trusted Dog Walker, and even learn agility training. It's a good idea to switch up the exercise routine so that your Boxer is never bored or understimulated.
If you have a home with a large outdoor area, that's great! But it's not required for your Boxer to be happy. Instead, a Boxer's ideal living conditions will include plenty of interaction with humans and opportunities for playtime. These doggos can develop separation anxiety and destructive behaviors, so it's best not to leave them alone for too long.
Even with plenty of exercise and mental stimulation, it's also a good idea to keep your home protected from your Boxer's destructive habits. If you're going to leave them alone, make sure to put away anything that might tempt them, such as food or those soft toys that they can rip up. Instead, you might leave your Boxer with hard rubber toys or games for them to focus on. No one wants to come home to a house full of couch cushion or shredded curtains, but it's kind of a Boxer Owner's rite of passage.
For more tips on destructive doggie behaviours, read our article on How to Stop Your Dog Chewing.
Another thing to know about Boxers is that they're not great at temperature regulation. Climates that are too hot pose a problem for Boxers because their short snout makes panting less efficient. On the other hand, their short coat makes them susceptible to cold weather, as well. Of course, you can have a Boxer in places with high heat and low temperatures. But it will mean that you might have to invest more in temperature control at home and doggie clothes in the cold.
Because of their sensitivity to extreme temperatures and high social needs, Boxers should never live or spend excessive amounts of time outside. You should also warn your Pet Sitter not to keep your Boxer outside for long stretches in extreme temperatures.
Boxer Health

+
Like other breeds in the Bulldog/Mastiff family, Boxers are prone to some genetic issues.
The most obvious have to do with their unusual snouts. In the medical world, a Boxer's snout is known as brachycephalic, meaning that the dog's skull is wide and short with a short snout and a powerful bite. This was useful during the Boxer's hunting and fighting days because it allowed our pup to hold on tight and continue breathing.
Unfortunately, what was once a tool for survival has become a medical nuisance for the Boxer. Many suffer from respiratory issues because the nasal passage is shorter than in other dog breeds.
Some other risks for Boxers include heart conditions such as Boxer Cardiomyopathy and Aortic Stenosis. Both are genetically common in the Boxer breed without responsible breeding practices.
As with other large dog breeds, Boxers may also be prone to Hip Dysplasia and Bloat. You should also keep an eye out for Hypothyroidism, Epilepsy, Intestinal Issues, and allergies.
As loveable as these doggos are, you can see that they also have a range of health risks that Owners should be aware of. Always make sure to adopt your Boxer from a responsible source and stay up-to-date with vet check-ups.
Boxer Grooming

 

✄
Boxers are gorgeous puppers. They've got sleek, short coats that will shine with proper nutrition and grooming.
Luckily, grooming is pretty easy. Weekly brushing with a rubber grooming mitt will help with shedding and make your Boxer's coat look tip top. Because their coat is so short, don't use brushes with sharp or hard bristles.
You might also choose to bathe your Boxer once a month or once every two months, but be careful. Boxers are susceptible to skin irritations, so you'll want to spend some time exploring a hygiene routine that works for your dog.
Another grooming tip for Boxers has to do with those adorable face wrinkles. Pet wipes are great for cleaning your Boxers face and keeping those folds dirt-free.
Our final grooming tip doesn't have to do with Boxer hygiene but rather the impact of a Boxer on your home. What we mean is that this is a breed that drools. Many Boxer homes make sure to have plenty of spare rags or paper towels around to protect the couch – and your clothes – from the endless slobber party. Not every Boxer will drool excessively, but it's something that many Owners learn to live with.
Fun Fact About the Boxer

♥
Boxers are known for their goofy and loveable facial expressions. And the most memorable of all? Meet Brandy the Boxer.
This special pup didn't just have the typically adorable Boxer look – she also had the longest recorded dog tongue in the world! At 43 cm, this dog was really something to see. Sadly, we lost Brandy in 2002, but we'll always remember that happy, goofy doggie smile.
Final Thoughts on the Boxer

♥
If you were to focus on all of the challenges of having a Boxer, it might surprise you that this is such a popular pup. They have extreme energy. They jump up on strangers and family. Their health issues raise are a cause for concern. 
But spend a day with a Boxer and it will all become clear. This is a quirky dog that will wiggle their way right into your heart. With a Boxer in your life, there will be endless laughter, roughhousing, play, cuddles, slobbery kisses, and company. And yes, there will be some torn-up pillows and drool and vet visits. But any Boxer Owner will tell you that this is a breed worth the effort.
Comments
comments