Jordan, from Alexandria NSW,  is an experienced kitty sitter and has earned the title of "cat whisperer"! She loves cats of all shapes, sizes and temperaments and has some great advice and tips for fellow pet sitters of all creatures!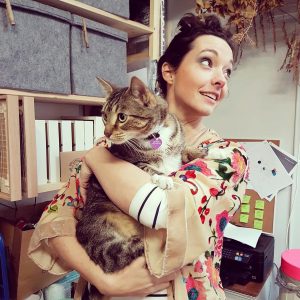 Why do you love being a Mad Paws sitter? 
I love meeting so many different beautiful and unique cats who I wouldn't otherwise have met without Mad Paws. Every cat is absolutely their own personality and it's a real joy to get to know them. 
What's your favourite thing to do with your furry clients? 
Each cat is different, I usually have great info from owners about their cat's personality and quirks. Sometimes it's playtime, which involves chasing each other around the house, sometimes snuggling up on the sofa together. For the really timid and aloof cats its great to slowly win their trust and see them really relax and be themselves with me.
What was the first pet you ever owned? Do you have your own pets now? 
We took in a lovely stray tom cat when I was a kid. But the first pet of my own as an adult was a little grey and white cat I named Poe. I always thought he was the James Dean of cats, a really handsome, head strong and inquisitive little guy. I still miss him terribly. But being a pet sitter has allowed me to enjoy the company of so many cats until I'm ready to find a new kitty one day.
Do you have any particularly memorable furry guests?
That's like trying to choose your favourite child – impossible to choose one! They've all been memorable, honestly. I'm amazed at how different each and every cat I care for is. I've looked after Shelby and Akina for quite some time now and they are the sweetest little ladies. Akina in particular likes to be carried around upside down in the crook of my arm.  Bella is also a beautiful cat I've cared for quite a few times. She's always up for a game and a midnight chat.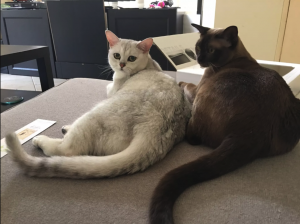 If your furry guests could talk, what one question would you ask them at a meet and greet? 
Are you going to attack my feet in the middle of the night?
What's your one top tip for new pet sitters?
I found it invaluable to have good reviews and photos when I first started. I used to pet sit for family and friends for years, and getting their honest testimonials (with lots of specific details) was crucial. It demonstrated my experience, what they found most valuable plus how much I really love cats! And lots and lots of photos never hurt – people want to see you and get a sense of who you are!
Does Jordan sound like the purrfect Sitter for you? Check out her profile! 
Comments
comments