Spring will be over before we know it, which means it's time to freshen up with a new summer dog treat recipe list. And, we're doing something a little different this season. Instead of spending too much time heating up the whole house with oven-baked treats, we're keeping these summer dog treat recipes fresh, frozen, and all-around simple. Whether they've just returned from a morning Dog Walk or are looking to cool down, these treats will hit the spot. 
Easy-to-make and even easier-to-enjoy, your pup is going to love 'em!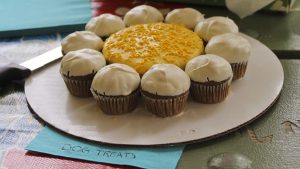 Frozen Carrot Zucchini Pops
Ingredients:
One zucchini, shredded
One carrot, shredded
1 cup of flavourless yoghurt
Instructions:
For this summer dog treat recipe, dice your veggies and throw them into a blender with the yoghurt. Blend until well mixed. If your mixture is looking too thick, you can throw in a spoonful or two of water. You should have a pourable mixture.
Then, pull out your silicone dog treat moulds or an ice tray. Pour the blend into the mould and freeze for a tasty, refreshing treat!
Summer Green Smoothie
In our spring dog treat recipe list, we included a few berry-licious dog smoothies. But for summer? It's all about the powerful greens! Here's a dog-friendly smoothie that you and your pup will love:
1 beet, with greens
1 apple
1 handful of spinach
1 frozen banana
1 tablespoon of peanut butter
½ cup of water
This summer dog treat recipe makes a lot of smoothie, so you might consider pouring the leftovers in an ice tray or silicon mould for green smoothie frozen bites!
Wrapped Asparagus
Asparagus is a tasty summer vegetable, and it's also a healthy treat for your doggo. Asparagus has vitamins A,E,C, and K, as well as antioxidants and other nutritional minerals.
When feeding your dog asparagus, there are a few things to consider. First, they may have some trouble eating asparagus raw, as the stalk is tough and hard to chew. A few minutes of steaming clears that problem right up.
You might also find that your pup is hesitant to try asparagus. To make them more interested, you might wrap asparagus pieces in their favourite dog-friendly beef-jerky.
Make sure that you give your dog these tasty hors d'oeuvres in bite sized pieces and don't overdo it. Too much of a good thing can give your dog uncomfortable gas. Make sure to monitor your pup after giving them asparagus for the first time to ensure that they can digest it without trouble.
No Bake Summer Cake
If your pup will be celebrating a birthday this summer or you just feel like giving them something special, a no bake summer cake is the perfect solution. It highlights summer seasonal favourites and it's super easy to make:
Ingredients:
Small handful of your dog's food, crushed
Half of a banana
One artichoke heart
1 spoonful of peanut butter
Instructions:
Add all ingredients to a food processor and pulse until you get what might look to you like a chunky mess. It'll look great to your pup, believe us. Spoon the mixture into a cookie cutter with tall sides. Put the cake in the freezer to set for a few hours.
Then, remove the cookie cutter and serve to your fur baby!
Which summer dog treat recipe will your pup enjoy?
This summer's list of dog treat recipes is all about experimenting with seasonal fruits and veggies. You may not have expected your pup to eat ingredients like beets, artichokes, and asparagus, but with these summer veggies taking over local groceries and farmer's markets, it's worth trying them out!
And with recipes that take just a few minutes of prep-work, you can choose the summer dog treat recipe that you think your doggo will love the most and go from there. We'd love to know how it turns out!
Comments
comments