Now that spring is here, you might be looking for the perfect spring dog treat recipe. Here are some delicious spring recipe favourites that highlight seasonal fruits and veggies that your doggo is going to love.
So, head to your local organic produce market, break out those adorable matching chef hats for you and your pup, and get ready to make enough of these spring treats to have at home and at your local Pet Sitter's house.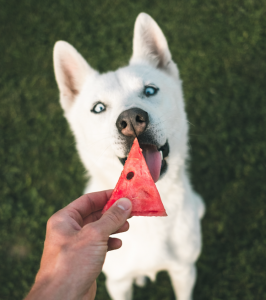 Fight the fleas with this spring dog treat recipe
As temperatures rise, a treat that will ward off fleas and satisfy your dog is a win-win! With this spring recipe, the sulphur compounds from the pet-grade brewer's yeast will make your dog smell unappetising to fleas. Here's how you can make it at home:
Ingredients:
1 cup of coconut oil
¼ cup to ½ cup of Pet-grade Brewer's Yeast
Instructions:
Melt the coconut oil and blend with the brewer's yeast in a blender until combined. Pour the mixture into silicone moulds (whatever shape you'd like but keep them small – no larger than your thumb) and allow to set in the fridge. Once they're set, they're ready to eat! Small dogs (5kg or less) can eat one treat every 48 hours. Large dogs can have one daily.
Store these flea-fighting treats in the fridge.
Chicken and Pea Bites
Ingredients:
2 cups of frozen baby peas, defrosted
2 tablespoons of unsalted chicken stock
1 egg
1 cup of whole grain flour
Instructions:
Preheat your oven to 180 degrees celsius, and prepare a baking sheet with coconut oil or a baking sheet.
Place 1 cup of the peas, the chicken stock, and the egg in a blender and blend until smooth. Add the mixture to a large bowl along with the rest of the peas, and flour and mix together to get a malleable dough. You can add a bit more flour to make sure that the mixture sticks together, or another tablespoon or so of the chicken stock if it's too dry.
Flour a surface and roll out the dough to about 1cm thickness. Cut out into your doggo's favourite shapes. Transfer the treats to the baking sheet and bake for 40 minutes or until they are golden brown.
Make sure to cool the treats completely before serving. Store in an air-tight container in the fridge.
Doggy Fruit Smoothie
We all love to lounge by the pool with a fresh fruit smoothie in hand. And, now you can make a dog-friendly version for your pup. What we love about this recipe is that you can make enough for yourself and your doggo – this spring recipe is delicious for humans, too!
Ingredients:
Half of a banana
2 strawberries
½ cup of blueberries
½ cup of cold water*
Blend it all up, and serve it to your pup! Make sure to give your doggo smoothies in moderation (no more than one every couple of days). The high fibre can give them stomach upset, so this is a spring recipe for special occasions.
*According to Modern Dog Magazine, you can also substitute the water in this recipe with natural sugar-free yogurt which has healthy probiotics and calcium. But if you can't get the natural kind, stick with water. 
The easiest spring dog treat recipe of all: Dog-Friendly Food Bites
There are a lot of fruits and vegetables that are in season in spring that may just be your dog's favourite new snack. Here are some of the foods that you can give to your dog (always in moderation) this spring:
Cauliflower and broccoli
Apples
Bananas
Cherries (pitless, please!)
Beets
Blueberries and strawberries
Melons
For a quick, healthy bite for your dog, keep these items prepped and stored in an air-tight container in your fridge or freezer. Pieces should be small, and be careful not to feed too much to your pup in a day to keep their blood sugar levels steady.
Which spring dog treat recipe will your dog drool over?
Will you bake a batch of Chicken and Pea bites for your lovely Pet Sitter to share with your pup while you're away? Will you share a berry smoothie in the backyard? Let us know how you plan on celebrating these warmer days with your beloved pup!
Comments
comments