Learning languages is hard, but there is new evidence that dogs are better at it than we give them credit for. A while back, we wrote an article all about how amazing it is that dogs can understand humans, but now we want to dig a little deeper. Just how many languages can dogs understand?
After learning more about your dog's ability to learn new languages, you might hit the books to start learning that second or third language yourself! Maybe your dedicated Pet Sitter can challenge them with commands from a few different languages to see how they do!
This is all in good fun, and you'll be amazed at how many languages your doggo can learn.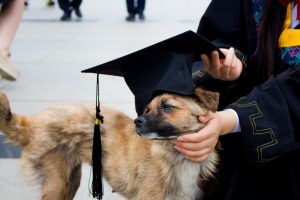 So how many languages can dogs understand, really?
The mind-blowing answer here is that dogs can learn pretty much any language you throw at them. English, Spanish, French, Mandarin, you name it. They can understand commands in two, four, six, ten different languages, if you really want to expand their repertoire.
But, here's the letdown. Dogs aren't really learning those languages the same way that you and I might. They're not hitting the books after you go to sleep, putting to memory vocabulary or quizzing themselves about grammar and syntax.
The way that dogs understand language is through word association. They know the word "sit" means they have to plop their haunches down on the ground so that they can get a treat or a "good boy!" That's good stuff. They know the word "vet," often whispered, means they have to go to the place where they'll be poked and squeezed. That's bad.
What that means is that you could introduce any word to your doggo and they'll add it to their list of associations. So, when we ask ourselves, "how many languages can dogs understand," the answer is endless. You can teach them one word in Portuguese and one word in Japanese and one word in Russian and they would learn them all. 
The follow up question to "how many languages can dogs understand" is "how many words can dogs understand?"
Now, this is where things get really interesting. We've talked a few times in the blog about Chaser, the world-famous Border Collie who was recorded to have learned 1,000 words. Chaser could even differentiate between verbs and nouns. She could be instructed to retrieve certain toys and give a little nudge to others. She was a truly incredible doggo.
You could also teach your dog more words and commands than you ever thought possible. Many Owners are content with teaching their doggos the basics – sit, stay, lie down, come. But when we put a little extra effort into training, our dogs can learn so many more words than we might expect.
Canine researcher Dr. Stanley Coren estimates that dogs of average intelligence can learn about 165 words. The really smart ones can learn up to 250. And who knows, your dog may be able to break even Chaser's record. You won't know until you try.
Teaching your dog new languages
With a bit of training, your dog can become multilingual. Before you know it, they'll be sitting in English and standing on two legs in German.
But, there's one thing to remember. Dogs aren't capable of truly learning multiple languages. Instead, they learn to associate a word with an outcome. If you try to teach your dog to sit in three different languages, they might have a hard time.
Instead, focus on teaching them different commands in different languages. That way, there's a clear connection between one word and one action. If your household is multilingual, try to agree upon a common command word for your training sessions. That will lower confusion and speed up the training process.
Also, once you pick a word for a command, stick to it. If you're learning how to say "sit" in Finnish, that's the word that you have to say in order for your dog to sit down, no matter if you're at home or in the park or at the vet. And, if you're going to be leaving your dog in the care of a trained Pet Sitter, you'll have to let them know what words your dog knows. That can be a bit messy, so we recommend that basic commands be taught in the language that you and the people who will be in contact with your dog speak the most. Then, when you're training them to do special tricks, you can introduce whatever languages you like.
A trick for teaching multiple languages for one command
If you've got a really smart doggo and you're very keen on teaching them multiple commands for one outcome, there is a trick we can share: non-verbal commands. Hand gestures and facial cues can give your pup more context for what you want them to do.
For instance, if you say "sit" and point to the ground, your dog will not only associate the word with the command, but also the hand gesture. Eventually, you'll be able to show your dog the hand gesture without saying a word. From there, your dog will know that means "sit."
From there, you can introduce the word in another language, and your dog should still know what you're asking because of the hand gesture. Make sure to give plenty of treats and verbal encouragement – this is a difficult task for them!
Time to make a polyglot out of your dog!
We hope this article encourages you to have fun with the training process with your doggo. By learning new words together, you can strengthen the bond between you and your pup. What's more, you can also surprise your friends and neighbours.
Have you tried teaching your doggo new languages? Let us know!
Comments
comments