In this feature, writer, pet expert, and Sydney Dog Minder Odette McCarthy details her top tips for Dog Walking. If you need Dog Sitters in Geelong, Perth, or any other place, take a look at our Sitters near you!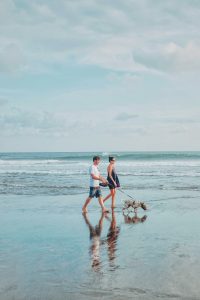 The Rolling Stones once claimed, "If you don't know how to do it, I'll show you how to walk the dog". With this in mind, think of me as your modern-day Mademoiselle Stones. If YOU don't quite know how to (efficiently) do it, then I shall be the one to illustrate to you how you may meticulously march that mutt. Below are my top tips for Dog Walking!
Top Tips for Dog Walking
Be prepared
As 'The Lion King' taught me when I was a baby: 'BE PREPARED'. If the Doggo King is departing his doggo kingdom, you'd better make sure he is braced for survival. In other words, take the bare (or dog) necessities. I suggest a walking belt or bag that can pack in exactly what you need.
Water – Get a dog water bottle that compacts into a nifty built-in bowl so pup can have a drink during their traipse.
Treats or a toy – Remain Top Dog in the situation (or any potentially adverse situation) by using Mister Mutt's favourite toy or treats. By doing so, you can bribe them and keep their focus fixed on the footpath ahead.
Inu ID – Pre-empt any unforeseen situation. If the dog somehow manages to escape their leash or run away when leash-less, at least their designated, distinguishing collar will identify them.
Poo bags – Here's a biggie… Picking up after pup is just common cleanliness and courtesy these days. How long it has been since you spotted white dog poo in the streets?  Foreign faecal matter once laid around as if the skies had rained cat's and dog's poos. In fact, there is a Facebook Group called "Where Has All The White Dog Poo Gone?" The simple answer is that these days, it all gets snatched up as soon as excreted. So scoop your li'l one's poop! And please, don't bag it then place it on that perfect LAWN thinking you have done the decent thing. Also, for doggo's sake, don't rush bathroom breaks. Imagine someone doing that to you! Walkie-time toilet is a luxury for doggo – comparable to you having the opulence of The Ritz's toilette.
Possess a proper harness
The best harness to use on any dog is a front clip harness. This will make you Top Dog of the situation, giving YOU the control over their pivots and movements. If you're a professional Dog Walker, ask Owners about the dog's strength so you can become accustomed to their pull. Do NOT use a retractable leash, as this means less control for the Walker and increased instability under force or pressure.
Walks are a dog's sudoku
ALWAYS REMEMBER: Walks provide incredible mental stimulation for a dog (as puzzles do for the human). As such, allow their walk to be THEIR walk! This is THEIR time out – you can have yours when you please! Allow doggle to snuffle around at their own poochie pace. If you need exercise, embark reclusively upon your resolute route. The dog walk should be purely pup-paced. Think about how great it is to encounter nature – to smell the freshly mown grass, to view the blueness of the sky, to witness the worships from the wee willy wag tails! Imagine being a dog in this instance… while, as a human, you have six million scent receptors, dogs can have up to 300 million. Thank goodness dogs enjoy scents humans find insufferable.
Dogs experience the world through their wet little snoots. Just as we can derive pleasure from chatting, the cranial activity within canine ignites when snuffling around a new scene. Imagine someone pulling you away from a puzzle that you've almost completed. How would you feel?  Maddened? Saddened? ANYBODY gladdened? Next walk, please ponder this perchance prior to pulling pupper from that stimulating scent they have picked up. Instead, allow them the opportunity to analyse the aroma.
Don't be a dingbat
Keep your woofer walking wits about you! Remember these essential components of a dog's life: dogs do not (typically, bar Paris Hilton's canine clan) wear shoes, like you and I. This means all pupper paws are susceptible to hot pavement or sand or to possible bindies on the block. Make sure to watch your pooch's poor paws on the plenary promenade!
Also ensure you walk your Little Mister at an appropriate hour. Dogs sweat solely (and minimally) from their paws, and thus rely predominantly upon panting to cool their chassis creature encumbrance. As summer alights and the weather begins to blaze, ensure doggo's dwelling departure is done at dimmer times of day; early morning hours or latter afternoon/evening. And always keep your walking belt or bag on you for hound hydration.
Know the Fido you are footing it with
Like you and I, pooches have particular personalities, which means each dog is different. Some have a persona that interacts well with people, pets, and progenies. Meanwhile, others can become standoffish and overly assertive. You need to know what you can about your dog before taking them on a walk. Can they be around other dogs in a dog park?  Can they walk off the lead at all or will they become hostile at the sight of other people or children?  Ask the Owner prior to your walk so you may be entirely ready for all situations.
Adhere to these appropriate adages for an amiable amble with your animal. Dog Walking doesn't have to be strut along Struggle Street if you rely on these simple strategies. Be prepared with a proper pack, harness the correct harness, allow doggo to take their time, don't be a dingbat (consider doggo), and realise this dog's exclusive attributes. Every doggo is different, so attune into each and apply individual approaches. Apply these tips for Dog Walking, and your furry friend will enjoy a fabulous frolic! 
Comments
comments