If you're reading this article, chances are you already know you're a certified dog lover. Either that or the dog lover in your life immediately came to mind and you've already decided to forward this along.
Either way, we get it. We're a community of adoring Dog Walkers and Pet Sitters – even our offices are filled with pups of all sizes. We know a certified dog lover when we see one, mostly because all of the following signs apply to our team too!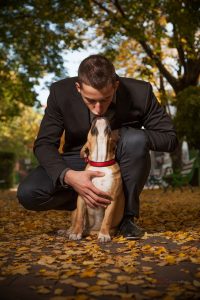 Here's how to know if someone is crazy about dogs!
Dog Lover Sign #1: You say hello to dogs on the street
How often do you find yourself walking along, maybe chatting with a friend, when all of a sudden, you have to stop mid-sentence because the cutest, fluffiest doggo is waddling your way?
If you say hello to all dogs that pass you on the sidewalk, cross the street to say hello to doggos, roll your car windows down to wave to pups, and get genuinely disappointed when a pooch is too far away to say hello, you might be a certified dog lover.
Dog Lover Sign #2: You tell people about all the dogs you saw today
Okay, maybe you don't actually say hello to every pupper you see when you're out and about, but that doesn't mean you don't notice them! You might be the kind of person who shows up to the office and the first thing you say is something along the lines of, "I saw the best dog on the way to work today. Almost as cute as that one I saw at lunch yesterday."
Your coworkers may not understand you, dog lover, but don't worry about them. We see you. And hey, you could always share your doggie sightings with your dedicated Dog Walker. They love to hear it.
Dog Lover Sign #3: You're more likely to remember a new person's dogs name than their name
Of all of the signs that you're a genuine dog lover, this one has to be the most awkward. Ever bumped into someone at a restaurant that you've met at the dog park? You know, the one who owns that impossibly fuzzy Chow Chow named Bacon. But just as you go to introduce this Dog Owner to the friend you're having dinner with, you realise you have no idea what their name is. Woof.
It's not your fault. Doggos have such fun names! Oscar, Milo, Rosie, Frankie? I mean, they're just the best names. If you're curious about Australia's most popular dog names, we've got you covered. That list proves that dog names are easier to remember than human names.
Bonus points if you have contacts in your phone as "Scout's Dad" or "Geronimo's Owner" instead of a person's name.
Dog Lover Sign #4: If there was a game show just for random doggie facts, you would win
How many whiskers does the average doggo have? What breeds were the best at hunting ground game? How many words can a dog learn in their lifetime? Which country has the most dogs?
If you can answer all of these questions, you're hands-down the brainiest dog lover we know. Most certified dog lover's don't know every fact about our furry friends, but they'll likely spend hours clicking around the internet for more information.
By the way, check out this list of countries with the most dogs. Then start planning your world tour. And please, bring us with you.
Dog Lover Sign #5: Your dog's life is more luxurious than your own
If you were to take a peek at your bank account, how much of your extra spending money goes towards making your pup's life a little more luxurious? Comfy bean bag beds, maybe? Designer dog collars? Fleece dog blankets? Premium bath supplies?
If you are one of those people who works hard to make sure their dog has the most luxurious life possible, well, welcome to the dog lover club!
Dog Lover Sign #6: You can name your three favourite dog breeds
Fast, name your three favourite dog breeds of all time!
If you've thought a lot about this, you might have said, "Easy. Akita, German Shepherd,  Sarplaninac. Done." Whatever your combination of lovable doggos, you're definitely a dog lover.
Of course, if you couldn't pick three breeds because there are just too many favourites to count, then congratulations – you're also a certified dog lover.
How do you know that you're crazy about dogs?
Do you have multiple matching outfits with your pup? Have you willingly given up 75% of your bed so that your dog can stretch out comfortably? Are you more likely to make plans with your dog this weekend than with your IRL friends?
We know there are hundreds of other signs that prove you are a true dog lover, so let us know what you would add!
Comments
comments