Folks, the results are in. After years of caring for all kinds of pooches, Mad Paws Pet Sitting, Dinner Bowl, and Waggly Club Dog Treats have revealed Australia's 100 Top Dog Names. 
The list stems from a database of over 500,000 Australian pets, and is Australia's largest ever pet index. From thirst-piquing drinks to names you'd find in your Facebook friends list, this list draws inspiration from some surprising places. We also unveil Australia's most popular dog breeds, which are as diverse as they are adorable.  
Want to see if your dog's name or breed rated a mention? Read on! 
10 Top Dog Names for Males 
#1 Charlie
#2 Max
#3 Buddy
#4 Milo
#5 Archie
#6 Ollie
#7 Oscar
#8 Teddy
#9 Leo
#10 Alfie
10 Top Dog Names for Females
#1 Bella
#2 Luna
#3 Coco
#4 Ruby
#5 Molly
#6 Frankie
#7 Daisy
#8 Rosie
#9 Lucy
#10 Lola
For the sixth year in a row, the name Bella claimed the title of Australia's most popular dog name. Indeed, with the exception of Victoria (in which Charlie proved to be the #1 top dog name), Bella earned the top ranking in every state and territory. All hail Bella. Long may she reign. 
Clink clink, let's drink
In a thirst-quenching turn of events, Australian Dog Owners have revealed a love of drink-inspired dog names. In fact, one quarter of the Top 20 dog names were inspired by drinks. Interestingly, this pattern doesn't continue among the lower ranked names. This suggests that, as far as dogs and drinks are concerned, Australian Dog Owners have an "all or nothing" policy. Condiments also made a cameo, with "Pepper" and "Chilli" taking the 29tt and 108th spots, respectively.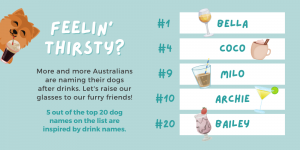 Pop Culture Takes a Slump 
Compared to earlier top dog names lists, the popularity of pop culture-inspired names saw a decline. Aside from Luna (Harry Potter), pop culture references were conspicuously absent amidst the Top 20 Dog Names.
However, pop culture does still hold some sway over naming choices in the Top 100. Interesting, the name Loki (AKA the Norse God of Mischief) jumped 42 places from previous years, earning a #48 ranking. Perhaps Norse myths are enjoying a resurgence, but we're quietly confident the MCU is to thank for this upswing. 
(NB: we're glad to see Nala and Simba rank in the Top 100. Thanks to the live-action remake of The Lion King, they'll surely remain popular in Australia for some time.)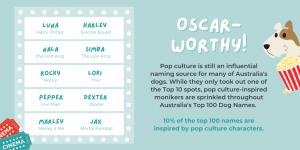 Human After All
When it comes to surging trends among dog monikers, Australia has seen a tidal wave of human names. It's a pattern that walks hand-in-hand with the growing role dogs play in the lives of their Owners. 
With more and more Millennials
opting for animals over children
, dogs are increasingly evolving into companions for their Owners. As such, Pet Owners are now humanising their dogs more than ever. 
By the same token, classic dog names are far less prevalent than you might expect. The usual suspects, such as "Rover" and "Fido", didn't earn a single ranking in the 100 Top Dog Names.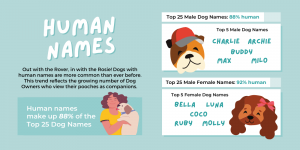 Top Dog Breeds
While Poodle-crosses seem to be everywhere, it was the ever-loving Labrador Retriever that took the top dog breeds spot. Moreover, while the Cavoodle took the #2 spot, it was more outdoorsy dog breeds that enjoyed a surge in popularity. This follows the country's
"micro dog wave"
, which was a response to more compact living conditions for the average Australian. 
The prevalence of more outdoor-oriented breeds could suggest a move towards a more active lifestyle for the average Dog Owner. To protect your pupper in the event of an outdoor emergency, sign them up for a comprehensive
pet insurance
plan.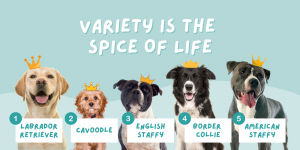 Below we've listed Australia's top dog names. If you grew up in Australia, you could be forgiven for thinking you were looking at your high school year book. 
100 Top Dog Names
#1 Bella
#2 Charlie
#3 Luna
#4 Coco
#5 Max
#6 Ruby
#7 Molly
#8 Buddy
#9 Milo
#10 Archie
#11 Frankie
#12 Daisy
#13 Rosie
#14 Ollie
#15 Lucy
#16 Lola
#17 Minnie
#18 Oscar
#19 Teddy
#20 Leo
#21 Bailey
#22 Nala
#23 Millie
#24 Alfie
#25 Poppy
#26 Bear
#27 Rocky
#28 Toby
#29 Roxy
#30 Pepper
#31 Mia
#32 Lily
#33 Willow
#34 Jack
#35 Lulu
#36 Tilly
#37 Ziggy
#38 Bonnie
#39 Harry
#40 Hugo
#41 George
#42 Maggie
#43 Marley
#44 Missy
#45 Cooper
#46 Harley
#47 Simba
#48 Loki
#49 Jasper
#50 Winston
#51 Benji
#52 Billy
#53 Louie
#54 Monty
#55 Lilly
#56 Penny
#57 Chloe
#58 Shadow
#59 Zeus
#60 Murphy
#61 Honey
#62 Henry
#63 Cookie
#64 Cleo
#65 Lexi
#66 Bruno
#67 Gus
#68 Charlie
#69 Ellie
#70 Stella
#71 Winnie
#72 Duke
#73 Diesel
#74 Pippa
#75 Dexter
#76 Rusty
#77 Koda
#78 Sasha
#79 Zoe
#80 Bruce
#81 Billie
#82 Milly
#83 Oreo
#84 Harvey
#85 Baxter
#86 Scout
#87 Louis
#88 Jessie
#89 Evie
#90 Banjo
#91 Ralph
#92 Lucky
#93 Ella
#94 Arlo
#95 Dusty
#96 Rex
#97 Holly
#98 Barney
#99 Jax
#100 Sam
Comments
comments