We are definitely a nation of pet lovers, and our recent database analysis proves that. With more than 25 million pets in Australia, we hold one of the highest rates of pet ownership in the world. 
So let's begin with our research findings!
Australia's favourite pet
The name Bella and the adorable Labrador Retriever breed has just been named as Australia's favourite pet out of 40,000 animals in Australia. Thanks to her loyal companionship, good-natured personality and being a master at playing fetch with the kids – not to mention being totally cute! – Bella was Australia's top pet and pet name of 2016.
​
It's estimated that there are more than 25 million pets in Australia, with nearly 5 million of Australia's 7.6 million households home to pets. Dogs are still the most popular pet at 39%, followed by 29% for cats.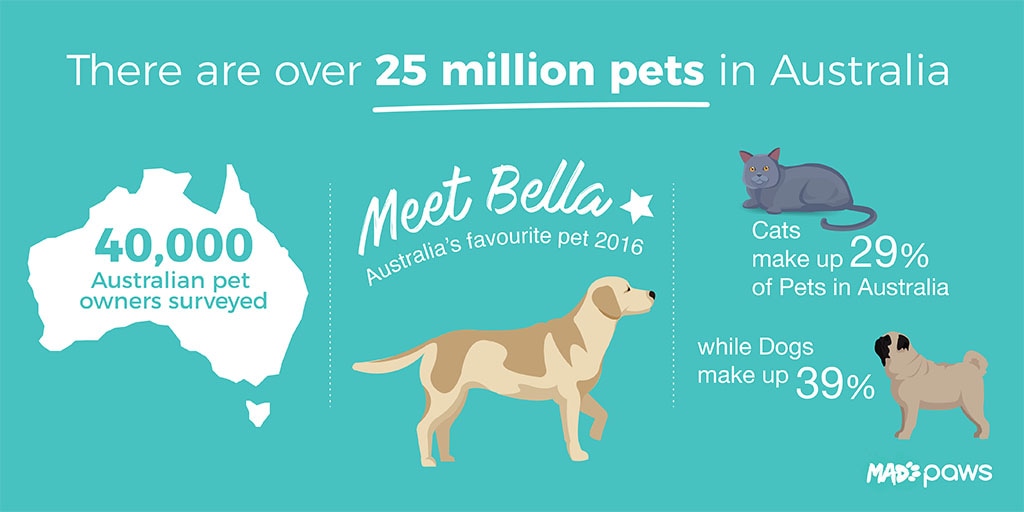 Rise in Micro Dogs to Match Micro Aussie Living
While the Labrador is Australia's favourite dog and pet, the Mad Paws 2016 database revealed there is a new trend in Aussies choosing smaller dogs over medium and large, as their cherished companions. Top breeds after the Labrador include the Maltese, Staffordshire Bull Terrier, Poodle, Border Collie, Chihuahua, Shih Tzu, Pug and Chihuahua! Watch our for information about these breeds in our 
Dog Breed Corner
blog posts! It seems that with more Australians having to micro live due to the rising cost of living, we are also having to choose micro dogs to fit into our compact living.  
Puppy Power! Rise in Dog Empowerment
In 2016, we saw a new trend of Australians giving puppies names of empowerment. Previously the trend was Australians humanising their dogs, naming them Charlie, Ruby and Oscar. However, the new Aussie generation of dogs are being named Zeus, Maverick, Nala and Max. With more of us leading busier lives, it seems we are turning to man's best friend for empowerment when we return home!
---
Edible Pets
There is a new trend in household pets including cats, birds and rabbits being named after… food! Names for rabbits included Coco, Gnocchi, Honey, Toffee and even Nibbles! Birds – Tango, Mango and even Skittles! There was also a Butter Chicken. Also for cats, Oreo, Yoghurt, Sausage and Rum! It seems that as some of us like to comfort eat, we also like to comfort pet name!
Rise in Rabbit, Bird and Horse Pet Sitters
When you think of Australians looking for pet sitters, dogs and cats might spring to mind – but not anymore. Over the last two years we are seeing an increase in sitters for rabbits, birds and even horses!!  Who knows the next trend might be rabbit walking!
---
Comments
comments