Many breeds are natural water babies. Most Retrievers and Spaniels will launch into the water with very little encouragement and will splash around without fear. Other breeds will need a little bit of guidance and support when they first start to swim but once they've got it, they'll love it! Having a dip in the pool, lake or ocean is a great way for your pooch to cool off on a hot summer's day and a lovely experience for you to enjoy with your dog. Check out our tips on how to teach your dog to swim and prepare to get wet! 

Safety First! 
Don't take for granted that your dog will be a natural swimmer. Some breeds, like the Bulldog and French Bulldog, are unable to swim due to their heavy heads and will sink without some kind of floatation device to help them out. Other breeds with short legs, like the Dachshund, may also need a little extra assistance to swim. Look for a life jacket with a handle which will help you to support your pooch and guide them in the water.
1.Find the perfect spot!
Don't ever just throw your dog in at the deep end in a "sink or swim" method of teaching. All you'll do is terrify your dog and make them never want to go near water again! Start somewhere with calm water and a gentle slope into the deeper area, like a swimming pool or lake. Keep your pooch on a leash at all times to start with just in case they get into trouble. The leash should stay on until your pooch can swim confidently and comes back to you every time you call, to stop him or her ever swimming out too far or into potential dangerous spots. 
2. Take it slow
Teaching your dog to swim is not an overnight exercise. The following steps should be taken over a period of several days (or longer!) with the next step being taken only when your pooch is perfectly comfortable with where they are.
3. Step by step
With a floatation device securely in place, if your dog needs one, start in shallow water to let your dog get used to the feeling of water on their feet and legs. Ideally, practice somewhere you can enter the water too. When he is ready, walk in a little further and encourage your dog to join you, using a toy or treat to coax them. Gradually build up (over a period of days) until he or she is having to paddle to stay afloat. If your water baby is struggling, use a hand or arm under their chest to support them or use the handle on their life jacket to help them out.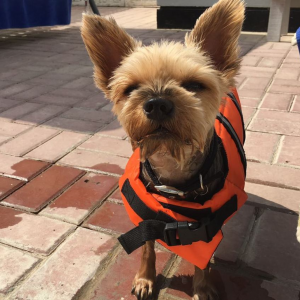 4. Bring treats and toys!
If your dog likes to retrieve, try throwing a toy a little way ahead of him and encourage your dog to go deeper into the water to get it. Otherwise, you can try moving away from your furry friend and beckoning them to come to you. 
It goes without saying that there should be plenty of praise and an upbeat tone of voice. If you're anxious (even if you're pretending to be enjoying yourself) your dog will pick up on it and will think there is reason to be worried. Try to relax and enjoy the experience with your furry friend! 
5. Let your dog be your guide
Learning to swim can be a strange experience for your dog. Go at their speed and only push them to the next step if they are comfortable and confident with where they are. It may seem like a slow process at first but if you force your dog into deeper water than they're comfortable in, they're likely to develop a fear of water altogether and will never learn to enjoy swimming!
Watch your dog and only continue with their swimming lessons if they are comfortable. Just as some pooches are natural water babies, others will never feel comfortable in water. Although some dogs will love swimming with some help, if your dog is not taking to swimming, don't force it! Swimming is meant to be something to enjoy together so if your dog's not keen, find something else to enjoy with them instead! 
Comments
comments