For many of us, winter means our favorite cold-weather dishes – stews, soups, pies. But who says that we can't include our furry friends in these traditions as well? Here's our list of winter recipes that you can make for your pooch!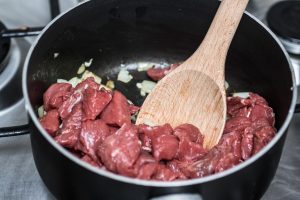 Mini Beef Stew – the most classic of the winter recipes
Ingredients:
1 kilo of beef, cut into bite-sized chunks
1 carrot, chopped
1 stalk of celery, chopped
1 cup of squash chunks
1 ½ cups of brown rice
Instructions:
Throw all ingredients into a slow cooker along with 4 cups of water. Cook, covered, on low for about 6 hours, or until the beef is completely cooked through and soft.
Once the stew has cooled off a bit, spoon ¼ cup of stew into individual containers, or fill ice cube trays with stew for a super-mini version. Store in the freezer, and when your pup has been an extra-good doggo, pop out a mini stew and heat until warm.
Roll-over Apple Crumble
Ingredients:
1 cup of white flour
1 cup of whole wheat flour
2 apples, peeled, cored and chopped
1 egg
⅓ cup of coconut oil, plus enough to grease a cookie sheet
1 tablespoon of cinnamon
Instructions:
Preheat the oven to 175C. Grease a cookie sheet with coconut oil. In a bowl, combine all ingredients. You should get a crumbly mixture. Spread the mixture onto the cookie sheet and bake for about 45 minutes.
Turn the oven all the way to low, crack the door, and cook the crumble for another 10 to 15 minutes or until the crumble is nice and crispy.
Allow to cool on the counter and then chop up into small portions. Serve a portion (or two, if it's a special occasion) and save the rest in the fridge. It will last for about 3 days. 
White Winter Cuddle Cookies
Ingredients:
1 cup of whole wheat flour
⅔ cup of rolled oats
1 tablespoon of baking powder
⅓ cup of peanut butter
1 ripe banana, mashed
½ cup of milk
For the white icing:
Instructions:
Preheat the oven to 175C and grease a baking sheet with coconut oil. In a bowl, mix together the dry ingredients and set aside. In another, larger bowl, mix the wet ingredients – peanut butter, banana and milk. Add the dry ingredients into the wet. You'll get a crumbly dough, but it should hold together.
Roll out the dough and cut into whatever shapes you like – bone-shaped cookie-cutter is just one idea. Or, you can pull off small bits of the same size and roll them in your palm to make a ball. Place the cookies on the baking sheet and bake for about 20 to 25 minutes, or until the cookies are golden.
Allow to cool before adding the icing. To make the icing, simply heat the chips in the microwave and dip the cookies in the melted chips.
Dog Food Soup
Alright, this one is kind of cheating. All you're going to do is add a warm, healthy broth to your dog's normal dog food and give it a good mix. They'll think you worked on it all day!
Ingredients (mix-and-match as you like):
Leftover chicken, beef, or pork bones (only use if they haven't been heavily seasoned)
Carrots
Celery
Green beans
Brussel Sprouts (no more than a handful)
Zucchini
Do not use:
Instructions:
Bone broth option:
In a slow cooker, add the ingredients you like and cover completely with water. Add a tablespoon of apple cider vinegar to help break down the bone marrow. Allow to cook on low all day or all night. Remove the bones and vegetables, and discard.
Before adding to your pup's food, allow to cool until it's warm.
For the veggie option:
In a large stock pot, add all of the veggies and cover with water. Bring to a boil and then lower to a simmer. Cook for at least 1 hour. Strain the liquid through a cheesecloth and allow to cool slightly before adding it to the dog food.
Time to start cooking your winter recipes!
As you can see, it's easy to make your pup hearty, delicious treats for the oncoming cooler weather. So, go ahead – put on those matching sweaters and get cooking those winter recipes! 
To you want your furry friend to work up an appetite for these winter recipes? Let Mad Paws Fetch connect you with a Dog Walker! 
Comments
comments