Sure, most dogs like to swim, but there's a group of swimming dog breeds that are practically made for life in the water. And their love of the doggy paddle goes way back. These doggos have been bred for hundreds of years to dive, splash, and dunk for a variety of different tasks.
In this article, we're going to get our paws wet with the eight best swimming dog breeds on the planet!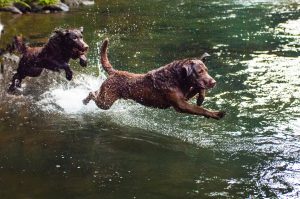 These curly-haired pups were originally bred to work on fishing boats off the gorgeous, sunny coast of Portugal. There, they pulled in fishing lines and carried messages between boats. 
Later on, this water-loving pup would make an epic journey with their fishing crews. From the warm waters of Portugal, they spread into to the frigid seas of Canada and Iceland. They didn't seem to mind the change—they just wanted to swim! 
#2: Chesapeake Bay Retriever
Sure, many dogs are named after the region where they were developed. But for the Chessie, location really is everything. That's because, Chesapeake Bay, off the eastern coast of the United States, is a key layover stop on an important migratory passageway for thousands of birds. 
Back when the region allowed bird hunting, hunters faced a predicament. The shallow, wide bay is notorious for freezing over. And with strong winds, ice floes, and frigid water, hunters needed a retriever who was both cold-resistant and incredibly strong. The Chessie was the perfect blend of bulk and bravery.
Today, the Chesapeake Bay Retriever still has a drive for diving into choppy waters. But, lucky for the waterfowl, the Chesapeake Bay is a peaceful sanctuary once again.   
#3: Irish Water Spaniel
The Irish Water Spaniel is widely accepted as the OG water dog of the North Sea. As the oldest and largest of the spaniel dog group, these curly-haired doggos have been working in the harsh conditions of Northern Ireland for hundreds of years.
Because of their distinctive hairless tail, these dogs also bear the name "Whiptail" or the "Rat Tail Spaniel". They don't mind, though. They're too busy splashing through bogs and rivers to worry about vanity!
#4: Redbone Coonhound
Unlike the other swimming dog breeds on our list, the Redbone Coonhound wasn't bred to help fishermen or waterfowl hunters. In fact, it's quite unique for a hound dog to have adapted so perfectly to life in the water (you'll only find one other hound on our list).
So, why would the Redbone Coonhound need special swimming skills? Because this is a swamp dog!
Originally bred in the Southern United States to track nocturnal animals like raccoons, the Redbone Coonhound had to be ready to face the Bayou in dark. To start, that meant strong swimming abilities so that they could move as quickly in the water as on land. They also required a great deal of bravery, since the swamp sheltered other large animals like alligators and black bears.
A close relative of the Irish Water Spaniel, the Poodle was once one of the most sought-out hunting dogs of Europe. Smart, brave, and quick, they excelled at a number of different tasks, from flushing to retrieving.
For those who are fooled by the fashionable Poodles of Paris, their water-loving background is right in the name. Poodle, in the original German, means "splashing dog". What's more, that eye-catching Poodle hairdo originally gave these pups more buoyancy in the water while protecting them from the cold.
 #6 : Otterhound
Though rare, the Otterhound absolutely deserves their place on the list of best swimming dog breeds. These scent-tracking dogs have been around since the Middle Ages, and were once beloved by everyone from peasants to royalty.
While most of the dogs on our list have adapted to life on the ocean or in wetlands, the Otterhound had to learn swimming in streams and rivers. Their task was to help manage the river otter population so that local villagers could rely on fish to survive. Apparently, their sense of smell is so good that they could pick up the scent of an otter in the water a full day after the animal had passed through.
Lucky for the otters, the only hunting that Otterhounds do these days is lure coursing. And they still love a nice dip in a stream! 
This pair of Canadian fisher dogs are some of the best examples of swimming dog breeds on the planet. Perfectly adapted to the frigid waters of the Newfoundland and Labrador province, these dog breeds were essential for fishing boats from the 16th to the 19th century.
Why the difference in size? Well, it all came down to the preference of the captain. Some fishing crews preferred the bulk of Newfoundlands, which were strong enough to pull carts full of fish to market and retrieve men who had fallen overboard. Other mariners favoured the speed and agility of the slightly smaller Labrador.
Both doggos love water and have a bubbly, gentle personality that have helped them transition to family life. Today, one of the best ways to exercise a Newfoundland or Labrador, in addition to regular outings with their favourite Pet Sitter, is a trip to a lake or beach!
What sets the swimming dog breeds apart?
Clearly, the dogs on our list of swimming dog breeds were working in some difficult conditions! Some were braving ice-cold waters. Others were shouldering through strong currents. Some swimming doggos were even responsible for saving the lives of their crewmates! Luckily, many of the dogs on our list developed special adaptations to make their job a little easier:
Webbed feet

. Not all dogs have webbed feet, but the ones that do were likely bred that way. Webbed feet can help a pooch stay on the surface of a snowy tundra, dig up a burrow, or paddle through the water.

Water-resistant fur

. Dogs who spend a lot of time in water rely on their coat to keep them warm and afloat. Many of the dogs on our list of swimming dog breeds have a curly coat of hair; those tight curls do a wonderful job of blocking water from the dog's skin. Others, like the Newfoundland and the Chessie, have a thick oily outer coat and a downy, warm underlayer. Their coat is essentially like that of a duck—perfect for staying warm in the water.

Specially-adapted barrel chests

. If you're going to spend the majority of your time in the water, what better advantage can you have than increased lung capacity? That's why you'll often see water dogs with large barrel chests—they can swim better that way!
Is your dog a water dog?
Whether your pupper is on the list of the best swimming dog breeds or not, you might have a doggo who loves the water! Many dogs adore swimming, and water-based sports are a brilliant form of exercise and mental stimulation for them. 
If your pup spends a lot of time in the water, make sure to provide them with a highly nutritious dog diet to match! Swimming may be a low impact sport, but it requires a lot of energy. If you can provide them with high protein dog meals, they'll be ready for your next dock diving session or day at the beach!
Even if you don't have one of the well-known swimming dog breeds, chances are, your pup might not mind a trip to your local body of water! 
Comments
comments