Finding the best dog food for your pup is never as easy as asking the internet and getting a clear answer. Some sources will suggest kibble. Others advocate for raw food. The reality is, just like there is no one type of food that works for every person, there's no one type of dog food that works for every dog! 
The key is to learn more about the benefits and drawbacks of the many meal options out there. Then, with the help of your vet and a notebook in hand, you can start the process of finding the right dog food for your furry friend.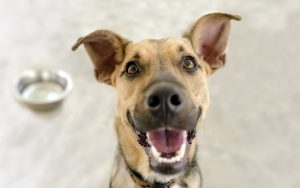 What are the top contenders for the best dog food today?
In many ways, we're living in the Golden Age of dog foods! Our dogs have access to more options of delicious doggy meals than ever before, and many of those options are healthy and balanced for your dog's wellbeing.
But, with more options comes more pressure to choose the right one. So, let's break down the top contenders:
Kibble or canned food
For the last few decades, Dog Owners have had the choice between dry kibble or canned dog food. And, these continue to be two of the most popular dog food options on the market.
Dry kibble and canned food are typically made up of a mix of protein, grains, and added vitamins & minerals. Both are widely available, affordable, and in most cases, sufficient for your dog's nutritional needs.  
Dry kibble continues to be popular because of its convenience and dental health boost. Canned food, on the other hand, provides a more flavourful experience for dogs as well as a higher water content.
The drawback for both dry kibble and canned food is that mass manufacturing can mean lower quality of ingredients and the addition of preservatives for longer shelf life. If you are going to go with one of these options, it's best to stick with canned or kibble that is made of high quality, all-natural ingredients.
Raw dog food
Putting your dog on a raw food diet doesn't mean simply stocking up on meat from the butcher shop and calling it a meal. Instead, a safe and healthy raw food diet means giving your dog a range of all-natural proteins and dog-friendly plant-based ingredients so that their meals are well-rounded and nutritious.
The benefit of a raw diet is that it offers your dog fresh, whole ingredients that are as delicious as they are beneficial. Raw diets are a good way to provide your dog with more mentally stimulating meals that they'll adore.
That said, there are two risks associated with raw diet meal plans. The first we've already mentioned, and that is assuming that a raw diet should consist of only raw meat. In reality, a canine raw diet plan should be created by a dog nutritionist who knows exactly what vitamins, minerals and levels of dietary fibre are essential for your furry friend.
The second risk is food handling safety. Most raw dog food manufacturers have solved the problem of contamination with on-demand preparation and creative packaging solutions. But Dog Owners will still need to be mindful that they handle raw dog food with care.
Lightly cooked
Lightly cooked, or gently cooked, dog food is a newer trend in doggy nutrition that is quickly gaining pup-ularity. Like raw food, lightly cooked dog food features all-natural ingredients like fresh protein and dog-friendly vegetables. But, to lower the risk of contamination, lightly cooked dog food is—you guessed it—lightly cooked before serving to your dog.
Also like raw dog food, the benefit of this kind of food is more transparency about ingredients as well as a departure from preservatives and processing.
While the risk of contamination is slightly lower for gently cooked foods, it's not zero. Lightly cooked dog food can spoil, and should be handled according to the manufacturer's instructions. And, again, it's important that lightly cooked dog foods be approved by a dog nutritionist. 
What food trends will your vet veto?
Now that we know some of the more reputable pet food options out there, how about the other canine meal trends you might have heard of? Unfortunately, just because a doggy blog says a certain trend offers the best dog food, doesn't mean your veterinarian will agree. Here are a couple that might not get your vet's seal of approval.
Homemade dog food
DIY dog food recipes and meal plans are easy to find across the internet. But, they're raising huge red flags in the world of veterinary science and canine nutrition.. 
We hate to belabour the point, here, but dog nutrition science is not something to be taken lightly. In 2013, veterinary scientists from the University of California, Davis reviewed 200 popular homemade dog food recipes. They found that less than ten of those recipes fulfilled the nutritional needs of the average adult dog.
With so many healthy, balanced dog foods on the market these days, you can definitely find a reliable meal plan without jeopardising your dog's health.
Vegan/vegetarian
Now, before we continue, we do want to note that it is possible for a dog to live on a vegan or vegetarian diet. That's because, unlike cats, dogs are not obligate carnivores. They are, in fact, herbivores.
But, just because your dog can survive on a plant-based meal plan doesn't mean it's in their best interest to do so. You would need to find a meal plan that could provide your dog with all of the protein, vitamins and minerals that they would be missing from meat. It can be done, but your veterinarian might determine that it's not worth the risk of nutritional deficiency for your pupper.
How can you find the best dog food for your dog safely?
Ready to make a diet change for your dog? Here are a few tips that will make your journey towards finding the best dog food for your furry friend safe and smooth:
Talk to your vet.

It's been a theme throughout this article, but we'll say it again! Your vet is your best source of dietary advice.

Be practical

. We all want to give our dog's a king's meal at dinnertime, but it's also a good idea to be realistic. If a type of dog food is out of your budget or incompatible with your lifestyle, choose another option. Your dog will prefer consistency.

Always opt for slow transitions.

Any new dog food has the potential to disrupt your dog's digestive balance. Take it slow so as not to shock their system.

Take great notes.

You're the doggy researcher, here! How does your dog respond to their new food? Do they get more excited at meal times? Do they have more energy during the day? How does their new food affect their bowel movements? As much data as you can collect and share with your vet, the better!

Remember that quality is more important than trends.

At the end of the day, every food option has the potential to be healthy or unhealthy. There are high quality kibbles out there that will trump nutritionally deficient homemade meals. And there will be new trends emerging all the time that are not as safe as a nutritionist-approved raw diet. If you can stick with trusted pet food makers who put nutrition and quality at the forefront, your pup will be in good shape.
What food will you try?
Will you stick with your current food or try out something new? If you are thinking of switching diets, what kind of food do you think Fido will drool over?
Now that you know what kinds of foods are out there and how to make the transition safely, it's time for you to find the best dog food for your furbaby!
Comments
comments