In the world of obedience training, Dog Owners use numerous methods to teach their puppers to sit, stay, roll over, and do everything in between. One such method is clicker training, also known as mark and reward training. Keen to understand how clicker training for dogs works and why it's so valuable? Read on!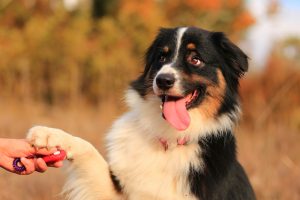 What is clicker training for dogs?
In a nutshell, clicker training is a type of obedience technique for dogs based on positive reinforcement. It uses a small plastic tool that allows you to make a clicking noise when your pupper does what you want. 
After you press the clicker, you can follow it up with a reward – such as a treat, belly rub, or even their favourite tasty dog meal – to give your dog a training incentive. By now it's probably obvious where the term "mark and reward" comes from!
The clicking sound itself isn't particularly meaningful to dogs. It's simply a way for you to note good behaviour and to tell them they're about to receive a reward. The key, though, is to press the button at the precise moment your dog does the right thing. Your dog will start to associate the click with the behaviour and should want to continue working for it. Dogs love learning new things, and clicker training is a challenging, but fun, way of teaching them.
And here's a fun fact: it's not just dogs that can benefit! Clicker training is used for cats, rabbits, guinea pigs, birds, horses, and even leopards and dolphins!
Why is clicker training good for dogs?
It uses positive reinforcement
Because clicker training uses a reward as an incentive, it's considered a form of positive reinforcement. This means it recognises your dog's good behaviour instead of punishing them for bad behaviour or missing the trick. 
Positive reinforcement is said to be a more effective dog training approach than negative punishment techniques like using a shock collar. What's more, positive reinforcement is better for your dog's welfare and helps strengthen the bond between you and your furbaby.
It makes training fun and rewarding
Positive reinforcement offers the additional benefit of making training sessions much more enjoyable. Your dog is receiving physical and mental stimulation, and a tasty treat. You're developing good behaviours and teaching dog tricks that will turn your doggo into a master of obedience. As your pupper improves each time, you'll likely find that you want to train more and more – and more!
Clicker training also allows your dog to grow their confidence. Without fear of punishment for doing the wrong thing – and with the lure of delicious treats instead – your dog will feel much more self-assured during their training sessions. And this makes for a happy doggo outside of training, too!
It's more precise than other training methods
Be it touching their bum to the floor or standing on their hind legs, clicker training marks the exact moment your doggo does the right thing. This makes it a lot less ambiguous to your dog because they know exactly why you're rewarding them. If you were just relying on treat training, for example, they might get distracted when the treat comes along and forget what they did to deserve it.
And, because they only hear the clicking sound during training, your dog will soon affiliate it with their obedience regimen. Again, if you were to use the same treats or words of encouragement like "Good girl!" as you do outside of training, it could get a little confusing and take your dog longer to learn.
You can start doing it from a young age
Clicker training is great for doggos of all ages, even young puppers. In fact, you can even use it during the potty training phase. When your puppy does their business in the right spot, the mark and reward technique is a great way to reinforce good behaviour.
As soon as they start finishing their business, press the clicker. Then, hand them a reward. The more you do this, the more your puppy will start associating good potty habits with the click.
Anyone can do it
The beauty of clicker training is that everyone can use the clicking device: you, your family members, your friends, or your trusted Pet Sitter. Unlike verbal cues – which are unique to you – the clicker is a consistent sound. This means it won't confuse your dog if other people are emitting it, and absolutely anyone can get in on the training fun!
How to incorporate clicker training for dogs into your obedience regimen
Wondering if clicker training for dogs is difficult to incorporate into your pupper's routine? The good news is, it's not! Clicker training is as easy as it is useful. 
Gather your supplies.

Start by grabbing your clicker and your dog's favourite treats, be it kibble, roast chicken pieces, or special training aids. If you're not using food-based rewards, all you need to get started is your clicker!




Familiarise your dog with the click and the reward.

Before attempting any actions or tricks, make a clicking noise with your clicker. Then, hand your dog the treat, or reward them with a belly rub or pat. Do this a few times so your dog starts to connect the click and the reward.



Introduce training.

Now, you can start incorporating training into your routine. Every time your dog successfully completes an action or trick, repeat the mark and reward process.



Use verbal cues

. Once your dog has started to get the hang of the action or trick, you can introduce verbal cues. Continue with the clicker training to reward your pupper every time they do what you want on command.

Eliminate the clicker.

Eventually, your dog will master the action or trick simply by responding to your verbal cue. Once they've done this, you can start to phase out the clicker and replace it with an emphatic "Good boy!" or "Yes!" to show they've done the right thing. In next to no time, we're confident your doggo will be an absolute expert at obedience training!
Comments
comments