If you've ever taken your furry friend to the dog park/office/a friend's house/family gathering/insert situation with multiple people here, you may have noticed that they quickly warm up to certain Dog Owners/coworkers/friends/family but get shirty around others. In this instance, you might be wondering, "Why do dogs dislike some people?"
Dogs are truly curious creatures, but this kind of behaviour is usually not without reason. Here's what to know about dogs and their people preferences, and what to do if your dog is cheesed off.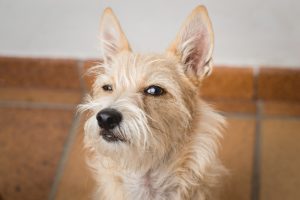 Why do dogs dislike some people, and how can I tell if my dog doesn't like someone?
It's often pretty obvious if a dog doesn't like a particular person. Their demeanour will shift quite rapidly if they come up against someone they despise. But here's what to look for if you're unsure whether it's contempt or just an inexplicable display of ill temper.
When dogs dislike someone, they'll usually:
Bark incessantly at the person, sometimes aggressively

Growl

Bare their teeth

Hide from the person or avoid them entirely (in other words, they might exit the room when that person enters)

Refuse to take any treats from the person

Maintain steady eye contact with the person or track their movements

Stiffen up

Arch or hunch their back, often with their hair standing up on their back

In extreme cases, nip or bite
Just introduced a new local Dog Walker or trusted Dog Sitter to your doggo? If they're not displaying any of these signs, take it as a great sign that you've found the right person for the job!
If dogs dislike some people, is it actually because those people are bad?
If your dog appears to dislike someone, it's not necessarily because they're a bad person. Instead, it's more likely there's something about that person that makes your dog uncomfortable. 
However, dogs are highly intuitive and sensitive creatures. If you're curious about whether dogs can sense bad people, they certainly can. In some cases, they might instinctively know if someone is untrustworthy and should be avoided.
So, why do dogs dislike some people and not others?
They may not like their signature scent
Dogs are hugely driven by scent. There are many smells dogs go mad for – the aroma of their favourite treat or tasty dog meal being two of the most obvious – and lots they don't. Dogs usually detest the smell of moth balls, citrus, vinegar, household cleaners, beauty products like hair spray and nail polish, and perfumes and colognes. If they detect any of these on another person, it can rile them right up.
As well, dogs can get edgy when someone simply smells different from their beloved Owner. Research shows that dogs develop a positive association with the scent of the human most familiar to them – even more than with dogs they know well.
They may loathe their body language
Some dogs get uneasy with certain body language or gestures that might appear totally benign to us humans. If someone stares at your dog directly, leans over them, gets right in their face, makes rapid and abrupt hand and arm movements, or appears overly affectionate straight off the bat, your doggo may not react well.
Dogs are also sensitive to tone of voice. If someone sounds angry or if your dog perceives their voice as threatening, they can become incensed.
They don't approve of the person's interactions with others
Dogs are keen observers, and they'll often pay close attention to social interactions – particularly when they involve you. If they perceive someone as being rude, aggressive, or dismissive towards you, they'll probably be less likely to get close to that person.
Your dog could have past trauma
If you have a rescue dog, you might notice that they get nervous or aggressive around certain people. Sadly, past trauma is something that many dogs deal with for life. And if someone comes along who reminds them of a perpetrator, it can trigger a fearful reaction.
For example, some dogs get funny around old men, while others may be nervous around young women or children. Or, if someone is wearing heavy-soled boots or a hat, it might remind them of items the offender wore.
Your dog might not have been socialised properly
Sometimes, a dog might not like someone just because they look or sound different from their Owner. Their Owner might have no facial hair and not wear jewellery. But if someone comes along with a big, bushy beard and lots of jangly bracelets? A doggo may get upset simply because they've never seen anything like it before.
This could be down to poor socialisation. When you get a puppy, it's crucial they're socialised properly so they're adjusted to the outside world. This means interacting with a wide range of people to get them familiar with strangers.
Your dog may be jealous
If you've ever wondered, "Do dogs get jealous?" the answer is yes, they do! Your dog may not be able to stand it if you pay attention to someone else. They might display attention-seeking or aggressive behaviour towards the other person. They could also try to separate you from the other person so they can keep you all to themselves.
What to do if your dog reacts to someone
If your doggo appears irritated, there are a few things you can do to try and curb their behaviour.
Try to figure out what triggers them.

If your dog reacts badly to multiple people, see if there's a common thread between them. Perhaps they all don a particular perfume, or maybe each one wears glasses. By understanding what motivates your dog, you can warn people beforehand or even try to keep your dog away from their triggers



Prepare other people.

Your dog may get nervous around anyone other than the people they're most familiar with. In this case, it pays to prepare others beforehand. That way, they may be less taken aback by a sudden bout of barking or growling!



Encourage gentle interaction.

If your dog is meeting someone, you could tell that person to avoid flamboyant gestures or intimidating body language. Instead, encourage a slow and gentle approach. For example, the person could introduce their fist first so your doggo can get familiar with their scent



Try obedience training.

If your doggo starts barking or acting out, try a command like "enough", "go to your crate", or "heel". You can also ignore them, especially if they're showing attention-seeking behaviour



Lure them with treats.

Food might just be the quickest way to a dog's heart. If your pupper seems nervous around someone, you could hand them their favourite snack in an effort to appease them. Alternatively, you can ask the other person to feed them a treat and see if your dog accepts. This is a good way to start building a bond



Give your dog space. Your doggo might be incredibly overwhelmed by a situation, especially if they're dealing with previous trauma. If that's the case, don't force it. Instead, your dog could be better off avoiding a particular person or environment entirely

Comments
comments