Any Dog Owner knows that good oral health is crucial to a dog's health, happiness, and pleasant-smelling breath. There are numerous products available – from dental chews and special tooth-friendly kibble to doggy toothpaste – but it appears there's a new dental tool on the block. If you're up to date with the latest in canine current affairs, you might have seen Bright Dental making headlines. 
What exactly is Bright Dental and where has it come from? And if I want to slot it into my pupper's dental routine, how can I go about accessing it? Here's what you need to know about this nifty new oral care solution.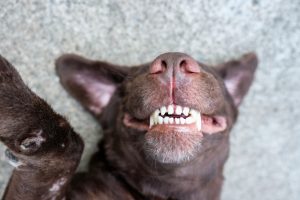 What is Bright Dental?
Bright Dental is a new oral health product launched by US doggo-centric company, BARK. It claims to be the first and only dual toothpaste and dental stick system that can be used daily to keep your dog's teeth, gums, and breath in tip-top shape.
How does Bright Dental Work?
Fortunately for us Dog Owners, Bright Dental doesn't require us to try and wrangle a toothbrush into our dogs' mouths. (Anyone who's ever attempted this knows just how tricky, irksome, and often sloppy it can be.) 
Instead, each Bright Dental Kit comes with a tube of triple enzyme toothpaste and a packet of chicken dental sticks. The sticks come in multiple sizes depending on if your dog is big, small, or somewhere in between.
To use Bright Dental, you simply need to squeeze the toothpaste along the dental stick. Then, you give the stick to your pupper so they can chew to their heart's content. While they're chewing, the dual system is cleaning their teeth and helping to remove tartar, plaque, and the icky things that cause bad dog breath.
Bright Dental is available on a subscription basis. Every month, you get a one-month supply of dental sticks and toothpaste delivered to your door.
Is Bright Dental available in Australia?
Not yet! The product will be available in Australia soon. You'd better get in quick, though; there are only 1,000 subscriptions on offer.
Why is good dental hygiene important for dogs?
Dental disease is one of the biggest health problems among pets. In fact, more than 80 per cent of dogs over three years old suffer some form of dental disease.
Dental disease can be downright unpleasant. For many dogs, poor oral health can be as benign as an excess of plaque or tartar on the surface of their teeth. However, left untreated or if the tartar ends up below your dog's gumline, it can lead to inflammation, infection, and other forms of dental disease. 
Some of the most serious forms of dental disease include bad breath, broken or loose teeth, pain or bleeding in the mouth, drooling, or trouble eating and drinking. In very extreme cases, the bacteria found in plaque can get into your dog's bloodstream. This can damage their organs or lead to heart disease.
That's why maintaining good oral hygiene habits is pretty crucial. It's possibly one of the best ways you can help protect your dog's health.
How else can I look after my dog's oral health?
If you're waiting for Bright Dental to launch or are simply after some oral health alternatives, fear not. There are lots of easy ways to look after your dog's oral health.
Brush your dog's teeth

.

If you're game, one of the best ways to take care of your dog's mouth is to brush their teeth. You can buy special toothbrushes and toothpastes designed for puppers. There are also handy finger toothbrushes that remove the need to maneuver a brush around your dog's mouth. Brushing should be done at least a few times a week. Ideally, start doing it when your furbaby is young so they can get used to the process
Try special dental foods.

There are lots of dog foods on the market designed to look after your doggo's oral health. Your vet can advise whether this is a good option for your furry friend
Give them something to chew on.

Dental treats and dental chews with special ingredients are great for reducing plaque and tartar. However, you can also give your dog a selection of chew toys and

tasty dog treats

to chomp on. Chewing helps produce saliva to clean your dog's mouth, and also scrapes tartar off their teeth. Plus, most doggos find chewing incredibly fun

Maintain regular vet visits.

On top of your dog's at-home dental routine, annual visits to the vet are crucial. During your dog's regular check-up, your vet will examine their teeth and gums to check for signs of dental disease. If necessary, the vet can also perform a deeper clean and undertake tests to see if your pupper is suffering from anything more sinister
Comments
comments