There are many things that go into making a fantastic TV show. Brilliant acting, good editing, and exciting guest stars just to name a few. But if you ask us, there's one thing that helps make a good TV show great – a dog! They provide comic relief, heartwarming moments, and, in some cases, they even steal the show. Today, we're celebrating all the four-legged stars who make their shows even more enjoyable. In no particular order, here are the 10 best TV dogs in history.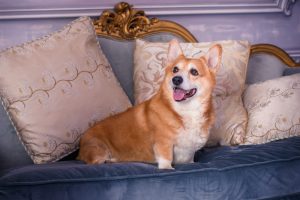 Here are the 11 best TV dogs
#1: Cheddar (

Brooklyn Nine-Nine

)
Captain Holt's beloved Corgi, Cheddar, is cheeky, lovable, and oh so loyal to his humans. He's only appeared in less than a dozen of the more than 140 episodes of Brooklyn Nine-Nine, but he's stolen the show each and every time. In addition to becoming a staple in the series' legendary Halloween heist episodes, Cheddar was even the star of his own episode! After Amy and Jake are tasked with House and Pet Sitting for Holt, Cheddar escapes and sets the whole precinct off on a wild goose chase.
#2: Santa's Little Helper (

The Simpsons

)
Rescued from a life of greyhound racing by Bart Simpson, Santa's Little Helper has had plenty of adventures throughout The Simpsons' 32-year history. He's been a police dog, a guard dog for Mr. Burns, a guide dog, and a Duff Beer mascot, but his most important role is as Bart's best friend. Though they've been separated on a few occasions, the pair always manages to reunite, no matter what obstacles they face.
#3: Eddie (

Frasier

)
It's safe to say he has a pretty complicated relationship with his human brother, but Eddie Crane still worked his way into the hearts of Frasier fans thanks to his mischievous personality, impeccable comedic timing, and undying loyalty to Martin. Interestingly (and in keeping with the show's father-son relationship) Eddie was played by a father and son duo! A wire-haired Jack Russell named Moose played Eddie for the first seven seasons. However, he was replaced by his son Enzo in 1999, who carried the torch for the final four seasons.
#4: Snowy (

The Adventures of Tintin

)
He's the oldest pupper on our list, debuting in a 1929 Tintin comic, but Snowy is still one of our favourite TV dogs. This loyal white Wire Fox Terrier has accompanied Tintin on all his journeys over the last 90 or so years, including in the early '90s TV series, The Adventures of Tintin. He's known for his bravery and fearlessness, even in the face of enemies much bigger than him. Snowy's biggest weakness, however, is his insatiable appetite, which often gets him (and TinTin) into trouble. We can't imagine how much damage he'd do to a big bag of tasty kibble!
#5: J'accuse (

Lupin

)
He may be the newest pup on our list, but J'accuse (French for "I accuse") has quickly become one of the best TV dogs of all time. This furry star of the hit French mystery thriller Lupin won hearts thanks to his ability to bark whenever he hears the name of the show's villain. He's become such a star that, for many viewers, he's the best part of the show! And with a face like that, who could blame them?
#6: Snoopy (

Peanuts

)
Another oldie but a goodie, how could we not mention Snoopy? Not only is he one of the most iconic TV dogs, but he's one of the most iconic dogs of all time. He's perhaps best known for his brilliant imagination, which he uses to create various alter egos. These include Snoopy the author, Snoopy the lawyer, Snoopy the college student, and most famously, Snoopy the WWI flying ace.
#7: Vincent (

Lost

)
In a show full of mystery, action, twists, and turns, you wouldn't think a humble Labrador would make a huge impact. But Vincent does just that, playing the smart, protective, and fiercely loyal canine survivor of Oceanic Flight 815. A fan favourite, Vincent is one of just seven characters to appear in every season of Lost. In fact, he's the second character to be introduced in the show's opening scene, as well as the very last scene in the series finale.
#8: Bandit (

Bluey

)
The show may be named after his son, but Bandit the Australian Cattle Dog has become a favourite with Bluey fans – especially parents! Voiced by David McCormack, frontman of '90s Aussie rock band Custard, Bandit has become something of a parenting role model. He's always there for his pups, Bluey and Bingo, whether that's playing hospital or giving them advice. He's also an archaeologist, which, if you ask us, is just about the best job a dog could have. Think of all the bones!
#9: Scooby-Doo (

Scooby-Doo, Where Are You!

)
We couldn't go without mentioning Scooby-Doo, could we? One of the most recognisable pooches in the world, he's responsible for popularising Great Danes after his 1969 debut. The embodiment of "gentle giant", Scooby-Doo is a total goofball with a big appetite. A lot like his human, Shaggy, actually. And, like Shaggy, he also happens to be a huge scaredy-cat, which is a bit of an issue when it's your job to solve spooky mysteries! Cowardice aside, he's still one of our favourite TV pups of all time.
#10: Lassie (

Lassie

)
Perhaps one of the first TV dogs, Lassie is just as iconic today as she was when she first appeared in 1954. Played to perfection by many dogs over the years, this Rough Collie stole the hearts of millions. So much so that Lassie aired for almost 20 years, making it the fifth longest-running US TV show in history! As fearless and loyal as they come, Lassie always manages to save her beloved human Timmy and anyone else who may need her.
#11: Champion (

Parks and Recreation

)
Representing tripawd puppers everywhere, Champion won us over big time on Parks and Recreation. Adopted by April and Andy in season four, this three-legged pitbull was the perfect companion to the chaotic (yet lovable) duo. He stuck around for the show's final few seasons and managed to steal more than a few scenes.
Who do you think the best TV dogs are?
Have we missed one of your favourite furry actors? We reckon every canine TV star is worthy of an Emmy – or at the very least a big box of dog toys and treats! Let us know in the comments which famous pups are your favourite.
Comments
comments