In Dog Breed Corner this month is the Greyhound! Check out the Greyhound's origins, personality, trainability, grooming needs and more!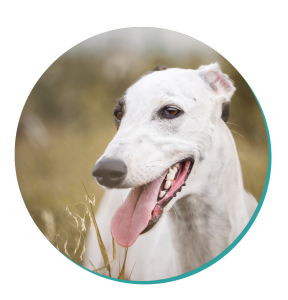 Quick Facts ✔ 
Height –  69 – 76 cm 
Weight – 27 – 30 kg
Lifespan – 11 – 12 years 
Country of origin – UK
Breed type – Sight Hound
Best breed for: 
Families with older children 
Active owners 
Owners who want to try agility, flyball etc
Breed History 
♜
The Greyhound's earliest ancestors were once believed to be the slender hounds depicted in Egyptian tombs dating back to 4000BC. However, DNA testing has recently revealed that the Greyhound is more closely related to herding dogs and the first Greyhounds are thought to have developed in Britain around 1000AD. The elegant and majestic Greyhound became a status symbol for and a law was passed in 1016 to say that only the elite could keep one! For thousands of years, Greyhounds were bred for the speed and ability to easily catch fast moving prey; they are the fastest dog breed on Earth. 
Personality Traits & Trainability 

★
The Greyhound has a quiet and gentle disposition. Their sensitivity means they are often better suited to quieter, calmer households, although they do make excellent family dogs and do not show aggression towards children. They are far more likely to walk away from a situation they are not enjoying than to snap or growl. Due to them spending thousands of years hunting and working alongside other dogs, they tend to get along easily with others but they often have a strong prey drive and so are not be recommended for homes with other small animals such as cats, rabbits, guinea pigs etc. 
Living Conditions 

⌂
Greyhounds are natural sprinters and can reach speeds of up to 40mph. Although they're not likely to want to walk for hours, they'll need somewhere nearby to run and let loose – a good sprinting session can wear them out for the rest of the day! They're sometimes referred to as '40mph couch potatoes'! It's worth bearing in mind the Greyhound's strong instinct to chase prey so a solid fence around the backyard is essential to keep them from escaping to chase after the local wildlife! 
Grooming 

✄
The Greyhound's coat is short and smooth and very easy to take care of. They shed moderately but daily brushing to remove dead hair can keep this to a minimum. 
Fun Fact  

♥ 
Greyhounds are the only dogs mentioned by name in the Bible.Proverbs 30, verses 29-31.
Comments
comments