In Dog Breed Corner this month is the Greyhound! Check out the Greyhound's origins, personality, trainability, grooming needs, and more! Would your Greyhound benefit from a Pet Sitter who can match their pace? Mad Paws has quality Dog Boarders in Canberra, Adelaide, and all over Oz!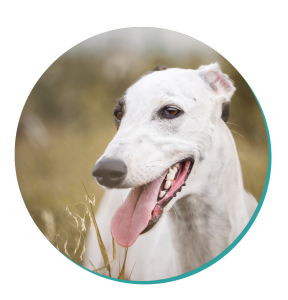 Quick Facts ✔ 
Height –  69 – 76 cm 
Weight – 27 – 30 kg
Lifespan – 11 – 12 years 
Country of origin – UK
Breed type – Sight Hound
Best breed for: 
Families with older children 
Active Owners 
Owners who want to try agility, flyball etc
Greyhound Breed History
♜
As with any dog breed as old as the Greyhound, it can be hard to pin down the exact origin. One theory is that the Greyhound dates back to Egyptian times. There are some artistic depictions of slender running doggos on Egyptian tombs dating back to 4000BC.
Another common myth you'll hear is that the Greek hero Odysseus' faithful dog, Argos, was a greyhound, which would mean that this breed has been around since at least 800BC. It's a wonderful image, and Argos is described as being a swift-footed hound with excellent hunting skills. Yet, there's no explicit mention of him being a Greyhound. 
Even the Bible may shed light on the origins of this quick pup! Proverbs 30:31 is often translated as "a greyhound, a he goat also, and a king, against whom there is no rising up." These passages are believed to date back to anywhere between 900 and 700BC. But, even here, there's some skepticism. Alternative translations replace the greyhound with similarly athletic animals, such as a rooster or a horse.
There's one final theory backed by DNA testing that links the Greyhound to Celtic herding dogs from around 1000AD. According to this theory, Greyhounds can be traced back to Britain, where they were admired as a status symbol for wealthy hunters. In fact, a law was passed in 1016 to say that only the elite could keep one!
So what conclusions can we make about this dog breed? Did they really exist alongside the Egyptians and the Greeks? Could you find them bouncing around in Ancient Jerusalem as the Proverbs were being written? Are there any credible links between these slender, swift dogs of the Middle East to the Celtic herding dogs of the north? At this point, we don't know.
But if we take a look at the last few thousand years, we do know that breeders of the Greyhound noticed something special about the breed. Namely, they were impressed by this doggo's speed. As the fastest dog breed on the planet, Greyhounds have been developed around the world as hunting and racing dogs. There are up to 7 different types of Greyhounds, which serves as a testament to how many countries have fawned over the breed. From Spanish Greyhounds to the Persian Saluki to the pint-sized Italian Greyhound, you can find a member of the Greyhound family in just about any size and coat type.
As more countries and communities ban the sport of dog racing, many Greyhounds are settling into a comfortable family life. You can find these dogs leaving their furry friends in the dust at the dog park, or showing off their fashion sense with adorable dog sweaters.
Greyhound Personality Traits
★
The Greyhound seems to have two personality modes. One is the at-home gentle, calm, and quiet Greyhound. The other is the prey-driven, lightning fast hunter. This is pretty typical of some working dog breeds. When they're off duty, they're relaxed and laid-back. But when there's a job to do, they quickly spring into action.
Let's talk first about the at-home Greyhound. When in the comfort of home, these puppers just want some peace and quiet. They're very sensitive to loud noises and newcomers, and may actively try to avoid situations in which they feel overstimulated. Instead of lashing out aggressively, a Greyhound will likely try to hide or create space when there are strangers in the house.
Because of this avoidance tendency, they tend to get along well with children of all ages. Other dogs are also generally welcome in the Greyhound's inner circle.
And, when you're able to create a calm atmosphere for them, these doggos will do nothing but cuddle. They're sometimes lovingly called the fastest couch potato because there's nothing they like more than to curl up with their Owners. Give them a big pile of blankets, and they'll love you even more.
Now, let's talk about that working dog personality. You might be surprised to learn that that well-mannered pupper we just described could also be considered dangerous around small animals, such as cats, rabbits and guinea pigs. The reason for the precaution is that these are prey-driven dogs. When triggered, they could do what thousands of years of hunting and racing has taught them to do.
Of course, as with all dogs, socialisation, training, and unique personality traits could change things. Not all Greyhounds will have the inherent need to chase, and Owners who are invested in early socialisation with small animals as well as consistent training can reverse some of the genetic predisposition. But, if you're not sure of a Greyhound's background or how they'll react around small animals, best to err on the side of caution.
Learn more about introducing Greyhounds to other animals in our article, How Do I Introduce My Cat to a Second Pet?
Trainability and Exercise Needs 
With a sensitive streak and people-pleasing nature, you'll find that the Greyhound is a pretty easy pooch to train. As long as you keep things light and loving, your Greyhound will respond swimmingly. Take a look at some Positive Reinforcement Training Tips to make sure that you're taking the right approach with this pup. The important thing to remember is not to become too stern with a Greyhound. If they're slow to learn something, they'll become even slower and more timid if their beloved Owner loses their patience.
Another thing you should know about Greyhound training is that they may adopt their own approach to certain commands. For instance, a Greyhound doesn't have the ideal body type for sitting. Instead, they kind of balance on their whip-like tail. It's not that they're being stubborn, they're just doing their best. The more time you spend training your Greyhound, you'll see other accommodations that this dog will make to common commands.
This dog is a great candidate for crate training. As a pupper who loves peace and quiet, they're some of the most open dogs to crate training that you'll find. You can learn more about how to introduce a crate for your Greyhound in our article on crate training.
Surprisingly, Greyhounds aren't high energy dogs. Although they're champs when it comes to short sprints, this isn't the kind of dog that will want to spend the whole day exercising. Their ideal lifestyle includes a couple of brisk walks per day and a few opportunities to run around at full speed. For this reason, dog parks are an excellent way for Greyhounds to expend their energy. Having a dedicated Dog Walker stop by for a walk during the day is another good way to keep this pup from becoming bored or gaining too much weight.
Living Conditions

 

⌂
Because of their love of cuddling, Greyhounds are a better small apartment dog than most people expect. As long as they have a comfortable place to curl up and snooze, they'll be happy.
One thing to be aware of is that this dog doesn't have the best temperature control. With very little body fat and a razor-thin coat, they should never be left outside for an extended period of time. During the winter, invest in some layers to keep them warm, as well as plenty of blankets for them to burrow into. And in the summer, keep a close eye on them to prevent heat exhaustion.
And while we're on the topic of Greyhounds outside, don't forget about this pup's strong hunting instinct. A solid fence around the backyard is essential to keep them from escaping to chase after the local wildlife! Some Owners and professional Dog Walkers also opt to walk them only on leashes when they're not in enclosed areas. After all, these are the fastest dogs in the world. Once the chase has begun, they can be out of earshot and sight in seconds.
Greyhound Grooming

✄
The Greyhound's coat is short and smooth and very easy to take care of. This dog also doesn't have the typical doggie smell of their furrier friends. They shed moderately but daily brushing to remove dead hair can keep this to a minimum.
It's best not to overbathe a Greyhound so as not to strip their natural oils. But, if you'd like, keep some dog wipes around to keep their eyes and ears clean. Also make sure to set up a regular tooth brushing routine, and keep their nails trimmed. 
Greyhound Health

+
In normal conditions, Greyhounds are pretty healthy. But there are a few exceptions:
Heart murmurs, which should be monitored
Hypothyroidism
This is a rare eye condition that is limited to a select few dog breeds. If left untreated, it can cause blindness
This is an aggressive type of bone cancer which is quite common in Greyhounds
Greyhounds are also at high risk for bloat and should be closely monitored during exercise. Unhealthy weight gain are also big risks for this breed. Because they are so slender to begin with, many Owners don't realise that they've gained a dangerous amount of weight. So, make sure to give them a healthy diet with enough exercise.
Greyhounds are one of the only breeds with sensitivity to anaesthesia, meaning that the typical dose for a dog of the Greyhound's size could be fatal.
Luckily, there are organisations like the Greyhound Health Initiative dedicated to improving the health of Sighthounds all over the globe. They conduct research that will help veterinarians around the world better understand the unique health needs of the Greyhound.
Fun Fact

  

♥ 
We mentioned that the Greyhound is the fastest dog breed in the world – with a top speed of 72km/h – but how does this pup compare to other four-legged animals?
Well, if you asked a Greyhound to compete with the fastest animals on the African Plain, you'd likely have them beat. A Cheetah's top speed is 100 to 120km/h, while the speediest herbivores like the Pronghorn and the Springbok can reach 98km/h and 88km/h, respectively.
Still, considering the the average speed of most dogs, which falls somewhere between 24km/h to 32km/h, the Greyhound is really impressive.
There are a few things that make a Greyhound specialised for speed. On the one hand, they have very low body fat and an aerodynamically shaped body. They also have a big heart. That extra-strong blood-pumping power allows them to circulate oxygen to the muscles more efficiently than other dogs.
And, they have something called a double-suspension gallop. This allows the Greyhound to come off of the ground twice during a single stride, while most dogs can only suspend themselves in the air once. Another dog with this ability is the Basenji. 
Final Thoughts on the Greyhound

 
The Greyhound has a big heart. And we mean that figuratively just as much as literally. This dog has a loving, affectionate personality that will make you want to cancel your weekend plans and snuggle up for a movie marathon. They're also great with children and have excellent indoor manners. This dog will never disturb the neighbours or make your guests feel unwelcome. Instead, this is a dog that avoids conflicts and mostly just wants some peace and quiet.
At the same time, they have an ingrained hunting drive that should be addressed. Not all Greyhounds will jump into action at the sight of a small animal, but there is a chance, so Owners should be prepared. Early socialisation and regular training is key. It's also a good idea to let your trusted Dog Walker know if your Greyhound is prone to chasing.
Grooming is minimal, but the health needs of Greyhounds may be high. Make sure that your Greyhound is in regular contact with a veterinarian and maintains a healthy weight and exercise routine.
All in all, this is a doggo with a sweet personality and people-pleasing nature. Their gentle demeanour, and those adorable eyes, will simply melt your heart. You'll love the laid-back life of a Greyhound Owner.
Comments
comments