In this article, Dr Tina Huynh from Pawssum Vet to Home Services explores Canine Hip Dysplasia. Whether you live in Melbourne, Brisbane, Sydney, or any other Australian city, Pawssum can meet your vet needs. For more info, check Pawssum out on Facebook and Instagram!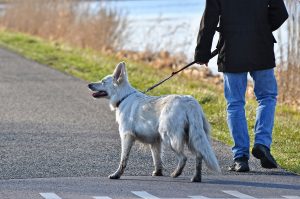 Canine Hip Dysplasia in a nutshell
Canine Hip Dysplasia (CHD) is a disorder that is more common than we presume. When we hear of hip dysplasia, breeds like Rottweilers; Golden or Labrador Retrievers; and German Shepherds typically come to mind first. Certainly large breed dogs are overrepresented as an affected population. However, smaller dogs and cats could also suffer from hip dysplasia!
The hip joint is a "ball and socket" joint. As such, the femoral head of the thigh bone acts like the "ball" that rotates within the "socket" or acetabulum. This is all held together by the joint capsule and ligaments. Hip dysplasia refers to an altered or abnormal development of the hip joint and surrounding tissues during the growing process.
What causes hip dysplasia in dogs?
Many factors can cause hip dysplasia. These include genetic and hereditary links, diet, exercise, and other influences on growth. The imperfections of the hip joint create laxity and is not fluid with movement, causing microfractures and localised inflammation. Over time this results in permanent changes to the affected joint with scarring, bone deposition, and 'wear and tear'. This process is better known as osteoarthritis.
In the instance of sudden lameness, dogs show signs of musculoskeletal injury, which can cause varying degrees of discomfort or pain. Symptoms can include:
lameness
pain after exercise
bunny hopping
swaying or swaggering gait
difficulties rising or lying down
What can a Dog Owner do about it?
Your vet will take a history, perform a physical, and manipulate the affected regions if pain levels permits. If your vet confirms hip dysplasia, they will immediately aim to quell pain, and to minimise further injury with rest. In some cases, they may also suggest joint protectants.
For this reason, your vet may prescribe your pet a set of radiographs with pain relief and sedation. This will let them assess the lower back and hip area, if not the knees too. Due to the chronic nature of the condition, there may be permanent structural changes of the hip joint and tissues.
It is ideal to take action early to minimise or slow down osteoarthritis and provide pain relief. Largely what is known of CHD suggests hereditary traits as the most important factor.
With this in mind, if you're able to, ask questions about the parents. It will be helpful to learn whether their Owners screened them hip dysplasia with OFA or PennHip X-rays. If your vet can learn this, they may attempt orthopaedic manoeuvres during a puppy exam to check for laxity or pain.  However, they may use an anaesthetic to carry out the Ortolani Test, as it can be distressing and painful.
Are there any more means by which to treat it?
Based on clinical signs, response to treatment, and X-rays, your veterinary team will discuss with you if your pet is a good surgical candidate. Luckily, a few surgical options exist (some akin to humans) to either correct the deformity or provide relief. The most common procedures are:
Juvenile Pubic Symphysiodesis for puppies around 16 weeks old. Ideally, this process fuses the pubis and alters pelvic growth to minimise laxity and joint degeneration later in life.
Double or Triple Pelvic Osteotomy for older puppies up to 10-12 months of age. This can improve the "socket" of the hip joint through well-placed cuts and rotation of the pelvic bone.
Total Hip Replacement is a similar procedure as in humans and of greater surgical complexity. Vets view this as the most effective surgical option to eliminate pain and restore hip function.
Femoral Head Ostectomy is a procedure to reduce pain by surgical excision of the femoral head, a constant source of inflammation and pain. As the hip joint is eliminated and replaced by scar tissue, this is more a salvage procedure to treat pain for smaller pets.
If you are concerned about CHD in your furry friend, contact your vet to explore different assessment or treatment options. With each pet's lifestyle being different, your furbaby will benefit from a tailored plan to keep them happier and comfortable.

Comments
comments