In this article, top Pet Sitter Odette McCarthy highlights what every Sitter should know before caring for a big dog. Are you looking for a Pet Minder in Sydney or its surrounds? Visit Odette's Sitter profile! Do need a Dog Sitter in Hobart, Brisbane, Melbourne, Perth, or any other Aussie locale? Take a look at our other Minders!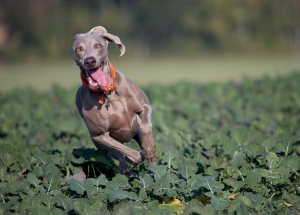 Ever been unsure whether reply with a resounding "Yes" when asked to mind an incredibly big dog? Your confused gut has been telling you something! Before minding a massive Weimaranar, a great Great Dane, a tres grande Dogue des Bordeux or a STUPENDOUS St Bernard, there are definite things you need to consider. Don't go into this RUFF relationship thinking life looking after a largey will be lax.
The bigger the dog, the bigger the business
Food – bigger mongrels need bigger morsels! Imagine the diet of Arnold Schwarzenegger versus that of Danny DeVito (and no, not just in the movie Junior where he is eating for two!) By comparison Arnie is larger, works out more, and requires extra nutrition to fuel his enormous physique. The same goes for the larger doggos. They use more energy for their large bodies and large lifestyles, so need extra bite for the extra bustle.
Poo – the bigger the bestie, the bigger the beef brisket bones, the bigger the business!
Shedding – The Greater the Dane, the greater the mane, the greater the amount of shedding! Beware, tidy houses!
Big dog activity level 
The more whopping the Wolfhound, the more whopping the walk! Big dogs often come with big energy levels and have much greater stamina than, say, a pint-sized Maltese. Some big beautiful beasts can go nonstop for hours, so be prepared… your endurance is sure to be tested! If you are not much into catering for canterers then perhaps you are not much into colossal canines.
Another factor to be wary of is the power of the pooch. The greater the dog usually means the greater the strength, particularly when the pup is heavier than the person. (Having said that I have even come across a Kelpie and a Beagle who both pulled me where they wanted to go!) Leash tugging may be a problem. Hiking with a huge hound can feel more like Fido is walking you rather than the other way around. But this is no alternate universe; you will still be the one picking up their poop, NOT vice versa!
Consider home/location/space
Don't keep a whale in your pool, that's cruel! The same principle applies to doggos. In other words, don't jump at the chance to look after a beautiful Dogue de Bordeux if you're planning on confining them to your teensy one-bedroom apartment with a few tiles for a backyard. Think before you accept such an absurd challenge. If you don't, you'll have an Alice in Wonderland moment, the big beast busting out of your bantam building.
Potential to scare with a big dog
Before taking on a massive Tibetan Mastiff or St Bernard, consider their temperament and that of the people and animals in and around your home. After all, big dogs have the potential to scare other dogs, people, and children.
Puny pups overcompensate for their size by acting bigger and tougher than they are. Despite bigger dogs being generally less aggressive, their stupendous size and power can be intimidating for unwitting people and pets. Be aware of this before bringing one into your home or taking one on a walk.
Trained or untrained behaviours may make for a mother load of mishaps 
Although in general larger dogs are more obedient and tend to take to training quicker than smaller dogs, if they have not been trained in particular areas, their behaviours can have an extravagant effect.
Jumping up – The height-ier the hound, the higher they can reach! Beware of the big boned beings when holding food or anything that might lead to INU inquisition.
Destruction potential – Their ability to reach more of your property can mean the ability to chew it. Be wary of where you put potential mutt mocking property. If they can reach something they want, they will!
Sniffing – Think ahead…the snout is situated near a supreme sniffing sector. Big dogs sometimes shove their snout between your legs, right into your loins. Maybe you initially wanted the snoot, but you can't handle the snoot!
Hard to restrain – A big dog has a big burly body, which is hard to hold control with a measly human body….especially if they are jumping up, destructing property, or sniffing. Can you control a full-on pooch, or will restraining a full-figured Fido prove too difficult for Hound Sitting humankind?
So remember: when caring for a big dog, there are differences from their smaller brethren that you need to consider first. Don't bite off a bigger bone than you can chew!
Comments
comments