To a certain extent, we Dog Owners commit to living with bad dog breath. It simply comes with the territory of having a drooly, scrap-eating, tongue-lolling pupper.
But, there are ways to manage your dog's breath so that it's not quite so foul. And, learning more about what contributes to doggy breath can be a good way to keep them healthy, too.
So, let's take a look inside that mouth and talk about tips for better dog breath!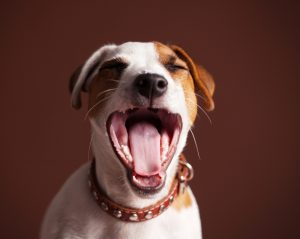 Rule out any medical reasons for bad dog breath
Dog breath is never going to be pleasant-smelling, but particularly bad dog breath could be the sign of a medical issue. 
The main culprits are dental disease such as periodontal disease or plaque buildup. We'll talk more about that in just a moment. 
Other medical reasons could include liver or kidney disease, diabetes or gastrointestinal issues. Because these causes can be quite severe, it's important to check with a vet if your dog has bad breath.
Set up a consistent brushing routine
In our article, How Often Should I Brush My Dog's Teeth?, we broke the bad news: it's more often than you might think. According to most experts, dogs should have a daily tooth brushing session. This is the best way to prevent plaque buildup and tooth decay. 
If your pupper is not on board with the daily brushing, make sure to take things slow and stay consistent. The more practice and positive reinforcement your dog gets, the faster and easier your brushing sessions will be!
Stock up on bad dog breath fighting chew toys
Chew toys are a fantastic supplement to your regular brushing routine. Chew toys that are made of firm rubber can help to break off plaque without damaging your dog's chompers. And, it's even better if you can find chew toys specifically made for dental hygiene. These typically have ridges and spikes that do a good job of cleaning your dog's teeth at the gumline.
Get your pup on a healthy diet
Just like you might not want to get up close and personal with someone who just chowed down on a fast food meal, the right diet can also affect your dog's breath. Highly processed foods can leave a stinky taste in your dog's mouth. And, food allergies or stomach upset could mean lingering bad dog breath for hours after their meal.
Ideally, you want your dog to eat foods that are natural, human-grade, and as fresh as possible. High quality raw dog meals that are rich in protein and dog-friendly veggies are a great way to give your dog better breath.
Take the battle against bad dog breath to the kitchen
In addition to a switch to more nutritious foods, there are also a few household remedies for bad breath. Fresh herbs like basil, parsley, and mint are dog-friendly and can offer major breath improvements. 
Carrots and apples are another healthy way to achieve better doggy breath naturally. When served in bite-sized chunks, these fibrous foods can break down plaque as your dog chews. 
Homemade treats with any of these breath-freshening ingredients are sure to turn around Fido's smelly problem. Take a look at our Top Dog Treats to Cure Common Doggy Problems to learn some easy DIY recipes. 
Keep an eye on Fido outside
Sometimes bad dog breath is a matter of taste. Your dog's taste, that is. If you have a pupper who lives to find the smelliest, most disgusting things to eat outside, it's inevitable that their breath will be pretty bad.
It's always a good idea to keep an eye on a wandering doggo outside. After all, their snout can lead them into dangerous encounters with wildlife or traffic. And, there are other health risks associated with eating things like roadkill, trash, and even poop, too. The amount of bacteria they can pick up during their outdoor gastronomic adventures doesn't just contribute to bad breath, but it can also increase the risk for serious diseases such as botulism.
So, if you have a pupper with a taste for the truly foul, don't allow them to wander outside unsupervised. For dogs with an especially keen sense of smell, such as Beagles or Dachshunds, consider keeping them on a leash in areas that are not safely enclosed.
Lower your dog's stress
In some cases, stress and anxiety in dogs can lead to problems with bad breath. The reason is that dogs experiencing stress can suffer from gastrointestinal problems, vomiting, excessive drooling, and destructive chewing. By the time you get home, you might notice that your dog's breath is horrible, and your sofa has been shredded to pieces. 
Your dog may feel stressed for a variety of reasons. Separation anxiety, moving to a new home, travel, and other changes can all cause stress in dogs. And, it will be important to address the problem—with a behavioural specialist, a Dog Sitter, or a vet prescription—so that they feel more at ease.
With some simple changes, you can put bad dog breath in the past
Okay, we have to admit. Your dog's breath may never smell like a fresh garden of roses. But, if you're dealing with hold-your-nose bad breath, there are some simple solutions. 
From DIY treat recipes to regular dental hygiene practices to a healthier diet, your doggo could be on the path towards ending the bad dog breath!
Comments
comments