You're enjoying a delicious banana while hanging out with your adorable pup and you think, "Can dogs eat bananas?" What would it hurt if you tossed them a little bit of this tasty yellow fruit? Maybe it would even be good for them!
As it turns out, little bites of banana are not dangerous for doggos. But, as with most of the foods we humans eat, whether your dog should eat bananas is not a simple yes or no question. And it is possible to overdo it with this sweet treat.
In this article, we're going to peel back the truth on bananas for dogs. We'll talk about the potential health benefits, how many bananas are too many, and how you can serve them up safely to your pup.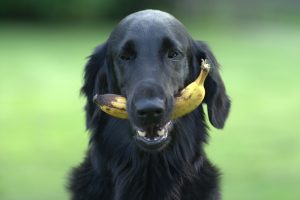 Can dogs eat bananas?
Bananas are not toxic to your dog. In fact, they're one of a number of fruits and vegetables that dogs can eat safely.
The truth is, while we may think of our dogs as meat-loving carnivores, they're actually omnivores. Dogs are not only able to digest certain fruits and veggies, but they can also reap the health benefits of those plant-based ingredients.
Bananas, for instance, can provide your pup with a good source of potassium, fibre, and various vitamins and minerals, such as Vitamin B, magnesium and copper. The benefits of these elements range from improved heart and kidney health to better digestion and muscle rejuvenation.
Will they give dogs the same health benefits as humans?
We humans are bananas about bananas! And for good reason. Our bodies are great at absorbing all of the nutrients that bananas have to offer. And since we have pretty high potassium needs, bananas are a quick fix for our dietary requirements.
But, are dogs as good at absorbing the nutrients in bananas as we are? Probably not. That's because a dog's digestive system is shorter and stronger than a human's, allowing dogs to break down and absorb essential nutrients from meat and bones. That's not to say that the plant matter your pup eats offers no nutritional value; in fact, balanced, healthy dog meals should have some veggies added. 
But the fact is, our dogs don't reap as many benefits from bananas as we do. And, as we'll discuss in the next section, there are some drawbacks to eating bananas that may outweigh the potential nutritional benefits.
Why can't dogs eat as many as they please?
Just as bananas are packed with potassium and fibre, they're also high in natural sugars. This can put your pup at risk for weight gain, especially if your doggo belongs to a breed at high risk for obesity or isn't very active. 
There's also the issue of stomach upset. A bit of natural fibre is great for a dog's digestive system. But too much can lead to constipation, bloating and uncomfortable gas. This is especially true if your dog gets their chompers on an unpeeled banana. The peel itself isn't toxic, but it can be nearly impossible for your dog's digestive system to tackle. And, if not cleaned properly, the peel could be a source of pesticides.
How often can dogs eat them? 
The answer will depend, of course, on the individual dog. But there are a few factors that can help you determine how often you can give your pup a banana bite:
How active is your dog?

An energetic

Border Collie

is probably going to fare better with the occasional banana snack than a laid-back Lhasa Apso. If you've been feeding your doggo bananas and notice that they're gaining some weight, you might want to bring in the help of an energetic Dog Walker.
How big is your pup?

Large dog breeds will be able to digest larger quantities of banana than small ones. Still, neither group should be eating whole bananas, which can offer 12-15g of sugar each.
Is your dog on a weight-loss plan?

If your vet has recommended that your dog lose weight, they're not going to be too happy to hear about your banana-sharing.

Broccoli

might be a better occasional snack for puppers on a weight loss plan.
Does your dog have a sensitive stomach?

If your dog is already prone to stomach upset, highly fibrous foods like bananas might not be appropriate. You might try with a very small portion so that you don't overwhelm their delicate digestive system.
How often do you eat bananas?

If you love bananas, you might find yourself overindulging your pup on accident. Instead of feeding your doggo some of your banana every time you eat one yourself, you might cut up a single banana and freeze the slices to dole out over the week. That way, you can be sure that your love for bananas isn't putting your pup at risk.
Because there are so many factors at play, it's difficult to offer a recommendation on how often your dog should eat bananas. For large dogs with high exercise needs, a half of a banana every couple of days shouldn't pose much of a risk. For small dogs or less active puppers, a quarter of a banana, fed less frequently, is a better option.
As always, your vet will have the best answer for your individual dog.
Other considerations 
There are a few other things you might want to consider before you start introducing your dog to bananas. After all, the sweetness of bananas can be enticing to dogs, and you might end up with the following challenges:
Begging.

Whenever you start sharing food items with your dog, begging can become an issue, even when you're not eating a banana. To curb this behaviour, you might want to feed your dog their share of banana in their bowl and revisit the other tips in our article,

Stop Your Dog Begging

.
Counter surfing.

Bananas are best stored at room-temperature, which is why many of us display them on the kitchen counter. But, your pup may see this is an opportunity to sneak their new favourite snack. This is especially dangerous because they could eat the entire peel and experience some serious stomach troubles.

 
Rubbish diving.

We all know that discarded banana peels can be quite pungent, but to your dog, the smell might be inviting! Make sure that your dog isn't able to stick their snout in the rubbish bin in search of those smelly banana peels.
In response to "can dogs eat bananas?", the simple answer is "yes". Dogs can eat bananas without the risk of toxicity. But, as we've laid out, there are many reasons why you should consider bananas as an occasional treat rather than a regular part of your pup's diet. 
Comments
comments