If you're asking the question, "Are dogs ticklish?" we can guess that it's because you've already found your dog's tickle spot. You know, that area on their side or underbelly that, when scratched, triggers the most adorable leg kicking you've ever seen.
But, can that really be categorised as tickling? And, if our dogs are ticklish, do they like it? Why are dogs ticklish in the first place?
There's a lot more to doggy tickling than you might have expected, and we've got answers to all your tickle-related questions. Check out these tail-wagging tickling facts!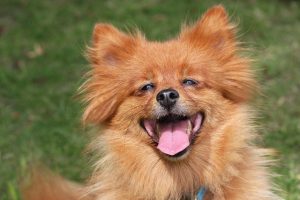 Are dogs ticklish? 
In short: yes! Dogs, when touched a certain way in certain areas, will experience what we would call tickling. It's a type of touch sensitivity that makes them wiggle, and if you listen closely, you might just hear your dog's version of laughter—a sharp exhalation that they use during play. Tickling also usually triggers involuntary muscle movement, which is the reason for leg kicking.
As you can see, tickling in dogs is amazingly similar to how we experience tickling. In fact, dogs and humans aren't the only ones capable of being tickled. In research environments, rats and great apes have been known to be ticklish, and there's anecdotal evidence that many more species, from owls to meerkats, may also experience tickling.
Do dogs like to be tickled?
While most dogs are ticklish to some degree, they don't all enjoy it. And there are certain circumstances in which your dog would not appreciate a tickle session.
In order to gauge whether your dog likes to be tickled, be on the lookout for the tell-tale signs of happiness. When you tickle your pup, they'll wag their tail, look to you with heart-emoji eyes, and display their biggest grin. Your doggo will probably take this tickling session as an invitation for play, so they'll also become active and boisterous after you tickle them.
On the other hand, there may be scenarios in which a tickle-loving doggo may not feel very ticklish. If they're in a new place, for instance, or around strangers, they won't enjoy the feeling of vulnerability that comes with tickling. Your pupper will feel much more comfortable being tickled by their regular Pet Sitter, for instance, than their groomer or vet.
Dogs who don't like to be tickled will have their own ways of asking you to stop. Some will try to wriggle away from you, and others may growl and nip. It's always best to respect your dog's space and not tickle them if they don't like it. And, if your doggo just isn't interested in tickling, that's okay. There are many other ways to tell your pup you care. Take a look at our article, How to Say 'I Love You' in Dog Language, for some alternatives.
Are some dogs more ticklish than others?
Every dog has a unique touch sensitivity threshold, which means that some dogs are more ticklish than others. And, what may tickle one dog, such as a scratch behind the ear, won't work for the next, who is more ticklish around the feet.
And, while there are some theories that suggest that tickling in humans may be hereditary, we simply don't know if there is a genetic element to tickling in dogs. So, there's no way to know if your wiggly Weimaraner will be more ticklish than a stoic Saluki.
Why are dogs ticklish?
Now, this is a question that has tickled animal behaviourists for centuries. Why are humans, and their beloved canine companions, ticklish? And, are dogs ticklish for the same reasons that we are?
Unfortunately, we won't be able to give you definitive answers here, since the science  around tickling is still developing. Even so, the theories are sure to tickle your curiosity.
One theory as to why humans are ticklish is that it's a way for us to learn how to protect the most vulnerable areas of our bodies. We tend to be most ticklish in the regions without bones to protect us, such as our stomachs and armpits. 
But can the same be true for our dogs? Puppers tend to be most ticklish on their belly, paws, lower back around the tail, and chest. But, unlike us, our dogs don't tend to react by protecting these areas against the tickles. Instead, they may enjoy the extra scratches. So, with that in mind, perhaps our puppers aren't ticklish for the same reasons.
There's another theory as to why humans are ticklish, and it has to do with our sociability. Humans tickle each other as a way to build relationships: parents tickle their wiggly babies, kiddos tickle each other, and even adults can't help but laugh at a surprise nudge to the ribs from a close friend.
Now, dogs are also social animals, but so far as we know, they don't tend to tickle each other. When it comes to dog-human relationships, though, tickling might be a good way to bond! Dogs prefer tickles from their most loved humans, be it their Owners, local Pet Sitter, or the neighbours who always give them treats. And there is evidence to show that our dogs feel calmer when receiving physical touch from their Owners. In other words, tickling, petting, ear scratches, and grooming are all wonderful ways to bond with your dog.
Now that we know the truth, here are some tickling do's and don'ts
As we mentioned, there are a few scenarios in which your doggo might not be up for a tickle session. And, one way to turn your dog off to the whole experience is by petting them the wrong way. Of course, every dog is different, but here are a few general rules to make sure your pup loves their tickle time:
Don't tickle too roughly

.  Your dog can't tell you when your tickles go from pleasant to painful, so it's always important to err on the gentler side.

Look at their

body language

. Is your pup giving you the happy signals, like tail-wagging and tongue-lolling? Or, is their body language more reserved or relaxed? Take these cues to know whether your dog is open to engaging with you in that moment. 

Know the difference between a ticklish dog and an itchy dog.

If your pupper seems to be ticklish at the slightest touch, it could be a sign that they're suffering from allergies or a skin condition. Make sure to take your pup to the vet if they seem to be constantly itchy.
Are dogs ticklish? The final answer is yes!
Some dogs enjoy tickling, others would prefer a nice head pat, and just about every dog loves the attention they get from their beloved humans.
Now that you know the basics of doggy ticklishness, how tickling can be a bonding experience, and the right way to tickle, you can see whether your pup wants to join in the fun. We can't wait to hear about your answers to the question, "Are dogs ticklish?"
Comments
comments