Can my dog eat popcorn? It's a common question for movie-loving Dog Owners. Can they nibble on a few kernels while you snuggle up for movie night on the couch? Or will these weightless little food puffs have you calling the vet?
In this article, we're going to lay out the truth of popcorn as quickly as it takes you to microwave your favourite brand. Let's get popping!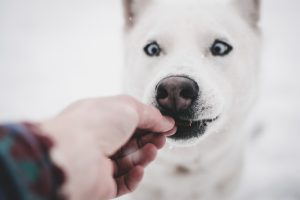 Can my dog eat popcorn? The short answer
The short answer is yes. In general, popcorn is not dangerous for dogs. 
A couple of kernels tossed their way every now and then shouldn't pose any major health issues. As long as you keep it in moderation, your pupper can gobble down a few pieces while you sit together on the couch.
Can my dog eat popcorn? The longer answer
There are a few factors that raise questions around popcorn as a snack for doggos. These are the caveats that make us add "in moderation" whenever we talk about dogs eating popcorn:
The salt and fat content

. If your dog is eating a highly nutritious diet, any added salt, sugar, and fat can throw them off-balance. In particular, eating too much popcorn can put your pup at risk of dehydration and on the path towards weight gain and obesity. If you do choose to give your pup some popcorn as a treat, it will be even more important to provide them with daily exercise. A regular visit from an experienced Dog Walker can help your pup metabolise their occasional popcorn indulgence.
Added preservatives and flavourings.

If you look on your package of popcorn and see a long list of ingredients that you can't pronounce, you can probably bet that there are chemicals in there that might not be good for your dog. You should be on the lookout, especially, for any sweet popcorn containing xylitol, as that sweetener is toxic to dogs. But even without the xylitol, the

RSPCASA warns of any foods containing added preservatives

.
Partially cracked kernels

. As humans, we're pretty good at picking around the bottom of the popcorn bowl for those last bits of perfectly popped kernels. Our pups, though, aren't so choosey. Without supervision, they could chow down on the hard, tooth-cracking kernels that we know to avoid. If you want to prevent a dental emergency, keep a close eye on those troublesome pieces.
Choking hazards.

As you've probably noticed at meal times, doggos aren't great at slowing down and enjoying their food. And with foods like popcorn, eating too much at one time can pose a choking hazard. Even if you choose to whip up a small bowl of popcorn just for your pup (we'll cover how to make dog-friendly popcorn in a moment), you'll still want to make sure they're eating one piece at a time. 
Some other considerations for the question "Can my dog eat popcorn?"
There are a few other considerations when asking ourselves, "Can my dog eat popcorn?" You might not have thought much of these potential downsides to sharing a bowl of popcorn with your pup, but we want to prepare you all the same!
It can teach your doggo bad table manners.

Most dogs, when they get a delicious bite of human food, are going to do whatever they can to get another taste. If you're not careful, you might end up teaching your pooch a habit that you'd rather not have to live with forever. That said, the behaviour can be changed if you notice your dog becoming popcorn obsessed—just take a look at our article,

Stop Your Dog Begging

.
You'll need to follow up with a good tooth brushing.

Those little corn bits do a good job of lodging themselves in your dog's teeth and gums. So, even if you're only going to give your pup a couple of kernels, you'll need to work in a tooth-brushing session afterwards. And, if you don't have a regular tooth-brushing routine, now is a great time to start! Read up on vet-recommended dental duties in our article

How Often Should I Brush My Dog's Teeth

? 
Corn allergies.

If your dog has never eaten corn or corn products before, your movie night might be interrupted by a bout of itching. When it comes to food allergies, corn sensitivity is among the most common, and typical symptoms include hives and itchiness. If you know that your pup is allergic to corn products, make sure that your Dog Sitter gets a heads up. They'll break out the vacuum and make sure there are no popcorn kernels hiding in the couch cushions!
Best approach to dog-safe popcorn: make it yourself! 
If you want to make this treat as healthy as possible for your pup, there's an easy solution: make your own stovetop popcorn from dried kernels.
It's actually surprisingly easy! Popcorn kernels don't require any oil, salt, butter, or flavouring. You simply add them to a pot with a lid (preferably a glass one so that you can watch the magic happen), cook over medium heat, and wait for them to pop! After just a few minutes, the popping sound will stop, and you'll have a safe treat for your doggo.
Remember that even without the added ingredients like salt and oil, your pup still shouldn't go overboard. A very small bowl of popcorn is plenty.
Final say on the subject
Overall, dogs can eat popcorn. It's not toxic. That said, to avoid any health health hazards, make it plain popcorn. If you then limit portion sizes, and brush your dog's teeth after, then the occasional popcorn treat is fine.
Now that you know the answer to "Can my dog eat popcorn?" will you let your furry friend indulge?
Comments
comments