Name: Charli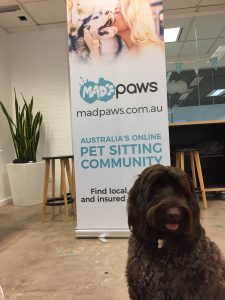 Job Title: Head of Pats
Humans: Alicia and Alex
What were you doing before Mad Paws? 
I feel a bit coy admitting this, but I spent my early life as a pooch of leisure. My humans always lavished me with love and praise, and I seldom wanted for anything: dog treats, blankies, big juicy bones, you name it.
However, I always felt as if something was missing…you know, a sense of purpose. So when my humans booked me in for a stay with a Mad Paws
Dog Sitter in Sydney
, I decided to inquire about a job.
As it turns out, they were looking for a new Head of Pats, and they brought me on board. Now, with the crucial work I perform at Mad Paws, I feel more fulfilled than ever!
What do you love most about working at Mad Paws? 
Above all, I love the diversity of the workplace. Previously, I used to spend my days with a couple of humans. At Mad Paws, I see 15 of them on a daily basis. They're all really friendly, and all vie to take me for walks. I also get to meet all the other dogs who come to the office as part of their Doggy Day Care program.
However, as fun as the workplace can be, I can't let these hijinks distract me from my important work. Mad Paws entrusted me to be their Head of Pats, and darn it, I intend to be the best Head of Pats they've ever seen.
Tell me about something special you have on your desk
I know it sounds kitsch, but I keep a red plastic bone beside me. On those days when my work seems to pile up, I take a moment to stop and look at it. That humble red bone reminds me of a simple truth: "If you want the bone, you've gotta get in the zone." Nine times out of 10, this process compels me to get through my work.

What do you spend your weekends doing?
Is it a cliche to say I'm "outdoorsy"? Seriously, though – I love to visit the dog park. I know every dog says they love the dog park; it's like how everyone says they love to travel in their Tinder profile. But I love love LOVE the dog park. Like, when I retire, I'd love to build a little condo by the dog park. Nothing too fancy – just something that will let me wake up to the sprinklers.
On those rare times when my humans can't walk me, they book me an
On-Demand Dog Walker
. I'm not gonna lie: those Walkers do good work.
What do you have as the background image on your phone? 
It's a picture of my idol, Bo the Portuguese Water Dog. At the moment Bo lives in a place called Chicago, but he used to live in a big white home with his humans. That dog has been all over the world, but no matter where he goes, he retains his sense of style.
If you could Pet Sit any animal, what would it be? 
That's a tough question, but I'm going to have to choose the mean dog I keep seeing in
reflective surfaces
. Someone needs to teach that mutt some manners!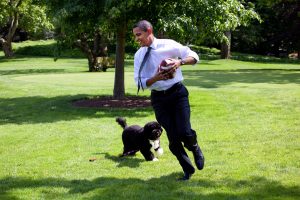 ---
 Quickfire Round 
Frisbees or tennis balls?
Frisbees
Schmackos or fresh bones?
Fresh bones, hands down! Didn't you hear my answer to "Tell me about something special you have on your desk"?
A day at the beach or a day at the dog park?
A day at the dog park…but only if the humans have turned on the sprinklers.
Lassie or Scooby Doo?
Lassie, any day of the week. Scoobie Doo does not portray dogs in a positive light. #NotMyRepresentative
Chin tickles or belly rubs?
Chin tickles for weekdays, belly rubs for weekends.
Dogs or cats?
Look, I don't want to start a race war. Pass!
Comments
comments